Student ID Cards
Accepted Students
---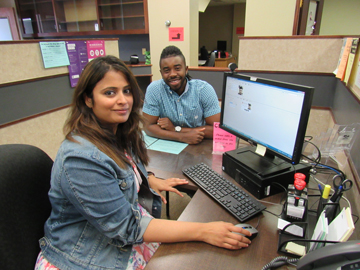 NEW FOR FALL 2021: 
All students will be asked to show their student ID card upon entry into any designated access point on campus. 
Returning students use their current card. 
New students and others who need a card can follow the instructions below to obtain one.
All students will be asked to provide one-time proof of full vaccination against COVID-19.  Once verified, a campus-access sticker will be affixed to the card. 
For details, please see: 
Vaccine Mandate FAQ | Covid 19 | The University of Winnipeg (uwinnipeg.ca) 
Campus Access Process | Covid 19 | The University of Winnipeg (uwinnipeg.ca)
New Students
New students will continue to have the option to pick up a student card from the UWinnipeg campus on specific dates/times.
In order to pick up a student card, new students are asked to email a photo to Student Central, following the steps below, under "Ordering your ID Card." Cards will be pre-made using the photos. 
Physical distancing protocols will be in place as cards are picked up on campus.  See "Ordering Deadlines & Pickup Times" below. 

Student cards are used:
Students living outside of Winnipeg who cannot pick up a student card will not be at a disadvantage:
identification purposes – professors and staff will accept other forms of ID such as driver's licence, passport, PR card, etc., given the circumstances
Winnipeg Transit – students do not use Winnipeg Transit while taking classes from a distance
Library print materials – the Library is now lending print materials to be picked up through their new smart lockers on the first floor of Centennial Hall; however, distance students can access the many online journals and other online resources available through the Library
NOTE:  Student cards will not be mailed out.
Campus Living Residents:
If you are a student living in a UWinnipeg residence, you MUST email your photo for your student card/room key card. Follow the steps below, under "Ordering your ID Card."  Student cards, however, are not picked up from Student Central. Your student card and room key card are one card and will be given to you on your move-in day. Please have photo ID (driver's licence, passport, PR card, etc.) to present to the Campus Living staff at move in. You still can pick up a Winnipeg Transit post-secondary Peggo card on the pick-up date(s) listed below. Identify yourself as a Campus Living Resident when emailing Student Central please.

Returning Students: 
Most returning students should use their same student card.  If you never had a card made or did not pick it up, follow the same procedures below as new students.
If you have lost your student card, follow the same procedures as new students to obtain a replacement card. You will be charged a $25.00 replacement card fee though, when you email to request a replacement card. The $25.00 fee can be paid through online banking bill payment.

Ordering your ID Card:
Just email your photo to Student Central in advance and we'll have your Student ID Card ready and waiting for pickup! 
What to do:
From your UWinnipeg Webmail account, email a JPG image of yourself as an attachment to studentcard@uwinnipeg.ca.


The photo must show your shoulders and entire head and be taken straight on with face, eyes, and shoulders centered and squared to the camera.  Think of the qualities of a passport photo, except smile! Photos are subject to approval by Student Central.


Include in the email your full name and student number.


Tips for a great photo:
Avoid a busy background; use a wall that is a solid, light colour. (Do not take the photo in your car.)
Ask someone to take the photo for you.
Use a camera with high quality resolution.
Ensure the area is well lit, so the photo is in focus with no shadows, glare, or pixilation.
Do NOT wear sunglasses, a hat, or headband. 
Smile!

Ordering Deadlines & Pickup Times
NOTE:  For pickup, students must bring a piece of photo ID  – driver's licence, passport, PR card, etc. – to get their card. Cards will not be given to third parties or mailed.
FALL TERM 2021
Deadline for ordering:  ongoing

Pickup:   
Student Central staff will email the student's webmail to confirm the card has been printed (1-4 business days, depending on volume). 


Then the student will need to pick up the card at Student Central (first floor of Rice Centre, 489 Portage Avenue) – no appointment necessary at this time.
WINTER TERM 2022
Deadlines and dates TBA.


Questions?  Please contact Student Central.



 Photo credit:  Lois Cherney