Student Central
Student Services
---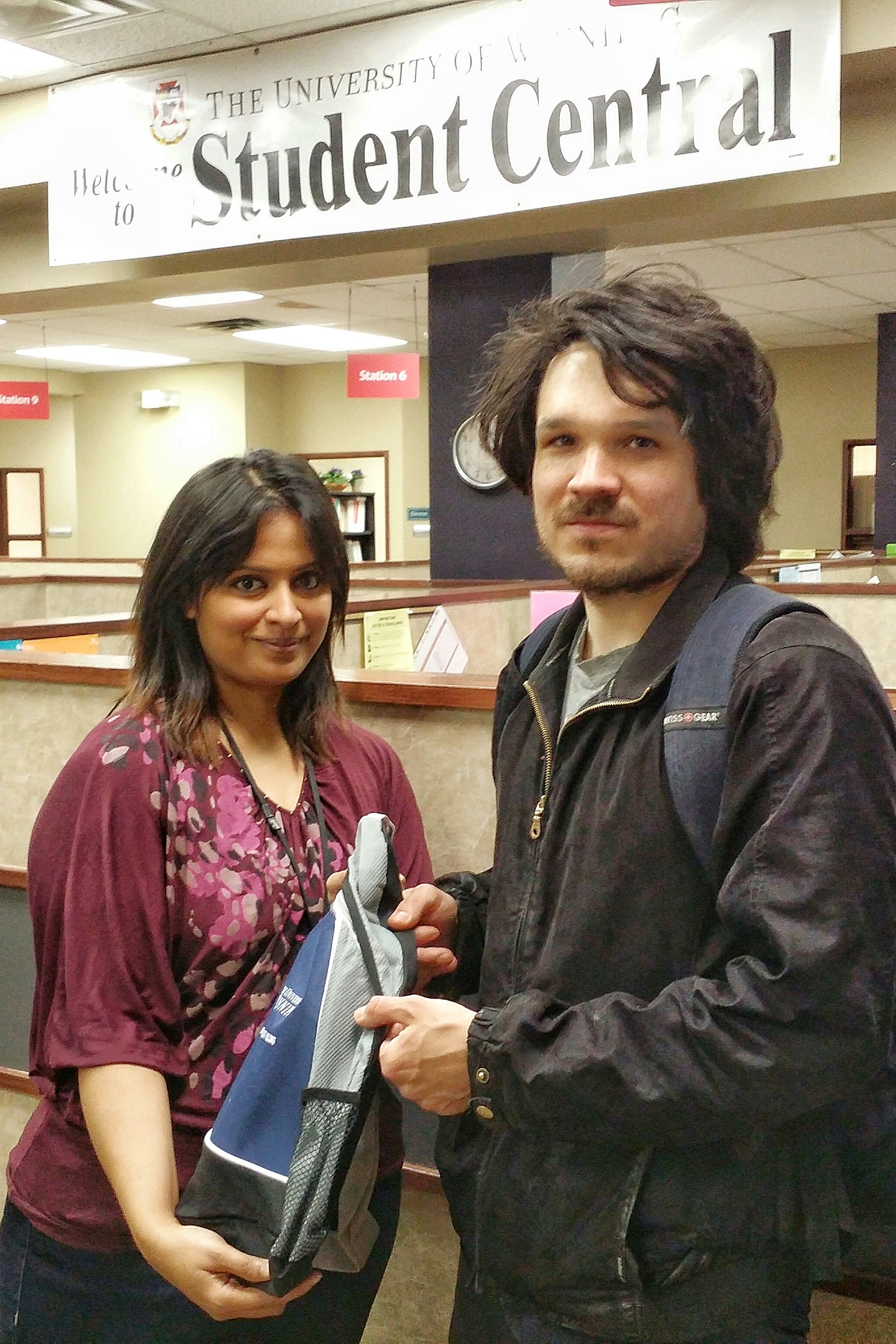 Where We Are:  WE'VE MOVED!
Visit us at our new location on the 1st floor, Rice Centre, 489 Portage Avenue. 
When We're Open:
Monday - Thursday 8:30 am to 5:30 pm 
Friday 8:30 am to 4:15 pm 
(except July 15, Aug 19, Sept 23 - 9:00 am to 4:15 pm)      
Closed weekends & holidays
Contact Us: 
Email: studentcentral@uwinnipeg.ca
Ph: 204.779.UWIN (8946) Toll-free: 1.800.956.1824
Fax: 204.783.4996

< Winning ways!:  Student Central Assistant Niromi H. presents a prize package to student Matthew C., one of three winners of a draw to promote the use of self-serve electronic banking to pay Spring Term tuition/fees.  Check back here for details on the next draw for Fall/Winter Term. 
Photo credit: Daniel Hussey

Student Central is your convenient hub for many student services - from applying to become a UWinnipeg student, to course registration and payments, and through to graduation.  Student Central is here for you throughout your studies.  You can email us, phone, or stop by in person to speak with one of our Student Central Assistants.
"STUDENT PLANNING" NOW AVAILABLE–  This great new online tool for degree planning and course registration is now available through WebAdvisor.  To find out more, please see:
FAQs about "Student Planning"
Online video tutorials for students
WebAdvisor/Student Planning Guide [PDF]

Attend a Student Planning Information Session: 
June 27 or July 11.
Each session is from 4:30 to 5:30 p.m. in Room 1C16A (1st floor, Centennial Hall). 
No registration required to attend a session.


Get Started
Register for Classes
Money Matters
Find your Documents
Connect with our Campus Communities