Campus Tours: Places and Spaces
Future Students
---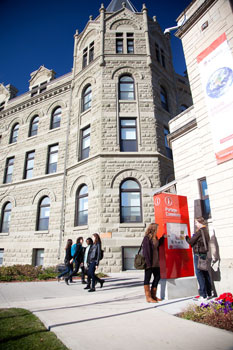 By far, the best way to experience the university is to come by for a visit! A University of Winnipeg Student Ambassador will show you around our campus in downtown Winnipeg and share with you what it's like to be a UWinnipeg student.
Campus tours run throughout the year. To book your visit, complete an online request form:

Tours are also offered at special events hosted on campus:
Open House
Orientation
Future Student Night
---
Campus Development
UWinnipeg has embarked on a very ambitious campus and community redevelopment plan.  Most recently, we opened the Axworthy Health & Rec Plex which houses a state-of-the-art indoor green space, four-lane 60-meter rubberized sprint track, community gym, retractable batting cages, underground parkade and so much more.  The Apartment Complex south of Buhler Centre currently under construction, has 14 storeys and 102 self-contained one, two and three bedroom apartments.  Almost half (46 units) will have provincially prescribed rent ceilings to ensure affordability and the remaining apartments will be offered at market price. For more information, see Campus Development.
Portage Commons
Our Portage Commons, right in front of Wesley Hall, our castle looking building, boasts over 40 per cent more green space. For student leisure and recreation we have a basketball court, front lawn, walkways, and a rose garden which gives the university community a place to enjoy the outdoors. Portage Commons provides year-round opportunities for students and members of the surrounding community.
Spence Street
Our Spence Street mall offers a welcoming community pedestrian mall. The street once a busy roadway is now the site of many campus activities where students and our university community gather to participate in activities such "O" week, campus events and Convocation. The street is now calm of traffic, and has transformed into a people-friendly, green-friendly and bustling hub.
Student Central
Student Central is your one-stop student services hub.  Throughout your time as a student, from admission to graduation and beyond, the friendly staff at Student Central are here for you.  We can help you apply to the University, access registration materials, get directions and campus maps, pay your tuition, apply for awards and financial aid, obtain your locker and student photo ID, and complete many other transactions (e.g. transcripts, confirmation of enrolment letters and letters of permission).
Student Services Hubs
UWinnipeg's new "Student Services Centre" is now open at 489 Portage Avenue in the Rice Centre.  The majority of student services, which were in Centennial and Ashdown Halls, have now been re-located to the first two floors of the Rice Centre.  For a complete listing, see Student Services.
Aboriginal Student Services Centre (ASSC)
The University of Winnipeg Aboriginal Student Services Centre offers a variety of student services including the Transition Year Program (TYP) for first year aboriginal (First Nations, Métis, Inuit) students. You can access the ASSC for everything from high school visits to admissions, advising, counselling, and registration.
Accessibility Services
Accessibility Services (AS) and the Accessibility Resource Centre (ARC) facilitate and promote the ongoing development of an accessible learning environment, which provides students with disabilities the opportunity to participate fully in all aspects of campus life.
Bulman Students' Centre
Bulman Students' Centre is a great student hangout. Here, you'll find the University of Winnipeg Students' Association (UWSA) offices, student groups and other associations, as well as the Petrified Sole used bookstore. The lounge is a relaxing space for students with a pool table, arcade games and couches. A variety of student events take place in Bulman Centre throughout the year, so make sure to check it out!  For more information, visit the Students' Association website.
Other areas:
Fitness Centre
Theatre Building
Chapel
Library
Bookstore
University of Winnipeg Fast Facts:
The University of Winnipeg was established in 1967, but has roots dating back more than 100 years (formerly Wesley College and then United College)
Downtown (accessible) location
16 buildings in two city blocks
Specializes in seven fields: arts, business, science, education, kinesiology, pre-professional studies, and joint and applied programs
Over 400 courses in 40 fields of study
Average first-year class size: 50 students
More than 9,500 full-time and part-time undergraduate students