Textbooks & Course Materials
Accepted Students
---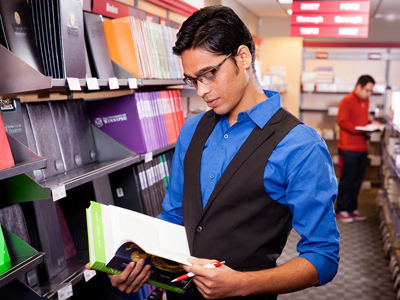 UW Bookstore
Visit the UW Bookstore website and under "Books" click on "Textbooks & Course Materials." You can then search by term, department, course and section to find your required texts and materials.
After you've selected a class, you'll see both the required textbooks and any recommended textbooks needed for that class. Then put them in your shopping cart and continue ordering until you've gone through your class schedule. You can then either have the textbooks shipped to you or have them held at the UW Bookstore for you to pick up.
We carry both new and used textbooks. We also buy back books every day and have other programs to save you money, like Text Rental and Digital Books. Check out the website or come and see us for details.
Payment Methods
Online: Credit card (American Express, MasterCard or Visa)
In-store: Credit card (American Express, MasterCard or Visa), Interact, Debit, or Cash.
Please Note: Cheques are not accepted.

Location/Contact Information
University of Winnipeg Bookstore in The AnX
471 Portage Avenue, unit #1, Winnipeg, MB R3B 2E3
Website:  UW Bookstore
Phone: 204.258.2909
Email:  universityofwinnipeg@bkstr.com
UWSA "Index"

The University of Winnipeg Student Association's space "Index" is a place where you can buy and sell textbooks, purchase lab equipment (lab coats, goggles, manuals, etc.), get your printing done (black/white, colour, scanning, stapling) and grab a coffee. See their webpage Index or drop by their space on the 1st floor, Lockhart Hall, near the Ellice Avenue entrance.