Meet Kwadwo Kyei-Poakwah, the New Graduate Student Writing Mentor
Graduate Studies
---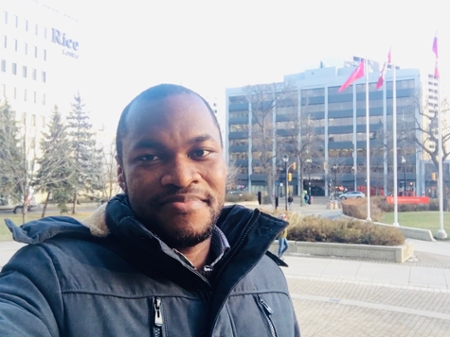 The Faculty of Graduate Studies is pleased to introduce Kwadwo Kyei-Poakwah. Kwadwo, a MA of Philosophy graduate, is the new Graduate Student Writing Mentor for the 2020-21 school year and he is eager and excited to get started. He is the author of the thesis "Farmers and Herders Conflict in Ghana". In addition, he is a recipient of the Senator Murray Sinclair Peace and Conflict Studies Graduate Scholarship and Naomi Levine Scholarship.
Can you tell us what graduate program you're enrolled in and your research interests?
I am a student in the Joint Master's Program in Peace and Conflict Studies at the Mauro Institute of Peace and Justice My research interests center on reconciliation strategies specifically, indigenous peace and reconciliation, inter-personal and inter-group social conflict transformation and peacebuilding; community-based intervention; external aid and peacebuilding; military intervention and critical security studies.
Can you describe your role as the Graduate Student Writing Tutor?
As a Graduate Student Writing tutor, my role involves working with faculty and students to equip and support Graduate Students with the prerequisite writing skills and knowledge that is critical to their success as researchers and authors at the University. This will be achieved through the organization of workshops that address some graduate specific interest pertaining to research writing such as thesis writing, organization and editing.
Can you tell us a bit about the first workshop, The Research Process from A to Z, scheduled for September 25th from 9:00am-10:00am?
Initially, the idea of conducting a research to contribute or add your voice to knowledge is an exciting adventure. However, it can also be overwhelming as you realize the steps involved in conducting an academic accepted research. This workshop will be geared towards preparing yourself over the long haul of conducting research. The workshop will address how to conceptualize and streamline your ideas on to paper, how to organize your research chapters, how to conduct a methodology and how to synthesize the volume of data you will discover in your research.
What are your priorities going forward in this new role?
My priorities include, establishing a strong and dynamic relationship with faculty and students that will create the enabling environment for students to accomplish their goals within their programs. Also, to create a safe space that nurtures creativity, develops the academic capacity and sharpens the thought process particularly in writing. Furthermore, equipping graduate students with all the necessary tools for them to produce world-class academic materials.
How can students contact you?
I can be contacted through my university email:
kyei-poakwah-k@webmail.uwinnipeg.ca
Thank you Kwadwo, and good luck in the new role!