Joint Master of Arts in Peace and Conflict Studies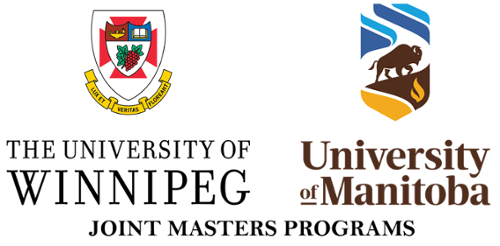 This joint Master of Arts in Peace and Conflict Studies is offered by the Conflict Resolution Studies Program at the University of Winnipeg in cooperation with the Arthur V. Mauro Centre for Peace and Justice at St. Paul's College at the University of Manitoba - encompasses analysis of social conflicts including the structural roots of social divisions and inequalities, as well as strategies for transforming conflict and promoting social justice. The program uses holistic and interdisciplinary approaches to prepare students to pursue independent research and practice in local, national, and global and conflict dynamics and issues. The Program is intended to be rigorous as the significance of research and intervention for conflict resolution, peace-building, and creating a culture of human rights demands a high standard of commitment, scholarship, and professionalism.
The Joint M.A. Program is supervised by the Joint Discipline Committee (JDC) consisting of members of the faculty of the University of Winnipeg and the University of Manitoba. The program is governed by the general procedures and regulations devised by the two universities for Joint Master's Programs.
The program is offered with either a thesis option or a course/practicum option at both universities. Students completing the Joint MA in Peace and Conflict Studies will receive a joint parchment and may choose to participate in convocation at either of the two universities
Peace and Conflict Studies MA Fact Sheet
Please note: The admission process for this program is administered through the University of Manitoba. For more information, please visit: http://umanitoba.ca/faculties/arts/departments/history/graduate/gradapplying.html
---
Admission Requirements
A 4-year honours or 4-year baccalaureate degree with a minimum grade point average of 3.0 in the last 60 credit hours, in either:
peace and conflict studies, or conflict analysis and resolution; or
another related discipline, such as education, social work, or sociology, among other
English Requirement (if applicant's first language is not English): Minimum TOEFL score 550 (paper-based), 213(computer-based), 86 (Internet-based) OR International English Language Testing System IELTS (6.5). The test should have been taken within two years of the date a completed application is filed.
For more information, please read: https://www.uwinnipeg.ca/future-student/docs/English-language-requirementspolicy.pdf
---
Contact Information
Chair of Joint Master's Program and Discipline Committee
The University of Winnipeg
Dr. Eliakim Sibanda - e.sibanda@uwinnipeg.ca
Associate Chair
The University of Manitoba
Dr. Adam Muller - Adam.Muller@umanitoba.ca
Graduate Studies Admissions and Student Tracking Officer
Dagmawit Habtemariam - d.habtemariam@uwinnipeg.ca