3-Minute Thesis Competition
Graduate Studies
---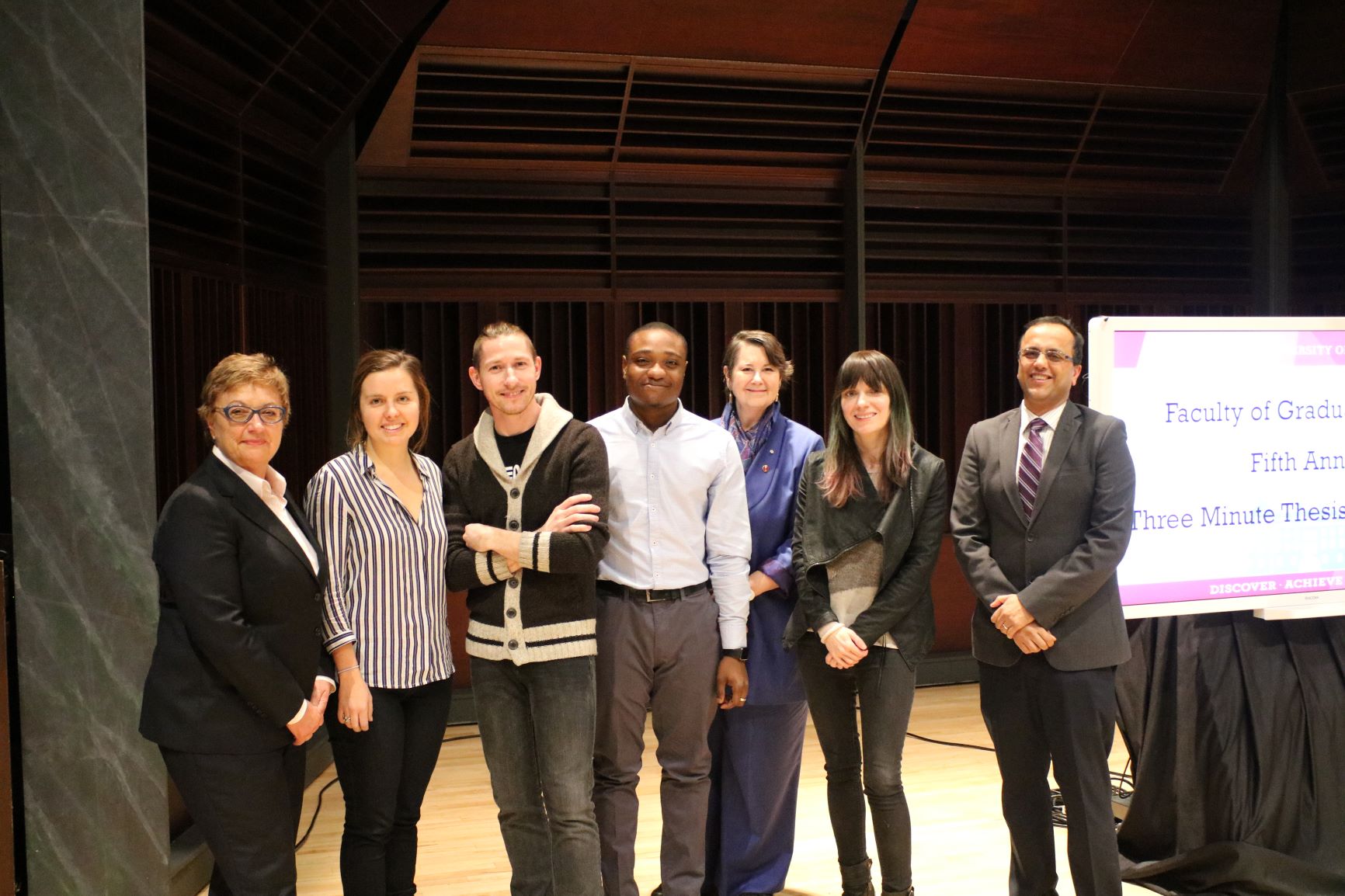 ---
Congratulations to Dean Reddick (centre left) who won the 5th Annual Three Minute Thesis competition on April 3rd, 2018 and to and Laura (second from left) who tied for 2nd Place!
Congratulations Victor Alhassan (centre right), who ties for second place and was also voted the winner of the People's Choice Award!
---
3-Minute Thesis Competition
April 11, 2019 from 1:30-4:00pm, Eckhardt Gramatte Hall
Graduate Studies Research Week concludes with the 6th Annual University of Winnipeg Graduate Studies 3-Minute Thesis Competition (3MT™), held from 1:30-4:00pm! Master's Students from a variety of graduate programs will compete for a $1000 top prize and a $500 People's Choice Award.
3-Minute Thesis (3MT™) is a research communication competition developed by The University of Queensland which challenges postgraduate degree students to present a compelling oration on their thesis and its significance in language appropriate to a non-specialist audience within just three minutes.
Students from all programs are encouraged to attend, cheer on their peers, and vote for the People's Choice Award. A reception will follow. This event is open to the public!


---
Application and Regulations
APPLICATIONS DUE BY MARCH 8, 2019 at 5:00 pm
Rules:
A single static PowerPoint slide is permitted. No slide transitions, animations or 'movement' of any description are allowed. The slide is to be presented from the beginning of the oration.
No additional electronic media (e.g. sound and video files) are permitted.
No additional props (e.g. costumes, musical instruments, laboratory equipment) are permitted.
Presentations are limited to 3 minutes maximum and competitors exceeding 3 minutes are disqualified.
Presentations are to be spoken word (e.g. no poems, raps or songs).
Presentations are to commence from the stage.
Presentations are considered to have commenced when a presenter starts their presentation through either movement or speech.
The decision of the adjudicating panel is final.
For application information please consult the 3-Minute Thesis Competition poster
The winner of this competition will then compete at the Western 3MT Competition at the University of Northern British Columbia on April 17, 2019 and the National 3MT! 

View our 3 Minute Thesis Presentation Videos from 2014 - 2017!
Return to Graduate Studies Research Week Main Page