The UWSA elects two new Graduate Student Co-Directors
The University of Winnipeg Students' Association elected two new Graduate Student Co-Directors: Racheal Kalaba from the MDP: Indigenous Development program, and Theresa Mackey from the MSc in BioScience, Technology, and Public Policy program. We connected with them to find out about their new roles, and their plans for the upcoming year.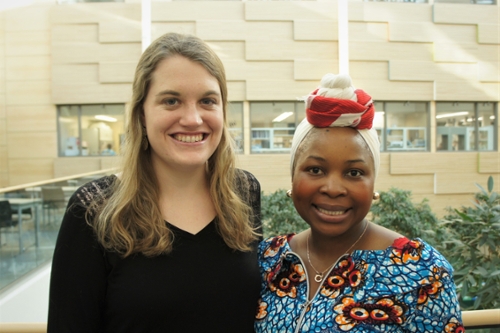 Can you tell us what graduate program you're enrolled in and why you chose the University of Winnipeg?
Theresa: I'm in the Masters of BioScience, Technology, and Public Policy program and I chose the University of Winnipeg specifically for the advisor that I'm working with, Dr. Caleb Hasler, and their project working with fish biology and aquatic conservation. I've been waiting to come back to grad school for about two years because I didn't want to unless it's exactly what I wanted and his project was exactly what I was looking for.
Racheal: I'm doing my Masters in Development Practice. While Development Practice programs are run across the globe, I picked the University of Winnipeg because of the program's Indigenous aspect. This is important because my field of interest works directly with communities and the University of Winnipeg is one of the few institutions that is foregrounding the perspective of Indigenization. If we're going to do sustainable development we need to go back to the roots, and that means the Indigenization of that process.   
You ran as Co-Directors, can you elaborate on that decision?
Theresa: We actually had not met before the process. We both felt as international students that we didn't know anybody or Winnipeg at all when we first arrived. I met some students from my program but it's a small program. So when we talked about this together at the UWSA meeting, we figured why not run together? We both want to get graduate students together and we want to encourage meeting people across disciplines.  Also, as graduate students, we are very busy, so it's better to have two of us to divide the workload and follow through on our intentions.
What are your priorities going forward as Graduate Student Co-Directors?
Racheal: Our first goal is to promote interaction and cohesion among graduate students. At the end of the day, it is important to establish a network across disciplines instead of just your cohort. Second is financing for graduate students. We want to see how we can lobby for more funding opportunities. Lastly, we want to give graduate students more of a voice on campus and, as part of the UWSA Board of Directors, make decisions based on that perspective. We want to reinforce that graduate students have representation in these bodies. We aren't promising much but we see how we can open the door for more interactions and to set some groundwork going forward. 
How can students contact you?
You can email us at graduate@theuwsa.com regarding whatever interests, issues, or concerns graduate students would like to see addressed.

Click here for more student features.