Research Features
Graduate Studies
---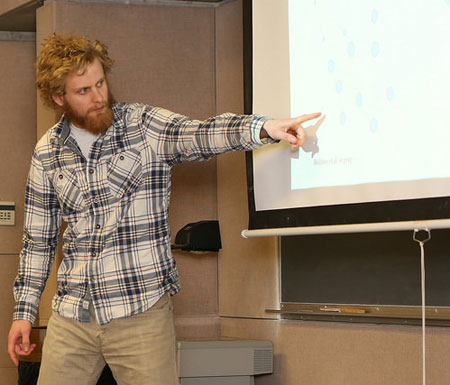 December 2017
Peace and Conflict Studies Students Host a Graduate Conference
April 2017
U of W Graduate Students Present Research on Indigenous Knowledge
March 2017
QE Scholar Ashleigh Cummer talks about her research in Northern Ireland
December 2016
ACS Student Parth Brahmbhatt on his recent research presentation
July 2016
Bioscience Student, Julia Lawler, on her recent research presentation
January 2016
Kudos to our graduate students on their recent thesis defenses!
July 2015
MPA Alum Joanne Zuk wins National Paper Competition
May 2015
MA in Indigenous Governance Student awarded a place in the NCAIS Spring Workshop
February 2015
MA in History student, Nicole Fletcher talks about her thesis and research work
December 2014
MDP Students Present their Work at Columbia University
August 2014
Theology student Adel Compton talk about her recent thesis defense
June 2014
Sixth Annual Graduate Students Research Colloquium and the First Annual Three Minute Thesis Competition.
April 2014
MA in Indigenous Governance Student, Brielle Beaudin - Winner of the 2014 Darrell Posey Masters Fellowship for Ethnoecology and Traditional Resource Rights
January 2014
Bethany Berard - JMP in Religious Studies and her research presentation in Oxford
November 2013
Congratulations to our students for their recent successes on their thesis defenses!