COVID-19
COVID 19 FAQ (Updated: December 23, 2020)
---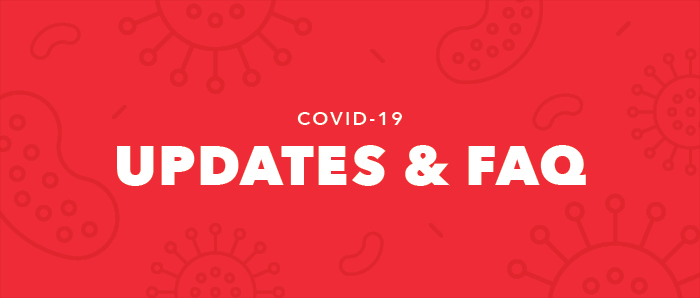 Recent Updates
March 19, 2021 - 2021 Fall Term Update. Based on the current timeline of the COVID-19 vaccine rollout in Manitoba, we are optimistically preparing for the return of in-person programming on UWinnipeg's campus for the 2021 Fall Term. Read more.
To look back on previous updates, view our update archive. 
---
UWinnipeg response to COVID-19
As part of our response to the evolving COVID-19 situation, this website has been created to provide the university community with the most up-to-date information about COVID-19. 
The provincial government recently published public health guidelines regarding Phase II: Restoring Services. 
In keeping with public health advice and post-secondary institutions across Canada, UWinnipeg will deliver the bulk of its educational instruction through alternate modes of delivery for the 2020-21 academic year running September 2020 to August 2021.
The safety of our students, faculty, and staff is our top priority. Our planning is driven by our academic mission and is focused on ensuring that UWinnipeg will continue to deliver a top-quality educational experience for our students.
The University continues to follow the advice of the Public Health Agency of Canada and Manitoba Health as they monitor, gather information, assess risk and recommend evidence-based approaches for health care providers and precautions for returning travelers.
Manitoba's response aligns with that recommended by the Public Health Agency of Canada (PHAC) and being implemented by most Canadian provinces.
It is important to remember that every member of our university community should be treated with respect and dignity. No person should be targeted in any way or subjected to discrimination resulting from a misplaced perception that they may be a carrier of a communicable disease based on their perceived disability, race, ancestry, place of origin or otherwise. 
It is also important to maintain confidentiality should a student or employee be confirmed to have COVID-19 or other communicable illness.
If you have concerns about contracting COVID-19, you may wish to access the Manitoba COVID-19 screening tool posted online by Shared Health Manitoba. 
For links to more information, visit the Province of Manitoba and Government of Canada websites. These sites are being updated regularly with up-to-date, accurate information.