MDP Students Present their Work at Columbia University
Graduate Studies
---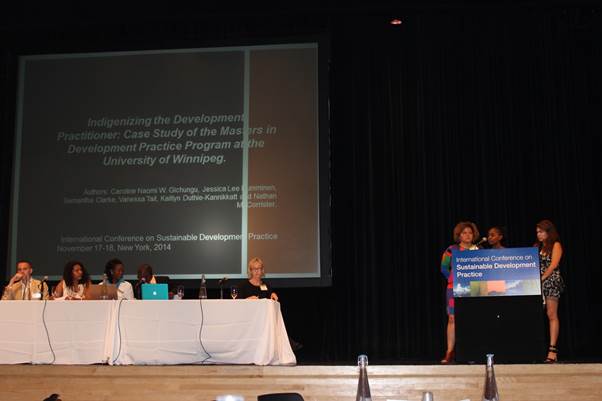 Can you talk about the research you presented at this conference?
The 2nd Annual International Conference on Sustainable Development at Columbia University, New York, NY, was held on September 17th and 18th, 2014.  The conference was fantastic because it brought together development practitioners, academics and students from around the world to look at potential solutions in a post 2015 Millennium Development Era. It presented the opportunity to learn what people are working on around the world learn about the challenges, success and opportunities. For example, one of the presenters talked about how to bridge conservation with community economic development through butterfly farming including current and potential emerging and niche markets. The conference provided a setting for students and faculty from other Masters in Development Practice Programs from across the world to meet and work on building our MDP network.
Masters in Development Practice Program students, Samantha Clarke, Caroline Naomi W. Gichungu and Jessica Numminen from the University of Winnipeg co-presented a paper and poster presentation titled, Indigenizing the Development Practitioner: Case Study of the Masters in Development Practice Program at the University of Winnipeg. The original research was conducted as part of our Indigenous Research Method course with Dr. Jamie Cidro; our research team consisted of the above-mentioned students and Nathan McCorrister, Kaitlyn Duthie-Kannikkatt and Vanessa Tait. This research was a participatory review of the MDP program exploring how the program and student experiences shaped their perspectives on Indigenous development.  A focal point of the research was to help determine how the program should evolve to meet the needs of students and Indigenous communities.  Findings from the research will help to provide recommendations for future program development at University of Winnipeg or for other institutions engaging in the education of development practitioners. After hearing solutions' offered at the conference and from the findings of this research project it can be argued that we collectively need to reinvent sustainable development in a way for the approach to move beyond the social inclusion of Indigenous Peoples and their knowledge but rather seeks to Indigenizing of all aspects of development.
Can you talk a bit about your experiences at the conference?
The conference brought together high profile speakers in the field of international development, economics and policy. Among them Jeffery Sachs, a mentor in climate change issues with whom we have been taking online courses this fall. It was such a pleasure to shake hands and network with people who have been an inspiration in my career path. I met delegates from the United Nations office in Nairobi and representatives of international organizations in Africa and from other parts of the world. Meeting up with other Global MDP students from the different continents was also a very good experience. We had time to exchange contacts and share field placements experiences. We brainstormed on possible ways in which we can carry out exchange programs and we have been talking about it with our directors.  
There were presentations on various projects and technologies that have been implemented at community levels. Naomi was particularly blown away by one presentation from India involving women and microfinance. It was amazing to note how many women groups had benefited from the scheme, how this had boosted not only their income but their family income and how the men were becoming jealous and had began to put across proposals to also get involved. Following up with the presenter, Naomi learned that there had been many challenges at the start but they had been overcome by the benefits reaped from the project and would like this to be her next field placement to see this model implemented. What stands out is the interest we saw in Indigenous development as we made our presentation. We had in total three questions while in most cases only two were allowed and they sought to understand more about our program and our personal experiences. We were honoured to be speaking on the importance of learning about our Indigenous communities on behalf of the Indigenous peoples and we no doubt convinced some people on the need to enrol in Indigenous development if you have to do development work.
We shall be publishing the conference proceedings on the United Nations Solutions Development Network website. We also shall recommend further areas of research to the first year cohort so that there is continuity in this research and our professor Jaime was fine with that.
Conferences are the best places to meet new people who are like minded and have similar passions, interests and work experiences as yourself. As a student you have the opportunity to listen and talk to all these people who are sure resourceful whether in brainstorming ideas, mentorship or assisting with finding job opportunities. Naomi would recommend grabbing these opportunities as they come as they also look very good on your CV and could impress your employer. The preparation of our paper also brought about a few challenges as we were all in different parts of the country but it is amazing the level of technology we taught ourselves at the time and the benefits we reaped working as part of a group and getting to understand each other. It brought about cohesion not only for us but it trickled down to our cohort. Conferences are fun too, and we got to tour New York City which was my first time in the US.
Read more of our Research Features >