Religious Studies Student Presents her research in Oxford
Graduate Studies
---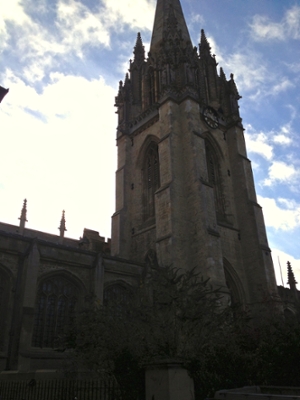 Bethany Berard - JMP in Religious Studies and her research presentation in Oxford
The Faculty of Graduate Studies spoke with JMP in Religious Studies student Bethany Berard about her recent research presentation in Oxford:
'I am in my first year of a Master of Arts in the Joint Masters Program in Religion.  My research focuses on public sphere theory and rhetorical analysis of religious phenomenon, particularly in Canadian political life and popular culture more broadly.
From December 2-4, I had the privilege of presenting at the Symposium on Religious Studies at the University Church of St. Mary the Virgin and Oriel College. The University Church was the first building to be adopted by the University of Oxford in 1252, and Oriel College was the first official college of Oxford, established in 1352.
The Symposium was comprised of just over 40 academics in the broad field of religious studies. As such, papers addressed contemporary religious movements, historical, textual and comparative analysis, as well as areas of intersection with religion such as heath care, law, education and popular culture.
I presented a paper entitled: "'R' for Explicit: Understanding 'Religious' Themes in Television (A Case Study of The West Wing).  My paper examined the role of religion in the television show The West Wing and argued that The West Wing presents a case where engagement with religious language, content, and symbolism can be found in an explicit, intentional fashion in popular culture.  However The West Wing is not the only television show in which this is the case, so the paper complicates the rise of secularization theories with a subsequent rise in explicit religious language in popular television throughout the late 1990's-present.
The Symposium was an invaluable experience that enabled me to meet scholars from all over the world and allowed me to engage with a variety of topics within the broad interdisciplinary field of religious studies.'
Research Supervisor, Dr. Carlos Colorado on Ms. Berard's success: "Ms. Berard's presentation of her research at the 2013 Oxford Symposium on Religious Studies—an international conference hosted by the University of Oxford, a leading institution in her field of study—is no small achievement for a student in the first term of an MA program. With the generous support of Graduate Studies, Bethany was able to disseminate her findings and to make a timely and exciting contribution to an emerging and important area of research."
Photo above: University Church of St. Mary the Virgin, Oxford.  Photo by: Bethany Berard
Read more of our Research Features >