Program Feature - Masters in Marriage and Family Therapy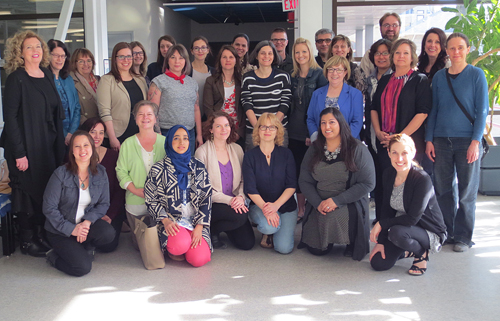 The Faculty of Graduate Studies recently connected with Dr. Narumi Taniguchi, Director of the Master of Marriage and Family Therapy to hear about the recent news and changes in her program.
Can you offer us a brief overview of the Program and what makes it unique from other programs in the country?
The Master of Marriage and Family Therapy (MMFT) program at the University of Winnipeg is one of the few Marriage and Family Therapy graduate programs in Canada.
Marriage and Family Therapists (MFT) are mental health professionals who are trained to work with couples, families and individuals from a systemic/relational perspective. That means that we view a relationship as a system, and when a couple or family is having problems, we look at it as an issue with the system and the way the people within the system relate, not as a problem with an individual in that system.
The MMFT program is designed for people who want a quality professional education and training in this field. We have students with Social Work and Counselling Psychology degrees who are looking for more in-depth clinical training.
Most of our students are studying part time. They work during the day and attend classes in the evenings. They see clients in the evenings and/or Saturdays. The Master of Marriage and Family Therapy is a clinical degree. It is a non-thesis program with courses that provides students with a theoretical framework for their clinical work.
The backbone of the training is the completion of 500 hours of direct client contact; the usual ratio is around 2 hours of supervision for every 5 hours of therapy. Supervision is not just based on the student's report of the therapy session, but also on video-recorded sessions and live sessions where supervisors observe through a two-way mirror. While the program is long (average 6-7 years for part-time students), the result of this extensive clinical experience is that our students graduate with a high level of competence and confidence.
What is the focus of the program?
Two main foci of our program are 'self of the therapist' and valuing diversity.
As therapists, we are unlike other professionals who use equipment to do their work. We are the instruments, and when a couple or family comes to see us to work on their relationship, we become part of that system. Part of an MFT's job is to look at ourselves, our family of origin, our cultural background, and any of our 'stuff' that might come into play in our work. The MMFT program trains students in the 'self of the therapist' work that they will do throughout their careers.
Part of our mandate as MFTs is that we will not discriminate against clients on the basis of race, age, ethnicity, socioeconomic status, disability, gender, health status, religion, national origin, sexual orientation, gender identity or relationship status. But valuing diversity is far more complex than that. Systemic therapists must understand that their position in society impacts the therapy relationship. This includes looking at our own power and privilege (or lack thereof). Without this awareness, we risk not only unintentionally disadvantaging some clients, but also allowing ourselves to be part of the oppressive system that the client is struggling to survive. This is also 'self of the therapist' work because self cannot be separated from the larger societal system that we grew up in and/or live in.
What kind of clinical practice do MMFT students engage in?
Students in the Master's of Marriage and Family Therapy program complete four 10-month practica during their studies. The majority of their supervised clinical practice is at Aurora Family Therapy Centre, located on the University of Winnipeg campus. Clients at Aurora include low-income families, people from Indigenous communities, newcomers and refugees – people who are often marginalized by mainstream society. This is why training students in self of the therapist and valuing diversity is central to our program.
There are also opportunities to train at a number of off-campus community organizations including Interlake-Eastern Regional Health Authority - Selkirk, New Directions Parenting Centre, Métis Child, Family and Community Services, St. Amant, and Rainbow Resource Centre.
Where do graduates go?
Our graduates are highly sought after, and 98% of our graduates from the past 15 years were employed as therapists. About two-thirds of our graduates work at agencies, including non-profit organizations, universities, and health institutions. Some graduates work in justice, addictions counseling and child protection. Nearly half of our graduates maintain a private practice. This includes some doing both private practice and agency work.
Would you like to share any success stories you are most especially proud of?
We have so many success stories. I am proud of the dedication of our students, and I am regularly amazed by their determination. We had a student who came into the program as a refugee, graduated from our program, and recently earned a PhD in Counselling Psychology. I am so excited to see where she goes with her career.
We had an Indigenous student who lives in a northern community, and she drove 1700 km every week for her practicum – for 10 months! She is now working with couples and families in her community.
We have had a number of students who came to the MMFT program looking to change careers.  We have graduates who used to be nurses, teachers and clergy. Other graduates previously worked as a physician, a graphic designer, an armed forces mechanic, and an international restaurateur/concert promoter. They are now working as Marriage and Family Therapists.
Students with diverse backgrounds (professional, educational, personal, familial, cultural, etc.) bring their unique experiences and perspectives and help make this program unique and rich.
Click here for more program features.