Leanne Shumka, MA in History, 2015
Graduate Studies
---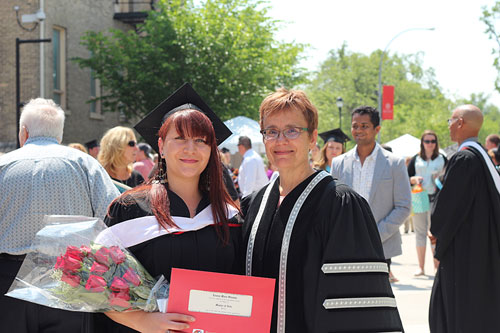 When did you graduate from your MA in History program?
I completed the program in February 2015 and, I attended the June 2015 Convocation at The University of Winnipeg to celebrate with my colleagues.
Can you tell us about your academic background and what led you to choose this program?
When I first started my undergraduate degree at The University of Winnipeg, I wanted to major in Theatre and Film. However, my passion for history took hold. By my third year I had decided to pursue dual degree in History and International Development Studies, with the goal of attending graduate school upon completion. My research interests were and still are 20th Century Canadian history, with a focus on Oral History and women's activism. In 2007, I graduated with a BA (Hons) in History, and BA 3 year in International Development Studies.  However, after six years of studying and working full-time, as much as I wanted to pursue graduate school, I needed a break from studies. Shortly after graduation, I began working at The University of Winnipeg in Student Services and soon became a permanent employee in the Awards and Financial Aid office. Now I had a conundrum as I enjoyed my position in the Awards and Financial Aid office, but was finally ready to pursue my Graduate Studies. Luckily the University has measures in place to accommodate staff pursuing their education so I was able to keep my full-time position and begin my Master's program. It was not an easy thing to , however with support from the University, combined with encouragement from my colleagues, friends and family, I made it!  
Can you talk about your experiences in the History program, which we offer jointly with the University of Manitoba?
I loved being a student at two institutions. I had double the resources and I made thorough use of them at both schools: libraries, archives, professors, administrators, award and financial aid programs, etc.  
What is the best part of the JMP History program for you?
The dedicated faculty and staff. I wanted to do the two year program, but ended up taking four years to complete it. Every time I thought I would have to withdraw, I would explain my situation with my supervisors and they would make accommodations to allow me to continue. They didn't have to. Their determination to keep me in the program only enhanced mine to continue. Without their support and accommodations, I would not have made it.
Any advice you would like to offer to graduate students here at UW?
Lots! 1. Remember that perfection cannot be achieved, only excellence. 2. Take the knocks of life/grad school as they come. Don't run away from your problems; own them and learn from them. 3. Make use of your supports – those on campus and in your personal life. 4. Be thankful. Graduate school is tough, but it's also an opportunity not many have. Enjoy it! 5. Remember to thank your support networks. Although this journey is yours to take on, you can't do it without them.