Featuring Dr. Michael Weinrath
Graduate Studies
---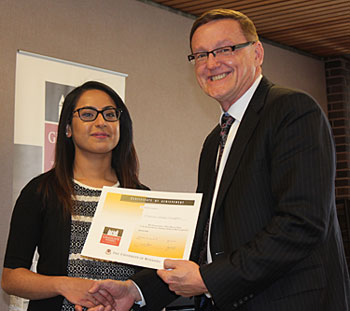 Acting Dean, Dr. Michael Weinrath shared some of his thoughts on his role in the Faculty of Graduate Studies
You are Acting Dean of Graduate Studies from January 1 – June 30, 2015 – what interested you in taking on this position?
I had worked as Department Chair previously but never as a Dean, so I thought it would be a good learning experience.  I have been a member of the Graduate Studies Committee for a number of years, so I had a bit of related knowledge I could bring to the table.  Also, our Criminal Justice Department was putting in a proposal for a Master's program so I thought that I would get some first-hand experience in the operation of graduate programs.  Which was a good idea, because MA programs certainly add a layer of complexity to the operation of academic departments.  
What have you learned since being in this position?
I learned a great deal about the work that the Graduate Studies staff do – they are very busy but still stay very concerned about the students.  A lot of students drop by the Buhler building to see the staff for help on different things.  Graduate studies staff really want the students to have a positive experience while taking courses at UW.  Otherwise, the position requires considerable communication, teamwork and coordination with other Deans and areas of the University of Winnipeg, not to mention other Universities.  My seventeen years' experience at UW has been helpful – it does simplify things when you know others.
How long have you been at the University and where are you housed when not with Graduate Studies?
I have been at the University of Winnipeg seventeen years, after working fourteen years in provincial corrections in Alberta.  I was originally split between Sociology and a distributed major in Justice & Law Enforcement.  I became Coordinator of Justice & Law, and then, later, Chair of the new Department of Criminal Justice.  We have a very collegial department and we are growing – from about 200 majors ten years ago to 535 now.  We have also operated a very successful Honours program – many of our students have gone on to graduate work in criminal justice or law school.  Hopefully we will have opportunities to offer our own Master's in Criminal Justice locally in Winnipeg.
Have you still managed to maintain your research/work in your home department of Criminal Justice?
I have kept a few projects moving along – evaluation of a therapeutic community at Headingley Correctional Centre, a drug court evaluation and some research with Jino Distasio on the At-home/Chez-Soi Mentally Ill Homeless project.  All these projects were helped immensely by talented Honours students I have supervised and who are now going on to law school or graduate school in criminal justice/criminology. I also taught a crime victims course with 80 students, because we are exploding with students in criminal justice and its hard to find enough instructors.  Extra work, but it was a good class and they keep me grounded.  
What is your research area of interest?
I probably do more research work in corrections and program evaluation than any other specialties.  I teach courses in those areas so the research keeps me up to date on the literature and I can bring examples to class from my own studies.  I hope to have a book on prison life out next year based on interviews of staff and inmates from four prisons in Western Canada.  I have also done past work on fear of crime and drunk driving.  Over the years I have involved a lot of talented students in my projects.
What has been the highlight of your Graduate Studies experience so far?
I have had a number of great experiences as Acting Dean.  The people you work with stick out the most.  I enjoy working with the graduate office staff, who are very competent and dedicated.  The other area Deans are good to collaborate with and place considerable value on graduate programs.  The Graduate Studies Chairs of each program take their responsibilities seriously.  Curiously, I found attending the Graduate Colloquium and chairing student thesis defenses to be very stimulating.  I have learned a great deal from the students and their supervisors about topics as diverse as cyber-crime to breast cancer to issues in Indigenous housing.  We must have taught these students something, they seem to know what they are talking about!    
Read more of our Faculty and Staff Features >