Masters in Marriage and Family Therapy graduate, Ken Genlik updates on his current projects
Graduate Studies
---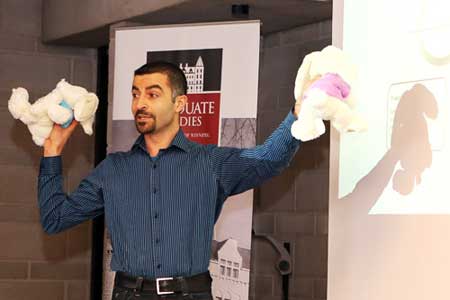 When did you graduate from the Master's in Marriage and Family Therapy (MMFT) program?
 I started the program in 2010 and graduated in June 2013.  
Where are you from and what led you to choose this program?
 I am from Stockholm, Sweden. The
MMFT program's clinical focus, as well as being accredited by the Commission on Accreditation for Marriage and Family Therapy Education (COAMFTE), was the main reasons for me to choose the program.
Can you talk about your experiences in the MMFT program?
The program offered me life-long experiences, friendships and mentorship opportunities.  The courses and clinical work were very empowering for me. They helped me develop as an individual and also as a researcher. As a learner in the program, I started my clinical research projects focusing on couples. I also had a chance to work in a multicultural setting with a very diverse client population. I am thankful for each one of my clients that helped me grow as a clinician. The faculty was very supportive and open to suggestions. All of my supervisors were exceptionally skilled, and attuned to what I needed as a scholar-practitioner. I feel privileged to have them as mentors and role-models.
This program involves a great deal of external assessment and self-reflection – did you learn anything about yourself throughout this process?
The program offers many great tools and invites the learners to be mindful and self-reflective scholar-practitioners. As a learner and practitioner, I discovered that the best way for me to deliver clinical services is to find a way to create a balance between my scholar self and practitioner self.
What are you working on now? 

I am pursing my doctoral degree in psychology. I am also involved in multiple research projects, teaching at the University of Winnipeg, and developing and delivering training and workshops for couples, individuals and organizations nationally and internationally. Furthermore, I am working on research presentations for a couple of national conferences and am writing a book for use in clinical settings.    More information on one of these projects may be found here: http://www.winnipegsun.com/2015/02/08/seminars-help-police-work-through-on-the-job-trauma
Any advice for students interested in pursuing this program?
The program will offer you many opportunities as an individual and as a scholar-practitioner. It also requires intensive clinical and individual work.  If you are interested in extensive clinical practice and are dedicated to being the best clinician you can be, the MMFT program is a great fit for you.
Read more of our Alumni Features >