Alumna, Lisa McLean from the Joint Master's Program in Peace in Conflict Studies
Graduate Studies
---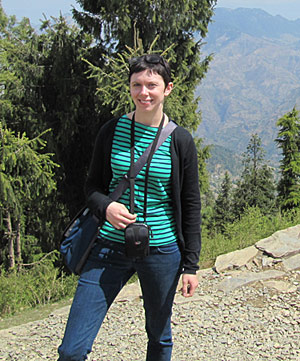 University of Winnipeg Alumnus: Lisa McLean
Previous Degree: B.A. Political Studies (Hons.), University of Manitoba, 2008
Graduate Degree: M.A. Peace and Conflict Studies, Joint Program at University of Manitoba and University of Winnipeg, 2013
Honours and Awards: Joseph-Bombardier Canada Graduate Scholarship (Master's - SSHRC)
After I completed my B.A. in Political Studies at the U of M in 2008, I worked for a few years and decided to return to university in 2011 when I enrolled in the Joint-Master's program in Peace and Conflict Studies (PACS) at the U of M and U of W. I defended my thesis in summer 2013 and will be attending the fall convocation.
I truly enjoyed the Joint-Master's program as I was able to meet and connect with faculty and other students at both institutions who exposed me to new ideas and perspectives that strongly influenced my approach to research. The culture of the program was very welcoming, and as a result, I have developed important academic partnerships, as well as close friendships. I would strongly advise future students to take advantage of the resources available at both universities and to explore the insights and ideas of their classmates and of the faculty at both institutions. These discussions and collaborations are vital to learning, and to broadening your own perspective.
My thesis was about community-building activities with newcomer women in Winnipeg. I was drawn to this topic as I have worked with newcomer populations for a few years prior to beginning my Master's degree and was aware of many of the challenges faced by newcomers, and newcomer women in particular, after their arrival in Canada. The newcomer women I spoke with described many of these challenges, as well as their focus on empowerment in the work that they do, and their strategies for pursuing positive social change in their communities. Through my academic and professional work, I hope to contribute to these efforts for social change by confronting the structural barriers to well-being that persist in our communities.
Read more of our Alumni Features >