Adrienne Ducharme on participating in Universities Canada Converge Conference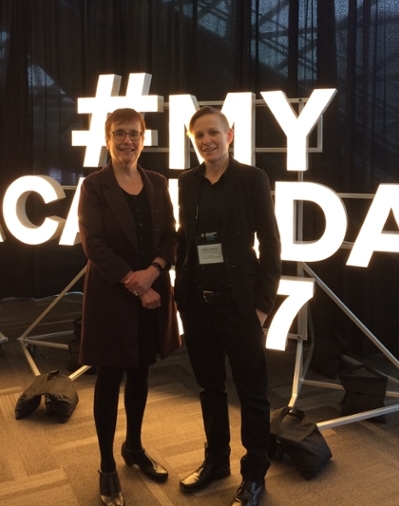 This February, University of Winnipeg graduate student Adrienne Ducharme travelled to Ottawa to attend Converge 2017, a Universities Canada initiative designed to bring together students, leaders, creators, and future innovators. The Faculty of Graduate Studies asked Adrienne to share her experiences.
What program are you currently in at the University of Winnipeg and what does your research focus on?
I started my Masters of Science in Bioscience, Technology and Public Policy in May 2016 at the University of Winnipeg immediately after completing my Honours BSc in Science in April 2016.
My research utilizes a combination of long-term stream chemistry and discharge records from the Experimental Lakes Area and high-frequency stream sampling during spring runoff and during storm events to determine how hydrologic conditions (e.g., spring melt, storm events) and topography (e.g., proportion of wetland coverage) influence catchment dissolved organic carbon (DOC) export to streams.
Were there any connections between your research and discussions or panels at the Converge Conference?
There were three main themes of the Converge 2017 conference: how will pluralism help shape the future of our country, how do we advance reconciliation between Indigenous and non-Indigenous peoples and how do we drive innovation led by creative and globally engaged citizens. While these themes do not specifically relate to any scientific field in particular, I feel that inclusivity is incredibly important in all disciplines. Innovation was another theme that could be considered relevant or connected to my area of study. Science is changing every day and so is our climate and I feel that, as Canadians and Canadian universities, staying at the forefront of technological innovation is extremely important for advancing our understanding of how these climatic changes could influence every aspect of the way we currently live as Canadians. Therefore, no, the themes did not relate directly to my field of study, but I think there are aspects of each theme that are most certainly relevant to every discipline and to how we conduct ourselves on a daily basis to ensure we are inclusive, innovative and do everything we can to further reconciliation at all levels of our personal and professional lives.
Near the end of the conference there was a session called Mobilizing Generation 2017 that centered around the question, "How can Canada unlock the talent of potential of our next generation of innovators, entrepreneurs and community leaders to achieve our country's potential for 2067?" What shape did this discussion take?
Mobilizing Generation 2017 took the form of mini-round table discussions. Each table had a University President as the chair as well as an employee from Universities Canada that took notes of the discussion. Participants at each table received pre-printed cards that ask a question regarding the main conference themes and asked students if they still had any thoughts/questions/comments about each of the main themes (e.g., reconciliation, inclusivity and innovation). Participants then posted each card on a section of the wall. The next step in the process had one student delegate from each table pick, at random, a question from the wall for each theme. Each student then read the question aloud at our respective tables and we then discussed that topic in depth. Unfortunately, because of the amazing caliber of students and the discussions that unfolded, we only had an opportunity to discuss, briefly, two of the questions. Each person then had an opportunity to write a personal commitment regarding how we are going to take what we learned at the conference and implement it within our personal communities. Each participant wrote their commitment on a cue card and posted it on the wall and we had the option for Universities Canada to mail it us as a postcard in 3-6 months as a reminder of that personal commitment.
What suggestions were made?
This discussion was incredibly insightful. The other students in my group were very intelligent and action-oriented and were already taking steps on their respective campuses to make a difference by doing what they can to implement the power of pluralism and inclusivity in their communities.
What was the highlight of the conference for you and what are you going to take away from your experience at Converge?
The highlight of the conference for me was the KAIROS Blanket Exercise that was an experiential teaching tool that is intended to build awareness and understanding of our shared history as Indigenous and non-Indigenous peoples in Canada. We were "walked through" the last 500 years of history in Canada that included pre-contact, treaty-making, colonization and resistance scenarios. It was a very emotional and intellectual experience about Indigenous rights and history in Canada. I really feel that this exercise should happen at every school, at every level, in every community across the country because it was so incredibly impactful; I truly feel this exercise would go a long way to advancing reconciliation, not just at a 'leadership' level but with every Canadian.
My biggest takeaway is to get more personally involved in movements and activities that happen on campus and in my community. So, personally, I want to do what I can "to be bold, be loud, be proud and be a changemaker." (Quote: Simone Cavanaugh, Student Delegate McGill University, Converge 2017)
Photo: University of Winnipeg President Annette Trimbee and Adrienne Ducharme, Photo Credit: Adrienne Ducharme
For more student features click here!