Introducing Cultural Studies Alumni Evan Wicklund
Graduate Studies
---
Recently, the Faculty of Graduate Studies connected with Evan Wicklund, an Alumni of the Cultural Studies: Texts and Cultures graduate program, to discuss their time at the University of Winnipeg and their current occupation.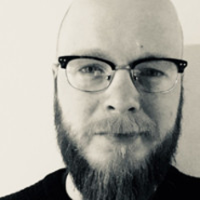 The financial support from the SSHRC Joseph Armand Bombardier Canada Graduate Scholarship provided me with the opportunity to prioritize my studies at the University of Winnipeg during the 2019 and 2020 academic year. I enjoyed my time immensely as a student of cultural studies. The interdisciplinary program allowed me to explore the various components of critical theory and curatorial practices. In particular, I was fortunate enough to build upon the work I developed in my undergraduate work in disability studies and examine representations of disablement in literature, film, philosophy, and politics.
I continue to be intrigued by poststructuralist and intersectional feminist critiques of compulsory able-bodiedness and heteronormativity in art. I am currently working on a manuscript entitled "(De)territorializing Madness: Nonconformist Embodiments in Film Adaptations of the Korean Folktale "Janghwa Hongryeon jeon" and a paper on the intersection of critical disability studies and (post)human ethics by drawing on the works of Gilles Deleuze and Félix Guattari. I plan on continuing my graduate studies in the future and advancing my work in sociological and disability theory.
Upon graduation, I have continued my work as a Research Officer and Manitoba Head Office Lead at the Canadian Centre on Disability Studies o/a Eviance. I also work as an instructor at Red River College in the Disability and Community Support program. My background in cultural disability studies has equipped me with the skills to pursue a career in research and postsecondary education.  
I thank all of my professors and supervisors throughout my studies at the University of Winnipeg, but would like to particularly thank my Graduate Advisor, Dr. Michelle Owen, and Dr. Pauline Greenhill and Dr. Matthew Flisfeder who both supported me with Directed Studies courses. I also thank Dr. Catherine Taylor, Christopher Campbell and Jane Shulman whom I worked with on the RISE (Respect, Inclusion, Safety, Equity) project during my research assistantship. My experience at the University of Winnipeg was enhanced greatly because of the contributions of these individuals and I was lucky to work on individual projects that were of particular interest to me.
Thanks for taking some time out of your day to chat with us, Evan!