Aleks Discusses Her Thesis Research and Time in the Criminal Justice Graduate Program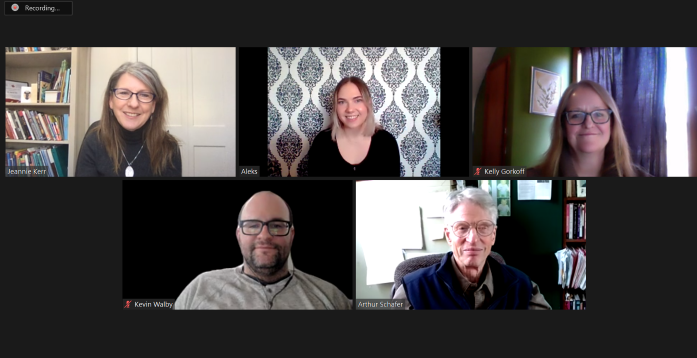 Recently, the Faculty of Graduate Studies chatted with Aleks, who completed her graduate thesis for the Criminal Justice program over Zoom. 
Can you tell us why you enrolled in the Master of Arts in Criminal Justice program at the University of Winnipeg?
I think it was just kind of serendipity. I was finishing my honours of Criminal Justice at the University of Winnipeg the year before the department launched the master's program and I decided to apply. Even though I wasn't planning on continuing on to do a MA originally, I'm very glad I did. I love the department and the professors, so it seemed like an organic way to continue my studies, especially since my masters thesis was a continuation of my honours research.
Can you tell us about the program and your research focus?
The Criminal Justice Master's program is 2 years in length (for a full time student) and has both a project and thesis stream. There are many wonderful options for supervisors who come from different academic disciplines which I think attracts students of various interests to the program. My research had a natural evolution as many do and regardless of the method or type of research I chose at the end of the day I felt supported by my supervisors and sometimes pulling on the expertise of other faculty.
My thesis concentrated on local experiences with medical assistance in dying (MAiD), also known as euthanasia. The idea came from a criminal law seminar I was taking at the time which covered the case (Carter) that legalized MAiD in Canada. Since then, I followed how the laws and Canadian literature progressed until eventually getting to conduct my own research. It was fascinating to engage in the research process and get to be immersed in the very subject I have spent so long reading about.
Recently, you defended your thesis titled "Accessing Medical Assistance in Death (MAiD) An interpretative phenomenological analysis of experiences with MAiD by family members and providers in Manitoba". What was the highlight of your thesis research for you?
Despite the mouthful title, the research was really about shedding light on the experiences of families and healthcare professionals involved. It felt to me that the policy discussions and ongoing political debates were lacking input from those who were directly impacted. So one of the highlights for me was finally getting to ask the questions that I felt were missing from the narrative. Another highlight was just getting to engage in the research process and learn what it requires from ethics to dissemination.
You were part of the first cohort to graduate from the Criminal Justice graduate program. What are you going to take away from your experience?
Time management and organization skills, haha. Yes, there was four of us who were part of the first cohort of full time students that got nicknamed the 'fab 4', also known as the guinea pigs. But really, aside from the resilience and many other things you learn in grad school, I am most grateful for the connections I made with faculty and friends. Those conversations, debates, and mutual commiseration is also what I'll miss the most because it's what made it fun.

It sounds like you had a very rewarding experience in the program! Thanks again for sharing with us!