Master of Arts in Criminal Justice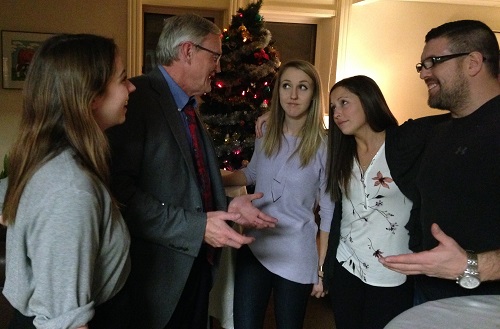 Criminal Justice Graduate Chair Dr. Michael Weinrath chats about the MA program with current CJ Honours and alumni now working as practitioners (l-r, Julia Petrasko, Samantha Hanson, Jennifer Weger and Diego Contador). The MA part-time option has sparked interest amongst CJ graduates employed in the criminal justice field.

The Faculty of Graduate Studies spoke with Dr. Michael Weinrath, the Graduate Program Chair for the MA in Criminal Justice program, launching at The University of Winnipeg in September 2018.

What makes this program unique in Manitoba?
Our program is focused on criminal justice from an interdisciplinary perspective, including differing theoretical and methodological approaches to the study of crime, the criminal justice system and approaches to critiquing or ameliorating the system. Other social science or legal programs may offer one or two courses in criminology or crime and focusing on offenders or victims, but we are the only program in the prairie provinces with faculty and courses totally dedicated to the area of criminal justice.
What kind of students might be interested in this program?
All kinds of students, from recent grads to practitioners working in the field. Ideally, students will have a four year degree in criminal justice, criminology, psychology, sociology, political science or a related field. A minimum GPA of 3.0 is required. Students with excellent academic training but from a non-social science background may apply, but would be at a disadvantage and likely be asked to take some qualifying courses first. For those working, full time and part time options are available.
What kind of work might graduates of this program pursue?
Some students may wish to go on to doctoral studies in criminal justice or criminology. Many will likely end up doing program or policy work for social service, addictions, policing, court, corrections government or non-profit agencies. Other students may wish to do practitioner work in the system (or continue to do this work), but be better poised to assume supervisory or management positions.
What are you most looking forward to with the launch of this program?
We are looking forward to meeting the students, finding out what research excites them, and providing guidance. Facilitating student discussion in seminars will also be challenging and engaging for professors. Students will also gain experience as teaching assistants and research assistants. They will have a chance to work on our research projects, which will be invaluable for them (and for us).
What is the focus of the program?
Students will develop thinking, writing, policy development and research skills. They will gain a strong grasp of criminal justice theories and methods. Students will learn critical and historical perspectives on the criminal justice system. Most importantly, we want our students to develop the ability to carry out empirical research. In either the thesis or project stream the student will be gathering data, analyzing it, and writing a significant paper on their findings.

Click here for more graduate program features.