Human Rights Stories of Success
"Human Rights that can help you as you move forward in life."
My name is Dannielle Morrisseau (She/Her) and I am a Metis-Cree Nation woman from Brandon, Manitoba which is located on Treaty 2 Territory. I graduated from the Human Rights program at the University of Winnipeg in 2021. I transferred to U of W from Simon Fraser University in 2017, after learning there was a Human Rights program closer to home where most of my family is from. To be completely fair, transferring from SFU to Winnipeg actually revived my academic career, as suddenly I was in a program I was thoroughly passionate about, that had amazing Professors who genuinely cared about not only my studies but my well-being as well. There were times throughout my last four years that were challenging, not just mentally but physically as well, and the one piece of advice I can give students is reach out. Tell your professors if something is troubling you, if you're having a hard time whether it be in your studies or personal life, they've been through it too and know which supports to connect you with if needed. Learn more
---
"My time at Global College truly made me a more knowledgeable and socially-conscious person."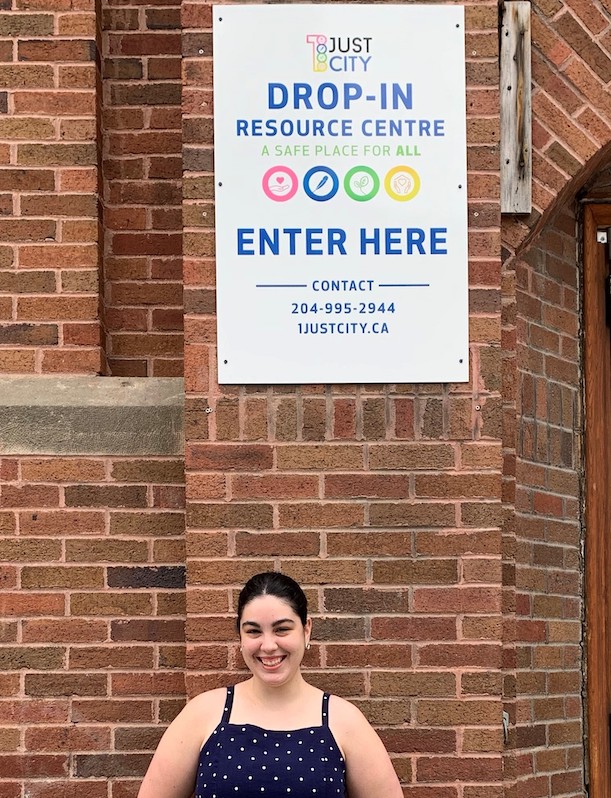 Sarah Steidl (she/her) graduated from the University of Winnipeg in June of 2021 with a major in Human Rights and a minor in Conflict Resolution Studies. She decided to pursue a degree in Human Rights because of her interest in history and social movements and her strong desire to create a positive impact in the lives of others. She chose the Global College because of its unique program offerings and strong commitment to the student experience. She currently works as a Community Programmer at the NorWest Youth Hub.
Steidl's fondest memory of her time at the Global College is participating in the practicum program. Steidl says, "Completing a practicum placement allowed me to spend time at 1JustCity, an organization that operates a drop-in community space in the West End. Through this experience, I was able to meet so many amazing people and build the hands-on skills that will allow me to continue to grow throughout my career. Learn more
---
"Take advantage of all the amazing travel opportunities, workshops and lectures the Global College offers. Never be afraid to ask questions."
Michelle Friesen graduated from the University of Winnipeg in October 2020 with a 4-year BA in Human Rights. She rather stumbled into Human Rights studies after taking an introductory course that got her hooked on the program. From her first paper to her final practicum in Cambodia, Michelle was continuously challenged intellectually and personally.
Michelle is currently working with the Canadian Red Cross as an Emergency Response Team Supervisor and is in the application process for the Canadian Armed Forces as a Medical Technician. She hopes to apply her prospective medic training to future humanitarian emergency responses. Learn more
---
"Human Rights has multiple applications with other career paths."
My name is Stephen Krzos. My experiences throughout my life shaped what I later wanted to follow to university. I pursued a degree in Human Rights because of my interests in learning about other cultures, international politics, and social issues. I completed my bachelor's degree in Human Rights in 2016. After I had graduated, their was no clear answer to what career to choose. I worked as an ESL teacher in Daegu, South Korea and Taichung, Taiwan for a year and a half. Teaching was not quite what I wanted to do as a career. I had remembered some important advice from my professors and colleagues in the Global College program. Human Rights has multiple applications with other career paths. My passion in meeting people from other cultural backgrounds gave me some inspiration. My time living in multiple countries for an extended period of time gave me a better understanding of how difficult it is for someone to adjust to a different way of life. I eventually set my sights on finding a lifelong career that involves working with immigrants and refugees to help them adjust to living in the United States. I am currently living in New York City and searching for the means to help people from around the world.
---
"Now as a lawyer, I apply the foundational critical thinking and advocacy skills that Global College's multi-disciplinary degree helped me to cultivate."
Madison Pearlman graduated in June 2013 with a 4-year BA in Human Rights and Global Studies and a minor in conflict resolution studies. She then went on to obtain her Masters of Science in Refugees and Forced Migration Studies from the University of Oxford and came back home to Winnipeg to pursue her law degree at the University of Manitoba. Currently, Madison is a lawyer at PooranLaw in Toronto, a social justice firm with a focus on promoting inclusion in law, policy and in the community.  
Madison's passion for human rights and social justice began in high school. When she became aware that Global College offered a degree that would foster and expand her knowledge and understanding of human rights, law and politics, she knew it was the place for her. Being at a downtown campus, Madison was quickly exposed to and encouraged to participate in many important community initiatives. Learn more
---
"I met some of my closest friends and greatest connections as a student."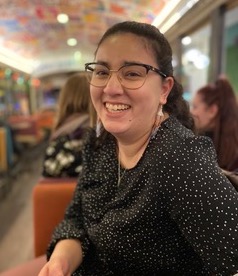 Shayne Wong graduated in June 2018 with a 4-year BA in Human Rights and Conflict Resolution Studies. Having graduated from a strongly UNESCO affiliated high school, she joined the program to further her learning and engagement in human rights. During her studies, she gained knowledge, skills and was offered opportunities to continue to grow and develop within the field. 
Wong is thankful for the various opportunities that let her learn and grow inside and outside of the classroom. She travelled to the United Nations on multiple occasions with other students to attend the Commission on the Status of Women (CSW). Additionally, she completed an international practicum in Thailand where she taught primary and university level students. Learn more 
---
Global College: A World of Experiences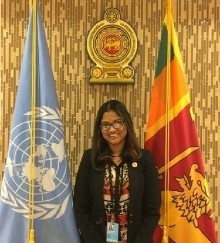 Rahasin Teruni Walaliyadde graduated in June 2017 with a BA in Human Rights and Conflict Resolution Studies.  Walaliyadde has been interested in human rights from a young age, particularly since she experienced a civil war in her birth country (Sri Lanka), and was excited to hear about the Global College's human rights undergraduate degree.  She adds that she thoroughly enjoyed her time learning and sharing knowledge, and found that the themes of Conflict Resolution complemented Human Rights very well.    
During her time at Global College, Walaliyadde participated in many exciting opportunities, and was a member of the Golden Key International Honour Society. Learn more 
---
Making a Difference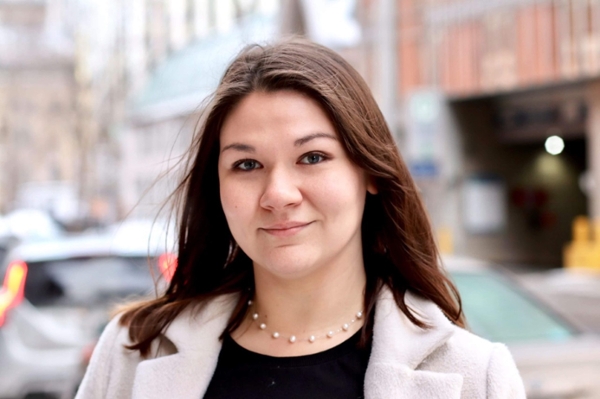 Breanne Lavallee-Heckert graduated in October 2016 from Global College's Human Rights and Global Studies program. She decided to join the program because she wanted to make a difference in the world, and she knew that the program would give her to tools to do so. Breanne speaks very positively about her experiences at Global College: "There are many experienced individuals with unique backgrounds teaching at Global College, and I feel very fortunate to have been taught by these amazing professors. The program helped me feel confident in my knowledge of human rights, and this confidence helped push me out of my comfort zone." Learn more
---
Empowering Global Citizens/p>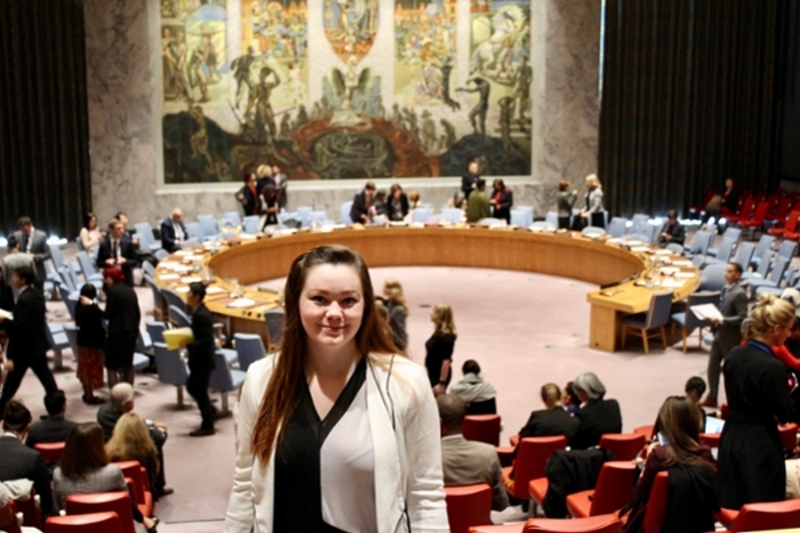 Katrina Leclerc graduated in June 2016 with a 4-Year BA in Human Rights and Conflict Resolution Studies.  During her degree, she participated in a wide variety of exciting opportunities, both inside and outside the classroom.  She describes Dr. Dean Peachey and (now Senator) Professor Marilou McPhedran as instrumental to her overall learning and growth, through courses, student politics, extra-curriculars, and so much more! Learn more
---
Global College: A Home Away from Home  
Chelsea Caldwell graduated in June 2014 with a 4-Year BA in Human Rights and Global Studies and a minor in Conflict Resolution Studies. She went on to study at Osgoode Hall Law School at York University where she graduated with her law degree in June 2017. Caldwell describes how she was challenged, mentored, impassioned, and inspired during her time at Global College. She travelled to New York and Ottawa twice (in her first and then last year of studies), assisted a professor with a course on issues affecting newcomers to Canada. Learn more
---
Community Activist Using Media to Create Change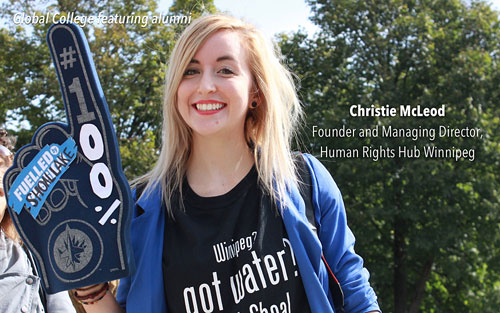 Christie McLeod graduated with a 3-year B.A in Human Rights and Global Studies (later renamed as Human Rights) and a 4-year degree in International Development Studies.
McLeod stepped down as Executive Director of Mondetta Charity Foundation in order to move to Toronto to attend Osgoode Hall Law School. She continues to work with Mondetta Charity Foundation as their Communications Director from Toronto. Learn more
---
Joint Master's Student Continues to Promote Human Rights Globally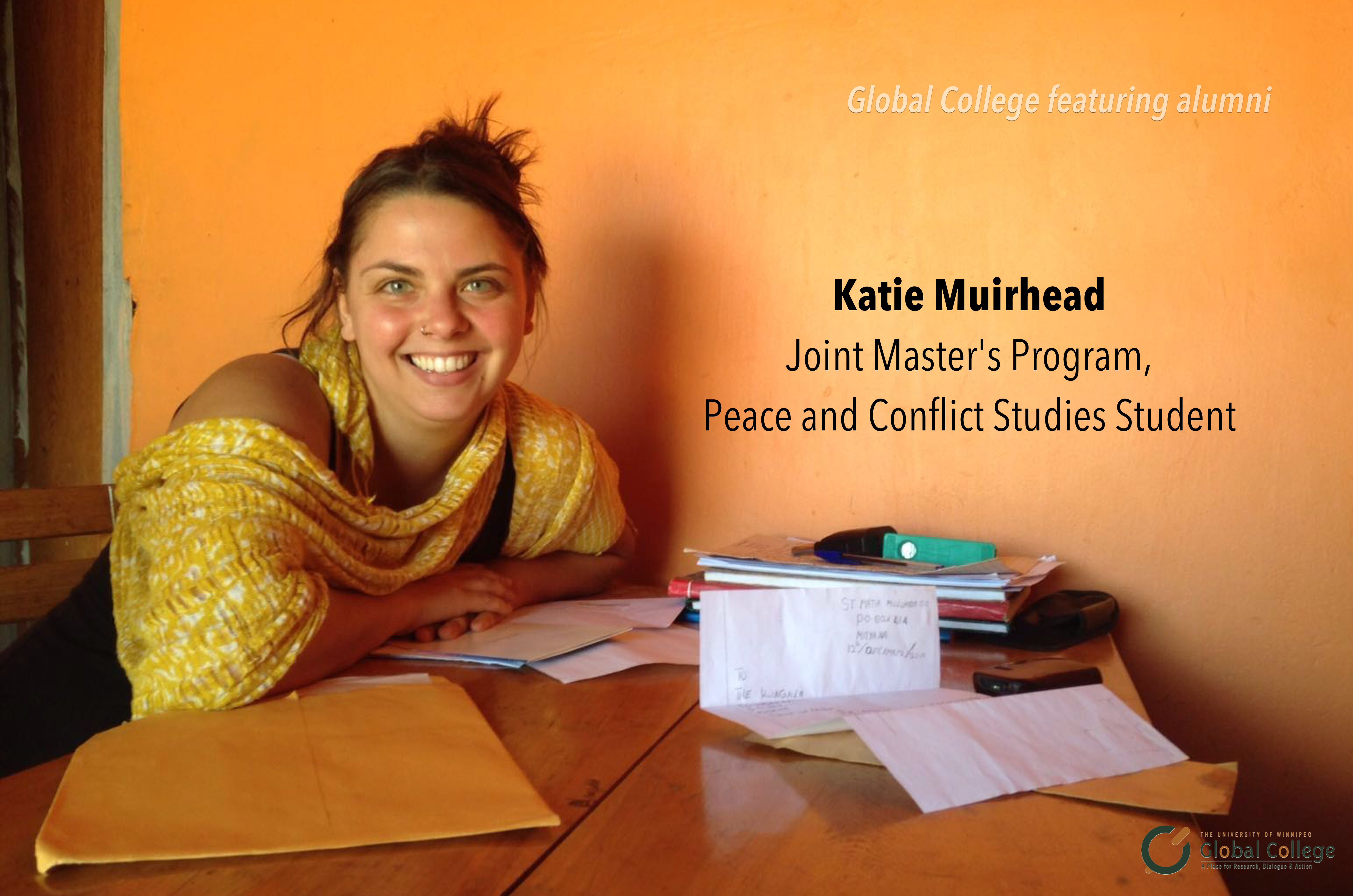 Katie Muirhead graduated from Global College in 2015 and is now pursuing a Master's degree at the University of Manitoba in the Joint Master's program in Peace and Conflict Studies.
Muirhead's fondest memory of her time at Global College is when she traveled to New York to attend the United Nations and Ottawa to visit the Department of Foreign Affairs, as part of a Study Tour facilitated and directed by Professor McPhedran. Learn more
---
Integrating Human Rights in the Classroom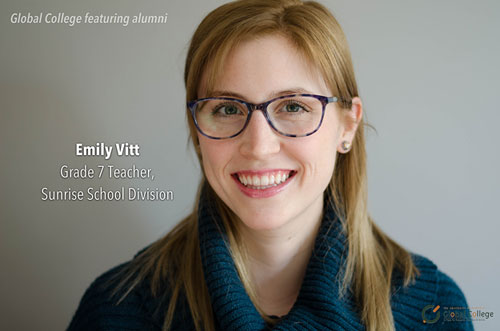 Emily Vitt graduated from the University of Winnipeg in 2015 with a Bachelor of Education and a Bachelor of Arts. Her Bachelor of Arts was in Human Rights with a major in English and minor in Political Science.
It was in high school that Vitt started to ponder about the type of career and life she wanted. When asked what led her to human rights, Vitt says: "Through my involvement with the school's Human Rights Group, I was able to travel to Europe and learn about the history of human rights, including visiting Holocaust and World War II sites. Learn more
---
Human Rights graduate takes on Osgoode Hall Law School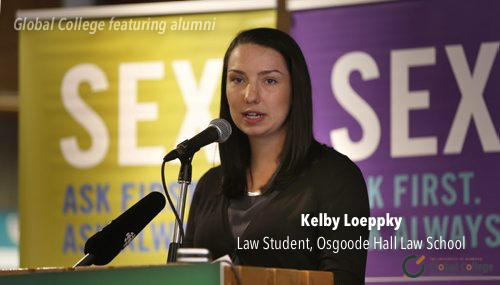 Kelby Loeppky graduated from the University of Winnipeg in June of 2016. Loeppky earned a double major in Human Rights & Global Studies (4-year) and Conflict Resolution Studies (3-year).
From Winkler, Manitoba, Loeppky now heads on to the big city of Toronto—to attend Osgoode Hall Law School this September. But what has shaped Loeppky's journey? What can she tell us about her time at the Global College? Learn more
---
Want to learn more about the Global College or the B.A. in Human Rights? Visit: http://www.uwinnipeg.ca/global-college/