Human Rights Stories of Success
Human Rights Careers
---
Global College
A World of Experiences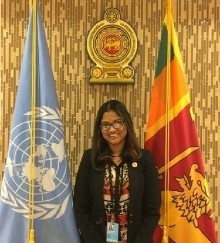 Rahasin Teruni Walaliyadde graduated in June 2017 with a BA in Human Rights and Conflict Resolution Studies.  Walaliyadde has been interested in human rights from a young age, particularly since she experienced a civil war in her birth country (Sri Lanka), and was excited to hear about the Global College's human rights undergraduate degree.  She adds that she thoroughly enjoyed her time learning and sharing knowledge, and found that the themes of Conflict Resolution complemented Human Rights very well.    
During her time at Global College, Walaliyadde participated in many exciting opportunities, and was a member of the Golden Key International Honour Society. Learn more
---
                                                  Making a Difference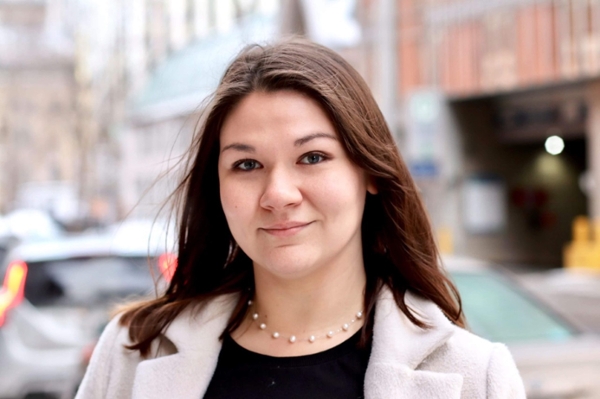 Breanne Lavallee-Heckert graduated in October 2016 from Global College's Human Rights and Global Studies (HRGS) program.  She decided to join the HRGS program because she wanted to make a difference in the world, and she knew that the program would give her to tools to do so.  Lavallee-Heckert speaks very positively about her experiences at Global College:  
"There are many experienced individuals with unique backgrounds teaching at Global College, and I feel very fortunate to have been taught by these amazing professors. The program helped me feel confident in my knowledge of human rights, and this confidence helped push me out of my comfort zone." Learn more
Empowering Global Citizens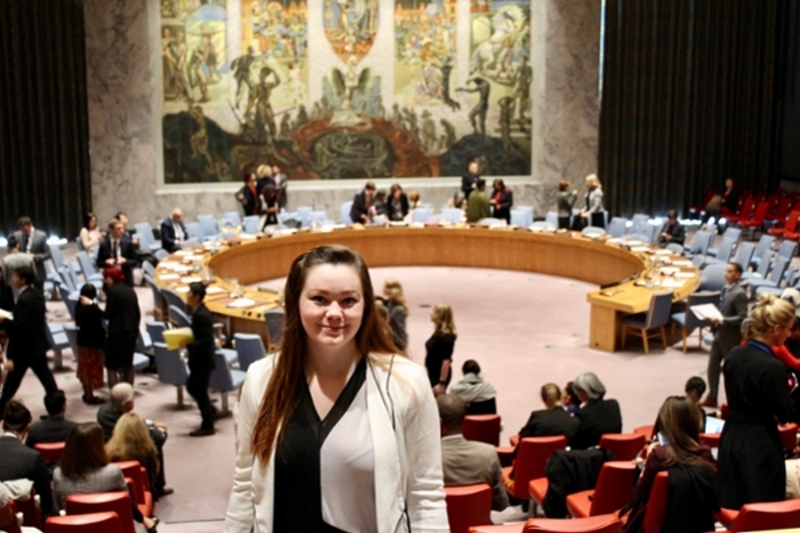 ---
Katrina Leclerc graduated in June 2016 with a 4-Year BA in Human Rights and Conflict Resolution Studies.  During her degree, she participated in a wide variety of exciting opportunities, both inside and outside the classroom.  She describes Dr. Dean Peachey and (now Senator) Professor Marilou McPhedran as instrumental to her overall learning and growth, through courses, student politics, extra-curriculars, and so much more!
Leclerc had the opportunity to work with the UN Department of Peacekeeping Operations, where she helped facilitate a workshop on gender mainstreaming with UN Police and international women peacekeepers. She travelled to the United Nations in New York on multiple occasions to speak at, interpret, translate, and coordinate events during the UN Commission on the Status of Women in March (2015-present) and the UNSCR 1325 Anniversary in October (2015 & 2017).  She was also asked to translate a curriculum for the education and peacebuilding of young girls in the Democratic Republic of Congo through the new program Girl Ambassadors for Peace coordinated by the INGO, the Global Network of Women Peacebuilders (GNWP).
"I learned to be a compassionate, understanding, and thoughtful global citizen, realizing and acknowledging my privilege in all situations.  Through the different opportunities offered to me by my professors and the Global College team, I have gained so much more than I could have hoped."
Leclerc now works in the Parliament of Canada for Senator Marilou McPhedran, where she helps to make real change and alleviate systemic barriers every day.  She reflects: "I understand the immense privilege I have to work on policies with civil society, government officials, and experts to facilitate the law-making processes in our Parliament".  Leclerc is also a consultant to the Manitoba Women 4 Women of South Sudan board, where diaspora women work together towards peace in their community and in South Sudan.   
Thanks to her experiences at Global College, she also coordinates the Girl Ambassadors for Peace program for the GNWP.  Through this organization, Leclerc has travelled to Nepal to work with government officials and civil society on the budgeting of their National Action Plan on the UNSCR 1325 (on women, peace, and security).  Afterwards, she coordinated and contributed to the publication of a manual on costing and budgeting National Action Plans on UNSCR 1325, which was launched at UN Women in October 2017.  
"I will be traveling with GNWP to the Democratic Republic of Congo in the coming months for another phase of the Girl Ambassadors for Peace program – which focuses on the education and leadership of young women and girls in conflict-affected areas.  I am so thankful for the opportunity to work with such dedicated, devoted, and knowledgeable members of the international community, and to develop working relationships with young women and girls across the world."
Leclerc has continued to study at the Global College, and is currently working on her thesis for her MA in Peace and Conflict Studies, a Joint Master's Program between the University of Manitoba and the University of Winnipeg.
"I'm thankful to all my professors and those who shaped my years at Global College as they've enabled a future in a field which can be sometimes difficult, but so rewarding. Being able to bring positive, long-lasting peace to various areas of the world could not be more rewarding!"
Want to learn more about the Global College or the B.A. in Human Rights? Visit: http://www.uwinnipeg.ca/global-college/
---
Global College: A Home Away from Home

Chelsea Caldwell graduated in June 2014 with a 4-Year BA in Human Rights and Global Studies and a minor in Conflict Resolution Studies. She went on to study at Osgoode Hall Law School at York University where she graduated with her law degree in June 2017.  Caldwell describes how she was challenged, mentored, impassioned, and inspired during her time at Global College.  She travelled to New York and Ottawa twice (in her first and then last year of studies), assisted a professor with a course on issues affecting newcomers to Canada, and formed lifelong relationships with friends and colleagues. 
"While I had great interest in social justice prior to Global College, it was my studies there which made my passion for human rights tangible. My studies at Global College cemented my desire to continually seek activity in my life which draws upon my inquisitive and compassionate nature."
Caldwell speaks very fondly about her time at Global College, saying it was like her home on campus while studying at the University of Winnipeg for four years.    
"Global College was the place where I felt I could go and have a tea or snack on my lunch or break with any staff or students on-site. I met some of my best friends while on the Global College Student Advisory Council and in the seminars of my Human Rights and Global Studies program."
Caldwell used her education as a way to engage in a more informed and compassionate manner with surrounding people and places.  She applied what she learned at Global College within her legal studies at Osgoode Hall Law School, saying that it better equipped her to analyze issues within various caselaw as well as in her interactions with clients at the legal aid clinic.  Caldwell believes her Human Rights and Global Studies education trained her to become a more informed and analytical lawyer, through questioning all sides of an argument from a holistic perspective and considering the grey areas of a case, and not just the black or white.  
Reflecting upon her beginnings at Global College, Caldwell says she carries those memories and experiences in her further education and career:
"Currently, I am working in a building which I visited during the UN New York-Ottawa Study Tour in 2010 and then again in 2013.  It is humbling to see how things come full circle, and I am happily reminded of my time as a Global College student every morning when I walk through the front door at work.
Wherever I went post-Global College, I always managed to connect with a friend, former classmate, professor, or friend-of-a-friend from Global College - whether it was in Geneva, Toronto, Bangkok, Ottawa or elsewhere. The world felt a bit smaller and easier to explore with my Global College education and related network on hand."
Want to learn more about the Global College or the B.A. in Human Rights? Visit: http://www.uwinnipeg.ca/global-college/
---
Community Activist Using Media to Create Change
 
Christie McLeod, graduated with a 3-year B.A in Human Rights and Global Studies (later renamed as Human Rights) and a 4-year degree in International Development Studies.
McLeod stepped down as Executive Director of Mondetta Charity Foundation in order to move to Toronto to attend Osgoode Hall Law School. She continues to work with Mondetta Charity Foundation as their Communications Director from Toronto. 
Remaining heavily involved within the Winnipeg community, McLeod is Founder and Managing Director of the Human Rights Hub Winnipeg. This is a newly-launched interactive website developed in partnership with Global College to coordinate and promote the many events and activities taking place in Winnipeg's human rights sector.
The Human Rights Hub is currently fundraising for the launch of the Speakers Bureau, an initiative lead by the Hub and the Manitoba Association for Rights and Liberties.
McLeod insists that her fondest memory at Global College was her field course which brought her to South Africa in 2013. McLeod says "this was such a unique opportunity – Canadian and South African students travelled around the country together learning about post-conflict truth, memory and reconciliation. I expected to learn about South Africa, but was surprised to learn nearly as much about myself. While I was passionate about international human rights, I realized that I knew little about the issues in my own country."
Additionally, McLeod advocates closely with the Indigenous communities in Manitoba. Over the last two years, she has worked with Shoal Lake 40 First Nation. This community, which was forcibly relocated by the City of Winnipeg in the early 1900s, lacks an all-weather access road and has been under a boil water advisory for the last 19 years.
McLeod says "partnering with Shoal Lake 40 FN has opened my eyes to the institutionalized racism and systemic injustice that persists in our nation's treatment of Indigenous peoples. Significant changes need to be made–perhaps in our laws and policies–to begin to rectify these injustices. While I recognize my settler perspective, I am hopeful that a thorough understanding of the law will help me to better advocate alongside Indigenous peoples and contribute to this discussion."
Want to learn more about the Global College or the B.A. in Human Rights? Visit: http://www.uwinnipeg.ca/global-college/
---
Joint Master's Student Continues to Promote Human Rights Globally

Katie Muirhead graduated from Global College in 2015 and is now pursuing a Master's degree at the University of Manitoba in the Joint Master's program in Peace and Conflict Studies.
Muirhead's fondest memory of her time at Global College is when she traveled to New York to attend the United Nations and Ottawa to visit the Department of Foreign Affairs, as part of a Study Tour facilitated and directed by Professor McPhedran.
Now Muirhead runs a non-profit organization in Uganda that focuses on sustainability and public health information. Her knowledge of participatory grassroots development, coupled with her interest in women's rights, has allowed for a lot of progress in developing programs that are appropriate and successful in the community.
Muirhead explains that her background in human rights is helpful in many ways. For example, "before the refugee crisis became mainstream news, I was familiar with many of the problems refugees were facing," she says. 
When it became a more popular issue in the last couple of years, Muirhead was able to help friends and family make sense of what was happening, and also offer a list of programs and resources they could access to learn more. Muirhead adds: "My family even sponsored a family from Syria!"
Muirhead insists "a human rights degree is so diverse – you will find a use for it everywhere you look."
When asked what message she would like to leave with students, Muirhead said, "No matter where you settle in the world, you are not far from someone or somewhere that has seen a major human rights violation occur and so it is important to learn how to navigate those situations. This upcoming generation will be narrating our future; if we have been on the wrong side of history, let's hope we get to the right side of the future."
Want to learn more about the Global College or the B.A. in Human Rights? Visit: http://www.uwinnipeg.ca/global-college/
---
Integrating Human Rights in the Classroom 

Emily Vitt graduated from the University of Winnipeg in 2015 with a Bachelor of Education and a Bachelor of Arts. Her Bachelor of Arts was in Human Rights with a major in English and minor in Political Science.
It was in high school that Vitt started to ponder about the type of career and life she wanted. When asked what led her to human rights, Vitt says: "Through my involvement with the school's Human Rights Group, I was able to travel to Europe and learn about the history of human rights, including visiting Holocaust and World War II sites. Additionally, I had the opportunity to participate in the United Nations Global Leaders Conference, held in New York and Washington D.C. These experiences, along with the amazing teachers I was lucky to have throughout high school, inspired me to pursue my interest in learning about different cultures and human rights in my post-secondary education"
Currently a 7th grade teacher for the Sunrise School Division, Vitt uses human rights on a daily basis to teach her students about social justice and the founding principles of human rights.
"My Social Studies curriculum is titled "People and Places in the World" and has a focus on world geography, global quality of life, ways of life and human impact. I passionately approach teaching my students about human rights, as Grade 7 is a perfect age to introduce these topics. At this age, they are just beginning to develop their own opinion on the world. Using the knowledge and experience I gained in my Human Rights degree has helped develop great in-class discussions about stereotypes, racism and discrimination."
When asked to reflect on her experiences at Global College, Vitt explains that travelling to El Salvador for a two-week field course in Sport, Development and Peace, was one of her fondest memories, "Learning about the ability for sport/physical education to minimize violence and gang culture in youth was an incredible and eye-opening experience. If you have the opportunity to participate in field courses, I highly recommend it!"
"Overall, I had many positive experiences at the University of Winnipeg. I am very grateful for the people that I connected with and inspiration and lifelong friendships that I gained from these opportunities."
Want to learn more about the Global College or the B.A. in Human Rights? Visit: http://www.uwinnipeg.ca/global-college/
---
Human Rights graduate takes on Osgoode Hall Law School

Kelby Loeppky graduated from the University of Winnipeg in June of 2016. Loeppky earned a double major in Human Rights & Global Studies (4-year) and Conflict Resolution Studies (3-year).
From Winkler, Manitoba, Loeppky now heads on to the big city of Toronto—to attend Osgoode Hall Law School this September. But what has shaped Loeppky's journey? What can she tell us about her time at the Global College?
When asked about some of the defining moments of her undergrad, Loeppky states, "Hosting and co-organizing the provincial Consent Culture Forum!" says Loeppky, "it was great to be able to advocate for women's rights and work together with other students to eliminate gender-based and sexual violence on post-secondary campuses.
Not only has Loeppky's involvement with women's rights and human security flourished throughout her years, she has also developed critical skills to help with her involvement at the Manitoba Human Rights Commission.
Loeppky worked as an Investigator for the Manitoba Human Rights Commission, defending rights for all Manitobans.
"Not only did this degree give me an in-depth understanding of human rights principles and human rights systems in Canada, but it also honed my reading, writing, and analysis skills. This degree and the wonderful faculty in it also helped me to develop communication skills, networking skills, and helped to foster confidence in my abilities"
Lastly, Loeppky has one simple message for students attending Global College:
"Get involved! I met some of my best friends and mentors through this degree."
Want to learn more about the Global College or the B.A. in Human Rights? Visit: http://www.uwinnipeg.ca/global-college/