Students
 Global College Student Advisory Council (GCSAC)
The Global College Student Advisory Council (GCSAC) is student-led group representing the Human Rights Department. They work to promote human rights, both locally and globally, through a variety of collaborative initiatives.
Joining GCSAC is a great way to:
Gain Volunteer Experience
Develop Leadership Skills
Get Involved in the Community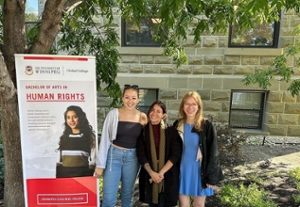 Participating in GCSAC is a great way to gain leadership skills, participate in volunteering, and engage with the community. By working together as a team to promote human rights, participating in GCSAC allows students to develop communication abilities, a sense of teamwork, and grow their leadership skills. Opportunities are available within GCSAC to take on larger roles and more responsibility- further developing an understanding of advocacy work, leadership, and human rights. 
Joining GCSAC provides you with the opportunity to get involved in both the local and international community. Participate in fundraisers, help facilitate donation drives for organizations in need, and volunteer your time in the community!
Meeting Times: Meetings are held biweekly and the group corresponds regularly via WhatsApp. 
Follow GCSAC on Instagram for updates or email them at uw.gcsac@gmail.com.