Students
Global College
---
Meaningful research, engaging dialogue, effective action...
Students of the Global College Human Rights Major are action-oriented, humanitarians, with the drive to achieve positive change. Opportunities to engage in multifaceted research and comprehensive dialogue provided in HRGS courses cultivates students' ability to analyze, develop and orchestrate meaningful action within our global communities.
---
Students' Experiences
Emily Rempel, University of Winnipeg's Ethics Team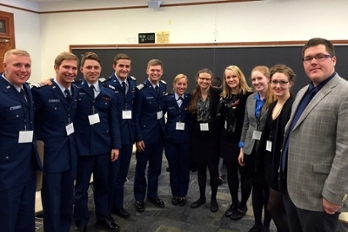 This past fall Emily joined the University of Winnipeg's Ethics Bowl team and traveled to Boulder, Colorado to compete in the high-level academic competition.
"The Ethics Bowl competition was a fantastic opportunity for me to develop strong friendships with my team members, learn from a variety of experts in their respective fields of work and study, and strengthen my leadership skills as Team Leader."
Katrina Leclerc and Claire Paetkau, Committee on the Status of Women's 59th Session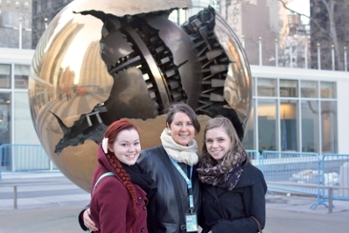 Katrina and Claire attended the Committee on the Status of Women's 59th session at the United Nations in New York.
"Being in New York gave me a new outlook on what it means to fight for women's rights and has inspired me to continue working with NGOs that dedicate their time and efforts towards this vital cause." – Katrina
"It was rewarding to be able to participate in discussions, have the opportunity to meet women that I admire greatly, and work with the Global Network of Women Peacebuilders." – Claire
Geri Beveridge, HRGS Adult Adult Student
"As an adult (audit) student in Prof. Marilou McPhedran's captivating course on Global Studies, I expanded my learning about grass roots global development projects and was inspired to make a difference through local/international opportunity projects. It expanded my concern about human rights, as a global citizen."
---
Student Opportunities
Global College Student Advisory Council (GCSAC)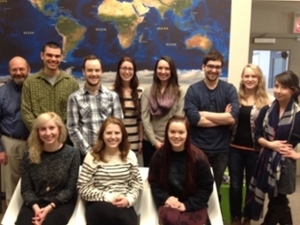 The Global College Student Advisory Council is a group of University Students who work with the Global College to advance human rights centered Community/University collaboration. The Council offers students opportunities to become actively involved in making a difference through leadership skill development, community outreach, conferences, workshops, and volunteer opportunities.


Mentorship Program
The Global College Student Advisory Council (GCSAC) Mentorship Program partners students who are new or showed legitimate interest in the Human Rights program with students who are nearing completion of the program. By providing experienced mentors to new students, we hope to facilitate an easier, earlier integration of students into the Global College community. If you feel you could benefit from guidance in navigating the Human Rights degree, meeting others with similar interests, and becoming more involved with events on campus and in the greater community, our mentorship program is for you! Mentors will provide recipients with three hours of their time per month, divided into two separate meetings of 1.5 hours (or as negotiated between partners). Please send us an email if you have any remaining questions regarding the Mentorship Program.