Students
 Global College Student Advisory Council (GCSAC)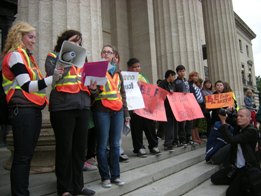 The Global College Student Advisory Council (GCSAC) is a group of University Students who work with the Global College to advance human rights centered Community/University collaboration.
The Council offers students opportunities to become actively involved in making a difference through leadership skill development, community outreach, conferences, workshops, and volunteer opportunities.
Follow GCSAC on social media @GCSAC
---
Mentorship Program
The Global College Student Advisory Council (GCSAC) Mentorship Program partners students who are new or showed legitimate interest in the Human Rights program with students who are nearing completion of the program.
By providing experienced mentors to new students, we hope to facilitate an easier, earlier integration of students into the Global College community. If you feel you could benefit from guidance in navigating the Human Rights degree, meeting others with similar interests, and becoming more involved with events on campus and in the greater community, our mentorship program is for you!
Mentors will provide recipients with three hours of their time per month, divided into two separate meetings of 1.5 hours (or as negotiated between partners). Please send us an email if you have any remaining questions regarding the Mentorship Program.
Please click here for an application form!