Rahasin Teruni Walaliyadde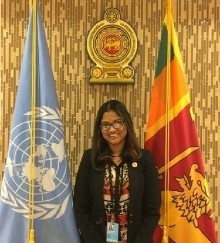 Rahasin Teruni Walaliyadde graduated in June 2017 with a BA in Human Rights and Conflict Resolution Studies.  Walaliyadde has been interested in human rights from a young age, particularly since she experienced a civil war in her birth country (Sri Lanka), and was excited to hear about the Global College's human rights undergraduate degree.  She adds that she thoroughly enjoyed her time learning and sharing knowledge, and found that the themes of Conflict Resolution complemented Human Rights very well.    
During her time at Global College, Walaliyadde participated in many exciting opportunities, and was a member of the Golden Key International Honour Society. 
"I had an amazing faculty who were always willing to meet with me, providing guidance and encouragement including sharing a joke or two.... The numerous field courses, highlighting lived experiences, set this program apart from others. These courses took me to the United Nations in New York, Colombia, and Thailand. Being a member of the Institute for International Women's Rights-Manitoba (IIWR-MB), I was able to attend the Commission on the Status of Women (CSW) as part of the Canadian delegation to the United Nations in New York. I had the opportunity to converse and exchange ideas with many people including high level delegates like the Minister of Status of Women in Canada and Minister of International Development and La Francophonie."
Walaliyadde was also a Teaching Assistant (TA) to a number of professors at Global College.  She says that being a TA helped her develop a new sense of gratitude and appreciation for the time and energy that is put in by faculty and staff to prepare programs and classes, find and invite guest speakers/lecturers, organize field trip logistics, mark papers, and much more. 
"I had the honour of being a TA for Senator Marilou McPhedran in two of her courses and Professor Obasesam Okoi for one course. Also, I am honoured to continue to be a TA for the Human Rights Practicum program for Professor Lloyd Kornelsen." 
Walaliyadde was also very actively involved in student life during her time at Global College.  She was Co-Chair of the Global College Student Advisory Council for two consecutive years where she organized and facilitated many workshops and guest lecture series.  She was also the Events Coordinator for the Menno Simons College Student Association and collaborated to facilitate the "What is Privilege?" workshop for students.    
Walaliyadde went on to become a Summer Intern with the Canadian Museum for Human Rights, where she researched and prepared two program curricula related to human rights for young children (Kindergarten to Grade 4), and co-authored a program for high school students.  She has volunteered at various workshops and events such as Pathways to Reconciliation, Youth Circles, and the UN Department of Peacekeeping Operations (DPKO).  This included rapporteuring for the Peace Forum organized by the Women's International League for Peace and Freedom (WILPF) and the Global Network of Women Peacebuilders (GNWP) at UN Headquarters, which she says has given her a broader perspective and opened her mind to new ideas and different experiences. 
Walaliyadde continues to volunteer with the UWSA Food Bank, as she has been since 2013.  She states that "it is challenging to experience the magnitude of food insecurity within downtown Winnipeg, yet it is an exciting place to connect and build relationships with students and community members".  She presently works at the Spence Neighbourhood Association (SNA) as the Community Liaison between the City of Winnipeg, the SNA, and community members.  Walaliyadde is in the process of applying to Master's programs at UPEACE in Costa Rica, Uppsala University in Sweden, and University of Bristol in the UK.
Want to learn more about the Global College or the B.A. in Human Rights? Visit: http://www.uwinnipeg.ca/global-college/