Faculty Awards
Marsha Hanen Global Dialogue and Ethics Award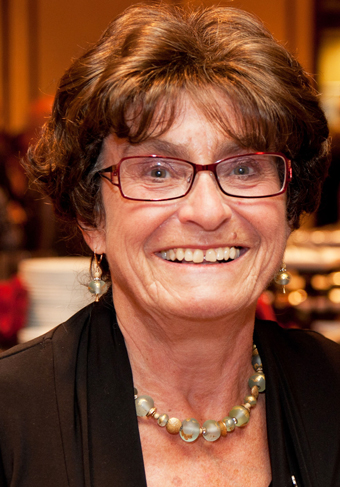 We are now accepting applications for 'Marsha Hanen Global Dialogue and Ethics' Award for Fall 2023/Winter 2024. Full applications are to be e-mailed to global.college@uwinnipeg.ca by October 2, 2023.
---
Global College invites submissions from members of the University of Winnipeg faculty for the Marsha Hanen Global Dialogue and Ethics Program.                   
The Marsha Hanen Global Dialogue and Ethics Program was established in 2007 with a generous donation from former University of Winnipeg President Dr. Marsha Hanen, C.M.  Dr. Hanen's gift supports interdisciplinary research and dialogue.
The Global Dialogue and Ethics Program promotes the open expression and dissemination of ideas and respectful discussion, by supporting U of W faculty-initiated research and providing an interdisciplinary forum for research and dialogue on topics that include an ethical dimension such as:
Human rights and responsibilities;
Women's issues and women's global roles;
Local and international community needs;
Freedom of expression and civil liberties;
Citizenship and participation in globalization and democracy; responsibility and security;
Global corporate responsibility, ethics, and governance; impacts of science and technology; or
Global public health issues.
Projects with community and student participation are encouraged wherever appropriate.
One of the goals of the program is to provide seed money for University of Winnipeg faculty members that will allow the recipient to obtain additional funding from other sources, and to develop larger or on-going projects that will have broad impact - both within the University and beyond.
---
Past Winners:
Dr. Jobb Arnold:
Marsha Hanen Global Dialogue & Ethics Award 2014 Recipient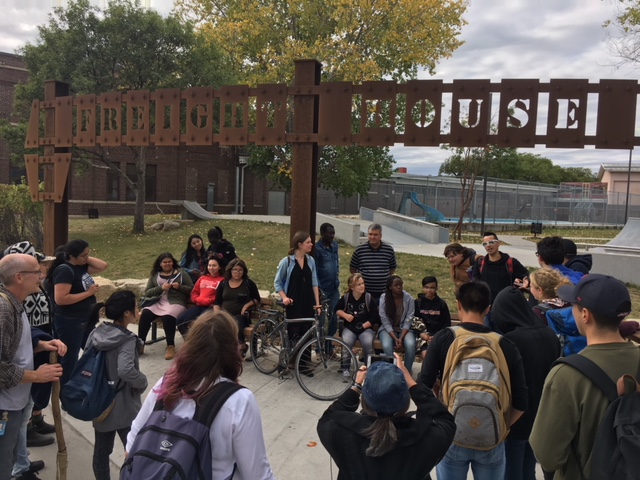 Dr. Jobb Arnold describes his exciting work on his project, The Collaborative Village: Establishing and Maintaining Community Relations:
"The old saying "it takes a village to raise a child" is one of those great maxims that resonates across diverse traditions of wisdom and is reflected in cultural practices around the globe. In Winnipeg's North End and inner-city neighbourhoods, "The Village" has become a popular moniker for the informal webs of friendships, associations, safe spaces, cultural teachers, art, music, community supports and more, that people rely on to navigate day-to-day life. Our group of academic and community partners, including Aboriginal Youth Opportunities, Immigration Partnership Winnipeg and the Circle of Life Thunderbird House, have been working to facilitate community-based dialogues and workshops that engage youth in thinking about how we should respond to the growing uncertainties associated with global climate change.
The Collaborative Village project calls attention to the importance of nurturing informal relationships based on common goals and mutual understandings. These connections enable people to navigate systems that affect their lives everyday while building relationships that can bridge networks, facilitate effective knowledge transfer, and coordinate material responses to regionally specific facets of climate change. The Village is grounded in many of the same tenets that were supposed to anchor treaties, including: Indigenous ceremony, laws and cultural teachings that prioritize right-relationships between humans, with the Land and with our other-than-human relatives. Reimagining these relationships while honouring agreements and building trust is a necessary part of creating and sustaining positive rapport between Indigenous, Settler and Newcomers communities.
At our "Connecting Cyber Space and the Land Base" event held at Thunderbird House there were workshops from media experts who have been critical to establishing what Michael Redhead Champagne calls digital sovereignty in the Village. An important feature of the Village's hybrid cyberspace - land based nature is that there is space to grow. For instance, youth from the Immigrant and Refugee Community Organization (IRCOM) are an active Village community. Sharing their perspectives on coming to Winnipeg, it's not uncommon to encounter stories of having fled unstable regions in search of a better life. Indeed, a uniting theme to emerge from the Collaborative Village Project is the desire to create and sustain both the social and ecological conditions needed to make "a better life" possible. We'd like to thank the Marsha Hanen Fund for supporting these ongoing dialogues concerning how we might meet the foreseeable challenges associated with climate change, at least in part, by reconnecting with and adapting wisdom from the local and global villages we are all a part of."
---
Dr. Angela Failler:
Marsha Hanen Global Dialogue & Ethics Award 2014 Recipient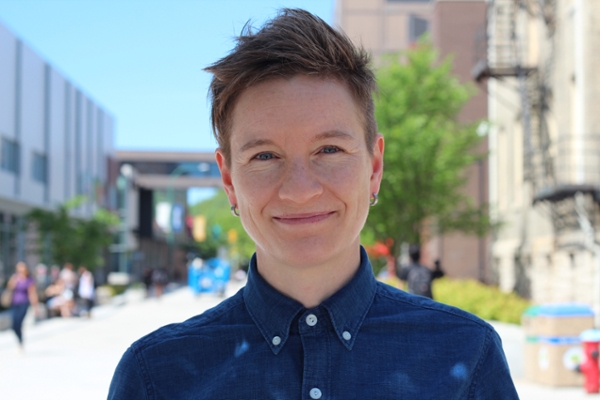 ---
Dr. Angela Failler explains and reflects upon her project Caring for Difficult Knowledge: The Canadian Museum for Human Rights in Focus:
 "Caring for Difficult Knowledge: The Canadian Museum for Human Rights in Focus was a collaborative project I led with the involvement of scholars and student Research Assistants from across the Faculty of Arts at the University of Winnipeg, including the Global College. It represented the early stages of research on how the Museum (in its inaugural phase at that point) was grappling with "difficult knowledge" -- in particular, knowledge and histories with the potential to disrupt dominant, celebratory narratives of Canada and Canadian benevolence. One of the conclusions of this research is that a tension exists within the new national museum between providing "positive visitor experiences" that can be counted on by tourism partners, corporate donors, and government sponsors to generate public appeal and revenue, and a serious examination of Canada's implication in human rights and Indigenous rights abuses.  
This research was undertaken through site visits to the Canadian Museum for Human Rights (CMHR), scholarly workshops, conversations with museum staff, and also tours of the Museum of Canadian Human Rights Violations -- a community counter-museum launched by Shoal Lake 40 First Nation in response to the establishment of the CMHR and Canada's lack of attention to its community's ongoing water security crisis. The results of this stage of research were published in a special double issue of the Review of Education, Pedagogy and Cultural Studies edited by myself and UWinnipeg's Drs Peter Ives and Heather Milne. 
The project has since become enfolded within a larger, SSHRC funded Partnership Development project that I direct called Thinking Through the Museum: Difficult Knowledge in Public (TTTM). TTTM is similarly concerned with seeking new terms of engagement for learning from histories of violence and conflict in the context of museums (http://thinkingthroughthemuseum.org/). This project brings the University of Winnipeg into partnership with Concordia and Carleton Universities, undertaking activities focused on how museums can deepen public debate on difficult historical and cultural issues, increase public access to knowledge including the involvement of historically marginalized peoples, and help contribute to positive social change.
Also emerging from this initial research is a new project that I co-lead with Dr. Heather Milne (UWinnipeg) called Museum Queeries (http://museumqueeries.org/). This project prioritizes Two Spirit, Lesbian, Gay, Bisexual, Transsexual, Transgender and Queer contributions and interventions into museums and museum studies both as a means of addressing structural exclusions and opening new modes of productive inquiry and activism. The idea of "queerying" the museum in this case is not only about addressing the museum's representation of gender and sexuality; it is also about challenging normative systems of oppression with a particular interest in how queering, decolonizing, and anti-racist strategies might work together to bring about change in and beyond museums. 
I'm very grateful for the support that the Marsha Hanen Global Dialogue and Ethics Award provided at the early stages of this research. It has allowed for the development of critical and generative engagements that both the museum and its publics deserve if museums are to contribute meaningfully to the vitality of civic life."
---
Click here to read more about previous projects completed under the auspices of the Marsha Hanen Global Dialogue and Ethics Award.