Emily Vitt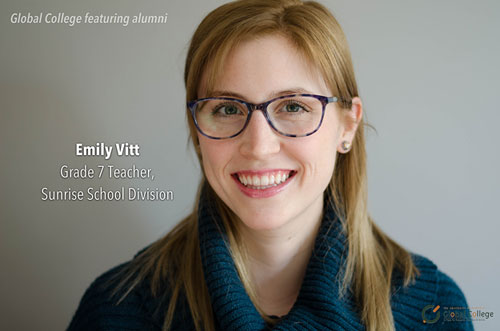 Emily Vitt graduated from the University of Winnipeg in 2015 with a Bachelor of Education and a Bachelor of Arts. Her Bachelor of Arts was in Human Rights with a major in English and minor in Political Science.
It was in high school that Vitt started to ponder about the type of career and life she wanted. When asked what led her to human rights, Vitt says: "Through my involvement with the school's Human Rights Group, I was able to travel to Europe and learn about the history of human rights, including visiting Holocaust and World War II sites.
Additionally, I had the opportunity to participate in the United Nations Global Leaders Conference, held in New York and Washington D.C. These experiences, along with the amazing teachers I was lucky to have throughout high school, inspired me to pursue my interest in learning about different cultures and human rights in my post-secondary education"
Currently a 7th grade teacher for the Sunrise School Division, Vitt uses human rights on a daily basis to teach her students about social justice and the founding principles of human rights.
"My Social Studies curriculum is titled "People and Places in the World" and has a focus on world geography, global quality of life, ways of life and human impact. I passionately approach teaching my students about human rights, as Grade 7 is a perfect age to introduce these topics. At this age, they are just beginning to develop their own opinion on the world. Using the knowledge and experience I gained in my Human Rights degree has helped develop great in-class discussions about stereotypes, racism and discrimination."
When asked to reflect on her experiences at Global College, Vitt explains that travelling to El Salvador for a two-week field course in Sport, Development and Peace, was one of her fondest memories, "Learning about the ability for sport/physical education to minimize violence and gang culture in youth was an incredible and eye-opening experience. If you have the opportunity to participate in field courses, I highly recommend it!"
"Overall, I had many positive experiences at the University of Winnipeg. I am very grateful for the people that I connected with and inspiration and lifelong friendships that I gained from these opportunities."