Bachelor of Arts in Human Rights
BA in Human Rights
---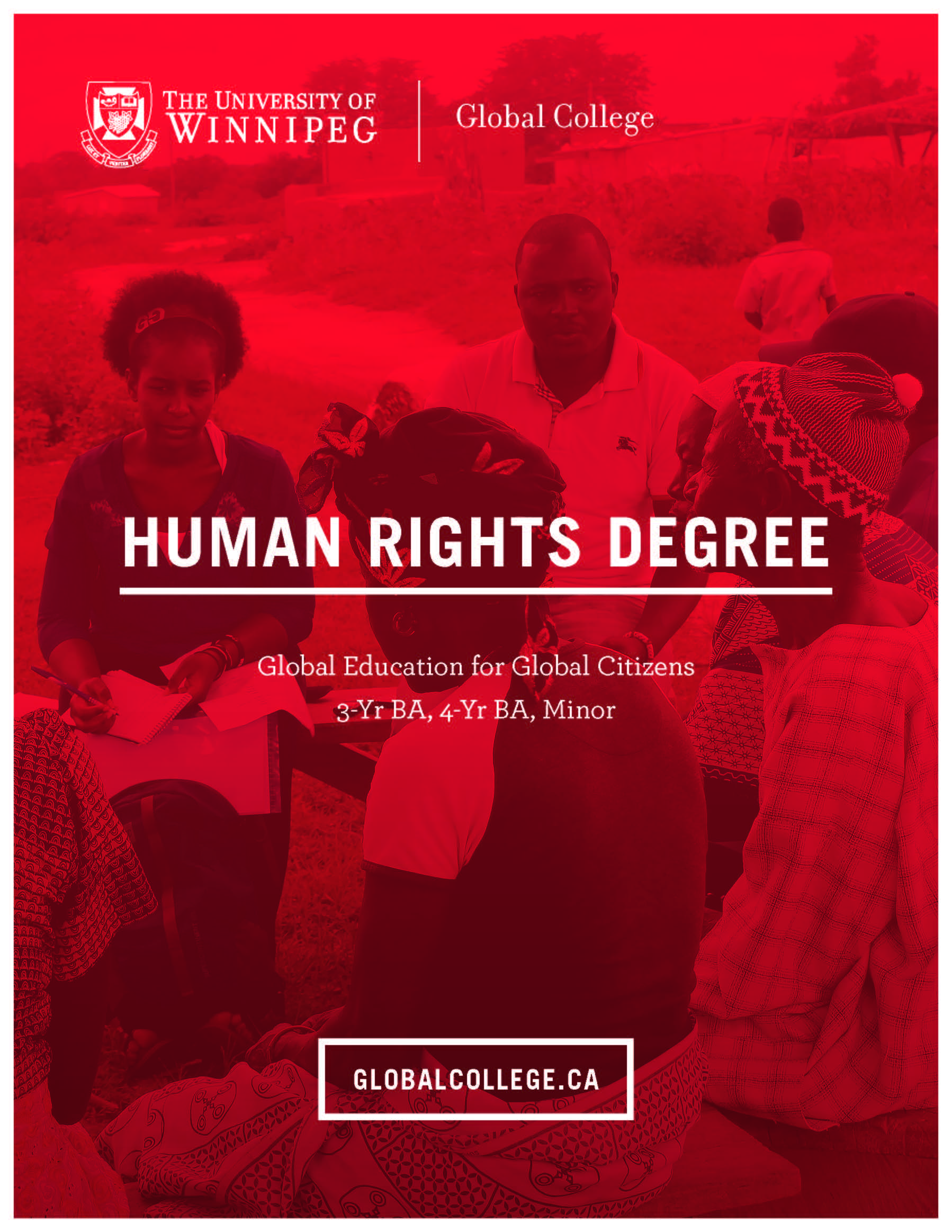 HUMAN RIGHTS DEGREES/PROGRAMS OFFERED
The Human Rights program examines human rights in global contexts, as mechanisms to address issues of human dignity, social justice, and global citizenship.  The program explores the origins and rise of human rights concepts, and the continuing evolution of human rights definitions and debates. The program aims to equip students for education and advocacy in human rights, and to understand ways to respond to human rights abuses. A guiding premise of the program is that "human rights" are understood in multiple ways and contexts; the program includes courses from diverse fields such as anthropology, business, conflict resolution, criminal justice, international development, history, philosophy, religious and cultural studies, and women's and gender studies.
3 year BA in Human Rights
4 year BA in Human Rights
Minor in Human Rights

To download the 2019 academic course calendar containing the requirements and options for the programs listed above, please click here.
---
HUMAN RIGHTS SPRING/SUMMER COURSES 2019
Introduction to Global Citizenship HR/IDS 1200
(05/07/2019-06/13/2019 Tuesday, Thursday 01:00PM - 04:00PM)
In this course students trace the historical development of the idea of 'global citizen-ship' and interrogate the meanings, contentions and practices associated with this concept.

Framing of Social Justice and Human Rights HR 3650
(07/30/2019-08/15/2019 Tuesday, Thursday 10:00AM - 03:00PM)
Through novels, films and academic texts this course looks at the role that culture and politics play in understanding social justice and social movements – both in how problems and solutions. This course will be taught by Dr. Shayna Plaut who has de-signed courses on human rights for journalists, artists, and other "producers of cul-ture" in Canada, the United States, and in Europe.
Conflict, Genocide and War: A Human Rights Response HR 4650
(08/19/2019-08/23/2019 Monday, Tuesday, Wednesday, Thursday, Friday 09:00AM - 04:00PM)
This course investigates modern day conflicts and the persecution of people on the basis of race, religion, ethnicity and nationality from both a human rights and an educational perspective. Students will examine the refugee experience and the effects that war has on children, youth and their families and how to support rebuilding and healing after war. This course will be taught by Dr. Jan Stewart, who has extensive experience working with youth affected by war. Guest lectures to be given by Dr. Lloyd Axworthy, former Minister of Foreign Affairs for Canada.
History of Human Rights in Canada HR 2200
(05/07/2019-06/13/2019 Tuesday, Thursday 05:00PM - 08:00PM)
This course examines the history of human rights within the Canadian context including key federal, provincial and municipal legislation as well as critical human rights institutions. It also examines the evolution of human rights in Canada in relation to their international counterparts, and historical discrimination in Canada in areas such as immigration, employment and housing, internment of minority populations, gender, sexuality, anti-Semitism and treatment of Indigenous peoples.
For more informtion, please contact us at global.college@uwinnipeg.ca