Overview
English Language Programs
---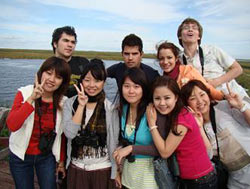 The Student Life area oversees all aspects of The Homestay Program, Socio-Cultural Activities, Student Health Insurance, Student ID and a variety of other every day concerns in the lives of our International Students in The Collegiate, Degree Studies or English as an Additional Language program.
Our Student Life Handbook [PDF] covers areas of a student's life that are not related to the academics or the classroom.
At The University of Winnipeg, we understand that practicing English in everyday situations is important for the development of your English.
Opportunities to practice your English are organized through members of our Student Life staff. These opportunities include:
Homestay (living with a Canadian family)
ELP Students are also invited to apply for residence option with UWinnipeg Campus Living Campus Living. UWinnipeg Campus Living offers a variety of room styles and meal options for University of Winnipeg students.
What have our students said about these programs?
"I'm from Mexico. I want to tell you that studying at The University of Winnipeg has been a great experience and the socio-cultural activities are fantastic. Please come and enjoy them with us. You will have a very good time."
"This program is very good for me. We can learn English, and we can also learn about other country's cultures! It's very fun!"
"Thank you for the great activities!"