Activities
English Language Programs
---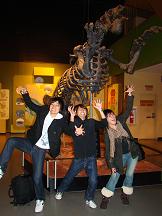 Socio-Cultural Activities
The English Language Program encourages students to practice the language that they are learning while having fun!
Socio-cultural activities are planned in order to give students the opportunity to go outside the classroom and "live" the language that they are learning and experience what Winnipeg has to offer. The activities usually take place on Friday afternoons. The Socio-cultural Coordinator tries to accommodate a variety of interests. Activity sign-up sheets are circulated weekly. If students sign up for an activity, they are required to attend.
There are many benefits to be gained from these experiences!


Linguistic Benefits:
Learning new vocabulary related to different sports and activities
Listening to different accents and practicing your language skills outside the classroom
Talking to "Winnipeggers" and asking them questions about various subjects

Social Benefits:
Feeling comfortable using English in a social setting
Getting to know other students in the program while enjoying an activity together
Trying new sports and cultural activities

Cultural Benefits:
Each term we include a wide range of cultural, historical, and recreational activities as well as our famous "International Potluck Dinner" where students, staff and instructors share food from their home countries and watch different ethnic group performances
Learning that there is a relationship between language and culture
Visiting different places in Winnipeg and learning about the customs of other cultures
---
Recent Activities:
A trip to Gimli to explore the town, beach and have lunch
City of Winnipeg Bus Tour and a trip to The Forks
The Winnipeg Blue Bombers Football Game
International Dinner
A day at Grand Beach - voted as one of the World's Top 10 most beautiful Beaches
Taste of Manitoba food festival
FortWhyte Alive and Oak Hammock Marsh nature preserves
A Manitoba Moose Hockey Game
The Imax theatre
University of Winnipeg Wesmen Volleyball and Basketball Games
BBQ Picnic and Hayrides in the Park
Winter Holiday Celebration
The Royal Canadian Mounted Police Musical Ride
Goldeyes Baseball Game
Ice Skating and Tobogganing
Visits out to see Manitoba Bison
Socio-Cultural Policies:
Activities are for current EAL students. Friends and family may be invited to certain socio-cultural activities; however they will be responsible for their own transportation and purchasing their own tickets. They will not be able to participate in the group ticket price.
Tickets are non-transferable from student to student. Students must bring photo I.D. card to ticketed activities.
Students cannot consume alcohol during the posted hours for the activity. If students fail to respect this policy the following process will be put in place:
(1) Students will be asked to discard their drinks.
(2) If they fail to discard their drinks, they will be asked to leave the socio-cultural activity.
(3) If students refuse to leave the socio-cultural activity, they will meet with the Program Director and may not be allowed to attend socio-cultural activities