Explore Program
English Language Programs
---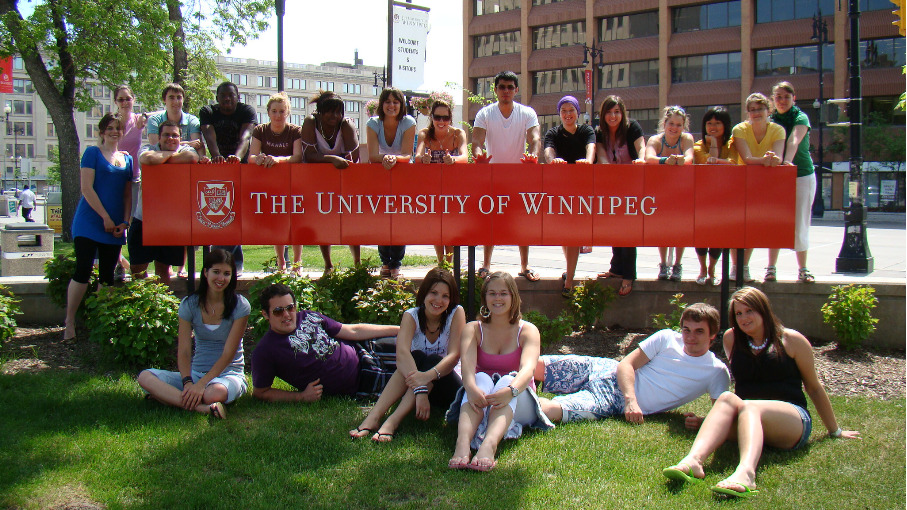 For over 25 years, students from Canada have been choosing The University of Winnipeg's five-week Explore Program to increase their knowledge and skills in the English language. The Explore Program offers a learning and cultural experience that will leave you with a new appreciation for the English language while you make new friends and enjoy all that Winnipeg has to offer.



Program highlights:

Pre-arrival placement test to determine class level.
Skilled and supportive instructors that are trained in second language instruction and accredited by Languages Canada.
Small, friendly classes that are interesting, practical, and fun.
Access to University of Winnipeg libraries, athletic facilities, computer labs, study lounges, restaurants and cafes.
Certificate of completion and transcript.
Opportunities to experience the culture and lifestyle of a uniquely Canadian prairie city though socio- cultural activities.
Form lasting friendships with fellow students and local Winnipeg residents.
---
Bursary Eligibility
To participate, applicants must be 18 years or older and be a Canadian citizen or permanent resident (those studying in Canada on a student visa are not eligible). Applicants must have been a full-time student for at least one term during the current school year. For more information, please contact the Ministry of Education in your own province and ask about the Explore Program, or visit their website at www.myexplore.ca.
If you would like to join the program but you don't meet the eligibility requirements, you can attend our June Intensive Program. Learn more visit the June Intensive Program.
---
Upcoming Program Dates
Next Session: May 20 - June 19, 2020
Arrival Dates: May 18, 2020
*Students must arrange travel to arrive on either of these days.  Prior arrivals must be pre-approved by the Homestay Coordinator and will incur extra charges which must be paid by the student.
Departure Dates: June 21, 2020
*Students arrange travel to leave Winnipeg on either of these days.
---
Program Information
Classes
We ensure that every student is placed in a class that reflects their level of ability and competence in the English language, which is determined for each student based on a pre-arrival placement test.
Morning sessions focus on developing skills in listening, speaking, reading and writing. Practical afternoon workshops focus on speaking and listening to improve conversation skills.
Students who participate in The Languages at Work Program take a specialized afternoon workshop which will improve professional communication skills and prepare students for their work placement.
Socio-Cultural Activities
Students benefit from their participation in scheduled social activities that begin when classroom learning ends.
During socio-cultural activities, students have the opportunity to practice English skills as they participate in informal English conversation. Students will also experience interesting local history and culture, local festivals, the arts, sports and much more!
In English Please!
In order to maximize learning, all students are expected to follow a strict English only policy during class time and at every activity.
Learn More
Learn more about the Explore Program.
---
Explore Program Partnership with Languages At Work Program
Languages at Work is a component of Young Canada Works (YCW) which provides work placement opportunities to students who complete the spring session of the Explore Program. For more information contact YCW at 1-800-267-5173 or fjcf@fjcf.ca.
Learn more about the Languages At Work Program.
---
Homestay
All of the participants in the Explore Program at The University of Winnipeg are placed with homestay families during the length of their stay.
Every effort is made to find the best match for students and families involved in the program.
The benefits of homestay include many additional opportunities for students to practice their English skills in authentic living situations while outside of the classroom.
---
Special Needs
The University of Winnipeg will try to accommodate students with special needs whenever possible. Students with special needs who receive a bursary for the Explore Program must inform the program as soon as possible so that  arrangements can be made in time for the start of the program.
In the event that there is an Explore Program at another institution better suited to accommodate a special need, students may be directed to that institution as an alternate choice.
Special needs costs arising from a choice of lifestyle, such as a vegetarian or vegan diet, or organic food will not be covered by the program. Only severe food allergies will be considered a special need. CMEC will require a medical certificate confirming the allergy.
---
Medical Conditions and Insurance
Students are responsible for all expenses related to pre-existing medical conditions.
Appropriate insurance coverage from the students' home province during the Explore Program is also the responsibility of the student, and should be in place before participating in the Explore Program.
---
Bursary Acceptance Pack
Download the
Explore 2019 Bursary Acceptance Pack [PDF]
---
See our ELP Viewbook.