Full-Time Program (14 Week)
English Language Program
---
Our full-time program has three streams: Foundations English, General English, and Academic English. Classes are offered at various levels in each stream are held for 14 weeks, five days a week from Monday to Friday. There is a total of 25 hours of study and cultural activities per week. Each session includes a mid-term break that is one week long. 

View 14 Week Infographic [PDF]
Foundations Stream
This basic to mid-intermediate stream focuses on integrated language skills. The morning classes have a strong emphasis on oral communication, vocabulary acquisition, and grammatical development which are integral skills for linguistic progress. Afternoon classes focus on grammatical structures and reading skills.
General English Stream
This high-intermediate to low-advanced stream develops English language skills for personal or professional reasons. Morning classes focus strongly on developing fluency in speaking and listening as well as grammar, reading, and writing. Afternoon classes focus on a variety of seminars, such as, Business English, TOEFL Preparation, Conversation, Writing, and Listening and Pronunciation. Afternoon classes vary from term to term and with the student's level of proficiency in English.
Academic English Stream / Academic Pathway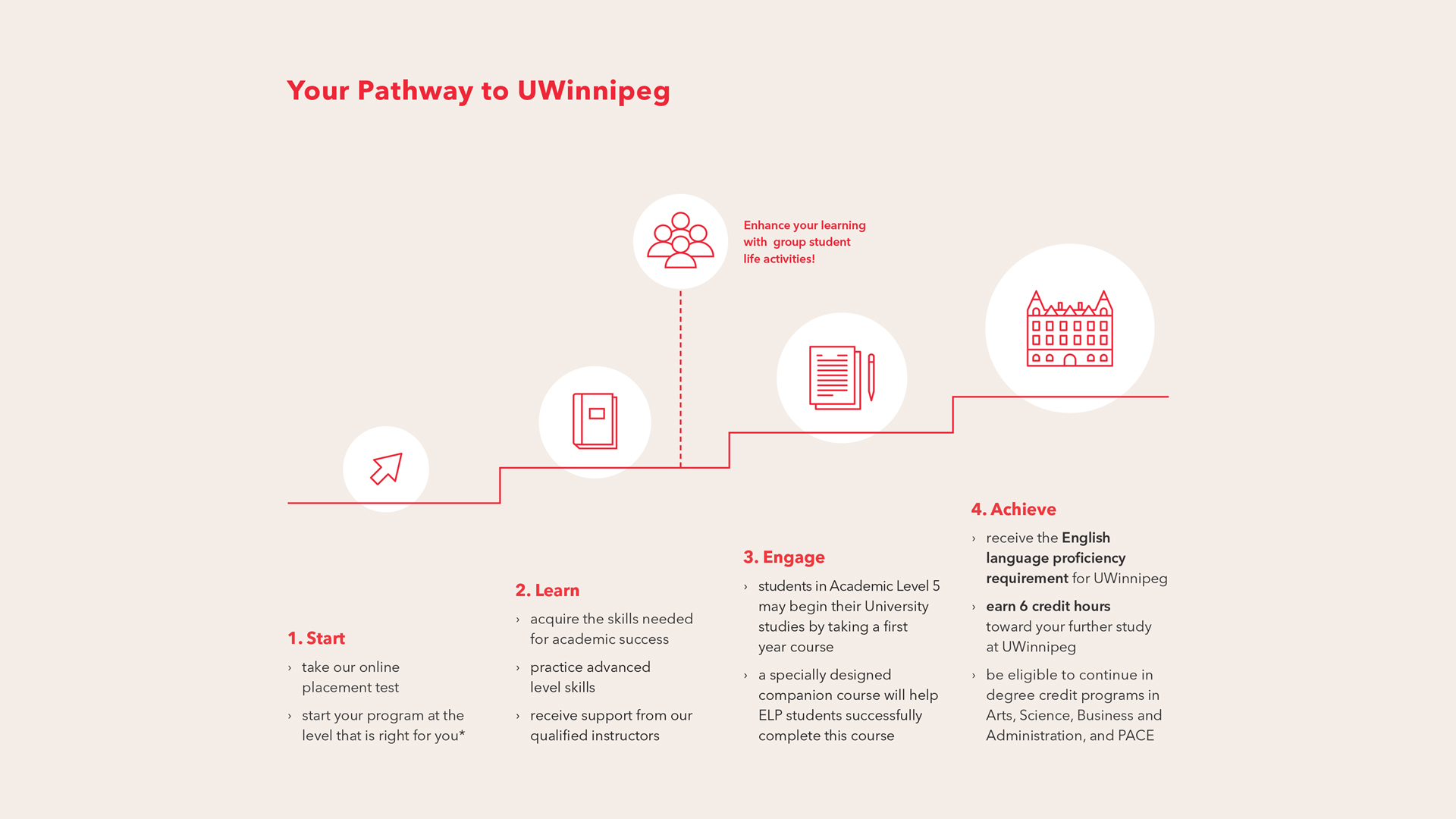 This high-intermediate to advanced stream prepares students for academic studies in English-medium institutions, either in High School, University or College, by developing the skills students require to be successful in an academic environment. Students will develop all four language areas (listening / reading / writing / speaking) in order to apply them in an academic setting. Students will improve their ability to take notes, read academic material, write essays and give presentations. Students also learn vocabulary they will use in University or College courses. At the highest level of the program, students will have the opportunity to begin their University studies by taking a first year business course: " Introduction to Business I" with the support of an adjunct course specifically developed to help ELP students to successfully complete their University course.

Academic Pathway
With the successful completion of the highest level of the Academic English Program students have:
Met the English language proficiency requirement for UWinnipeg including degree credit programs in Arts, Science, Education and Business.
Earned 6 university credit hours that can be applied to further study at UWinnipeg, 3 credit hours toward an undergraduate degree in the Faculty of Business Administration and 3 credit hours that are unallocated and be applied to any course of study.
To learn more read our Student Handbook.
---
Program Dates
Spring/Summer 2021

May 3 - August 13, 2021

Length: 14 weeks

Cost: $4200

Fall 2021

September 7 - December 17, 2021

Length: 14 weeks

Cost: $4300

Winter 2022

January 5 - April 20, 2022

Length: 14 weeks

Cost: $4300
NOTE: The application deadline is two weeks before the start date.
Spring/Summer Term 2021
Midterm break: June 21 – 25
Language Testing: TBA – Official CanTEST
Statutory holidays: May 24 – Victoria Day, July 1 – Canada Day
Fall Term 2021
Midterm break: October 25 - 29
Statutory holidays: October 11 - Thanksgiving Day, November 11 - Remembrance Day
Winter Term 2022
Midterm break: February 21 - 25
Statutory holidays: February 21 - Louis Riel Day, April 15 - Good Friday
---
Additional Information
Application fees and a tuition deposit ( if applicable ) are due with the program application form. More information can be found in the Fees section below.
Homestay Program information can be found here
---