Pathway Program
This stream of the Full Time Program prepares students for academic studies at English language institutions by developing the skills required to be successful in an academic environment.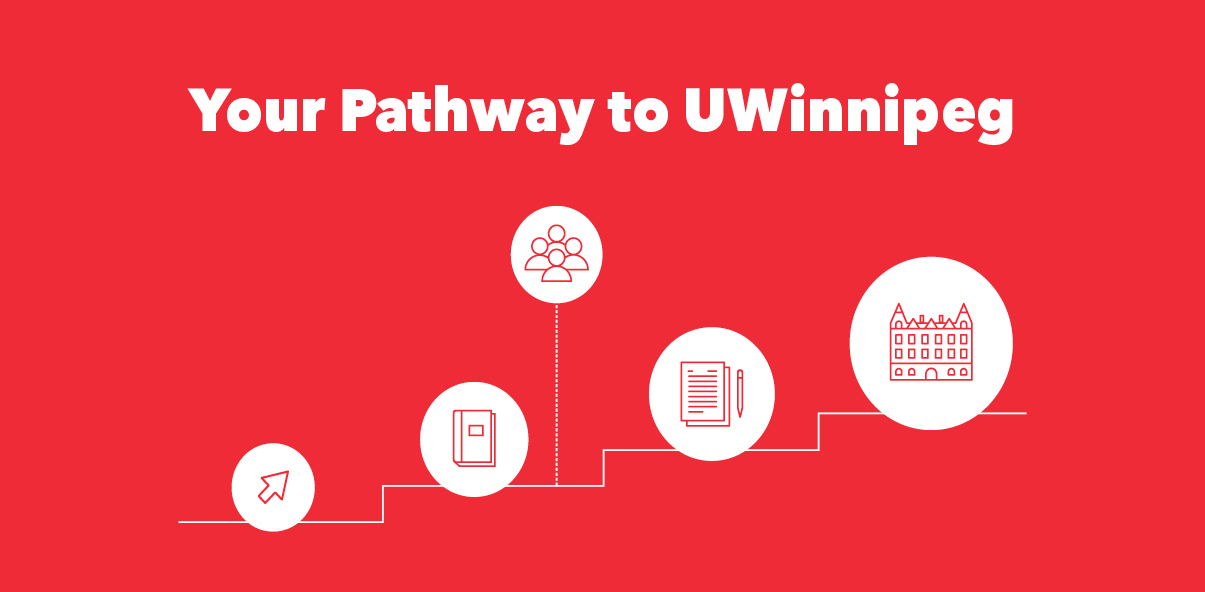 The Pathway Program is for students who do not currently meet the English language requirement for study at UWinnipeg or for those who are interested in sharpening their English and post-secondary study skills before continuing at UWinnipeg.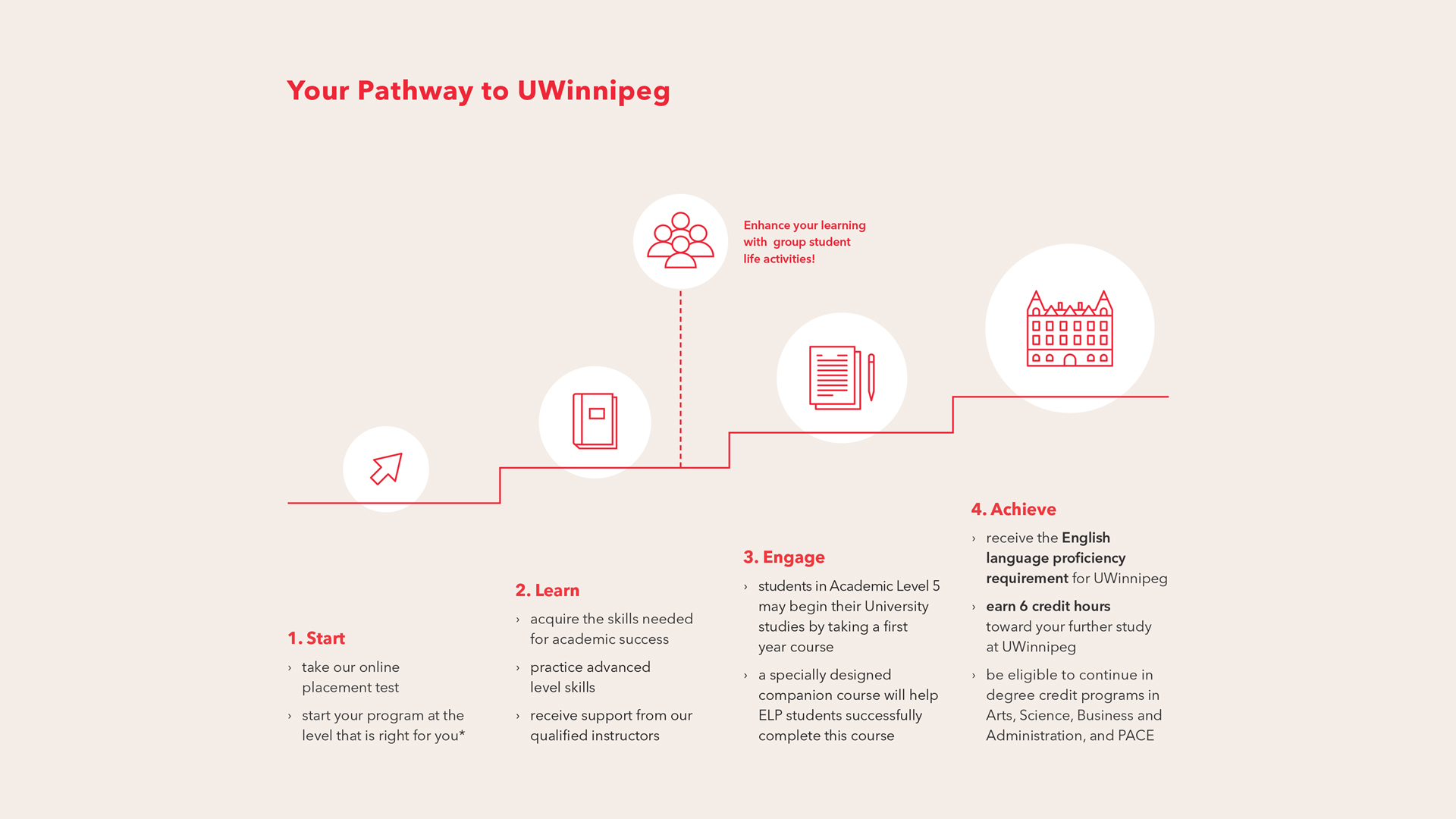 Benefits of The Pathway Program
Meet UWinnipeg English language requirement without taking an English proficiency test like IELTS or TOEFL.
Develop English language skills (listening / reading / writing / speaking) in order to apply them in an academic setting.

Improve ability to take notes, read academic material, write essays and give presentations.
Learn vocabulary commonly used in University and College courses.
Access to UWinnipeg facilities like the library and gym.
Participate in The Language Partner Program and socio-cultural activities, providing the opportunity to adapt to Canadian culture before starting a program at UWinnipeg.
At the highest level of the program, students will have the opportunity to begin their University studies by taking a first year business course: " Introduction to Business I" with the support of an adjunct course specifically developed to help ELP students successfully complete their University course.
With the successful completion of the highest level of the Academic English Program students have:
Met the English language proficiency requirement for UWinnipeg including degree credit programs in Arts, Science, Education and Business.
Earned 6 university credit hours that can be applied to further study at UWinnipeg, 3 credit hours toward an undergraduate degree in the Faculty of Business Administration and 3 credit hours that are unallocated and be applied to any course of study.
Met the English language requirement for UWinnipeg's post degree diploma programs (PACE.)
Earned credit hours that can be applied to PACE's Business Fundamentals.
Pathway Program Entrance Requirements
Students can start the program at their current level and progress until completion. With proof of the following minimum test scores, students may be eligible to enter the highest level (Academic 5 ) directly.
TOEFL iBT 61 with minimum scores of: Reading 15, Listening 15, Writing 14
IELTS 5.5 overall on Academic Module
Students must submit test scores by the documentation deadline for the term in which they would like to study.
Students who want to make a study plan in advance and who are unsure of their starting level should contact infoelp@uwinnipeg.ca for assistance. ELP has a quick process to determine student start level and number of successful terms needed to complete The Pathway Program.
What to expect from the Pathway Program
Meet Ross Macdonald, ELP Academic Level 5 instructor. Ross has more than twenty years of experience teaching ESL and helping international students reach their educational goals.
Feedback from my former students has been overwhelmingly positive regarding the usefulness of this course in preparing them for their tasks in university and PACE. Personally, I have found that the course I teach has outstanding material resources and academically robust, yet accessible content for my learners; the strategies and materials for study in reading, listening speaking and writing are excellent, nuanced and comprehensive.

A course like this one is hard to find anywhere.

Have not seen any advanced preparation course as detailed and as directly suited to teaching higher level academic English. The students here learn detailed organizational and reading skills regarding the creation of academic texts in several writing genres, and complete a cumulative research paper that allows them to utilize their instruction in its creation. The reading materials are current and relevant, and in addition to the course, the students in this program receive close support from the ELP in counsel and social activities. I can enthusiastically endorse this program as definitely meeting the needs of ESL students in Canada and Winnipeg."

Ross Macdonald, ELP Instructor
Program Dates
Spring-Summer 2023

May 8 - August 18, 2023

Length: 14 weeks

Cost: $4400

Fall 2023

September 5  - December 15, 2023

Length: 14 weeks

Cost: $5000

Winter 2024

January 8 - April 19, 2024

Length: 14 weeks

Cost: $5000
NOTE: The application deadline is two weeks before the start date.
Spring/Summer Term 2023
Midterm break: June 26 – 30
Statutory holidays: May 22 – Victoria Day, July 1 – Canada Day
Fall Term 2023
Midterm break: October 23 - 27
Statutory holidays: September 30 - National Day for Truth and Reconciliation, October 9 - Thanksgiving Day, November 11 - Remembrance Day
Winter Term 2024
Midterm break: February 26 - March 1
Statutory holidays: February 19 - Louis Riel Day, March 29 - Good Friday
---
Additional Information
Application fees and a tuition deposit ( if applicable ) are due with the program application form. More information can be found in the Fees section in the navigation menu on the left.
Accommodation information can be found here
---