Accomplishments
Across the tabs presented below, we celebrate some of our accomplishments in a number of performance areas. 
---
Cultivating Healthy, Resilient Communities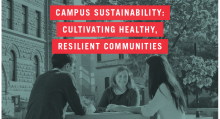 In 2017 the University adopted a NEW Sustainability Strategy, with renewed goals and an updated reporting framework. Keep an eye out for our latest goals and accomplishments HERE. Details on our year-to-year accomplishments can be found in our annual performance reports. 
For up-to-date accomplishments made on-campus within specific areas (such as water, air and energy), please see the slider below or visit our History page here to view our timeline.
---
"Since adopting our first Campus Sustainability Policy more than a decade ago, The University of Winnipeg has made significant strides in reducing our environmental impact. 
As we strive to take our leadership in sustainability to the next level, it's important that we continue to look for ways to improve our practices and policies. Our new Sustainability Strategy builds on the progress we have already made..."
- Dr. Annette Trimbee, President and Vice Chancellor