Sustainable Transportation
The University of Winnipeg is continuously working to support a variety of convenient and sustainable transportation options for students, staff and faculty.
Click here to view the results of our latest transportation survey.
Students have access to:
Staff and Faculty have access to:
For additional transportation information, see the tabs below.  
Transportation Options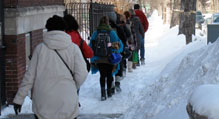 Walk or Roll
UWinnipeg is within downtown Winnipeg and has many amenities near by such as transit stops, convenience stores, coffee shops and more!