History
Campus Sustainability Office
---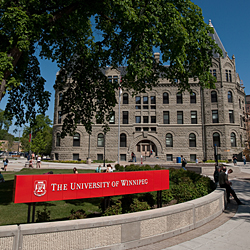 A Collective Commitment
Even before the formal creation of Sustainability policies or a Sustainability Office, the University of Winnipeg had a long history of sustainability initiatives on campus: 
Physical Plant have initiated and supported projects to reduce the environmental impact of daily operations and maximize energy efficiency, especially with the support of Manitoba Hydro.  
Faculty have supported and encouraged students in classroom learning and real-work applications regarding environmental and social issues. 
Students have been organizing around campus sustainability issues. Students and Physical Plant staff have also cooperated to promote and run recycling on campus.  
In 2003, student, faculty, and staff commitment to environmental and social responsibility at the University began to formally converge.
Below we present a TIMELINE of sustainability highlights at UWinnipeg 
---
Timeline
2003 to 2009: 
Students from group EcoMAFIA (now EcoPIA) and from an environmental sustainability class formed student group SUNSET,  supported by members of Faculty. In 2004 the group presented to UWinnipeg's Administration a comprehensive proposal for a campus sustainability audit. The proposal was well received, and the students were connected to Physical Plant and Facilities Management staff to further discuss the concept.
From 2007 to 2009: SUNSET also ran a Student Led-Initiative in Experiential Learning to promote student research on sustainability issues affecting our campus and larger community. The project was funded by the Winnipeg Foundation and Eco Canada.
2005:
Independent from SUNSET's work, a faculty member presented a concept paper to the University President. The paper provided a well-articulated campus sustainability framework, while the existing student, faculty, and staff engagement provided the necessary support base to carry out the proposed project.
 
After ongoing advocacy by students and faculty, President Lloyd Axworthy commited the university to reducing is greenhouse gas emissions to 6% below 1990 emissions to reflect Canada's commitments under the Kyoto protocol and commited the university to establishing a formal Sustainability Management System (SMS).


A task force of students, faculty and staff was established to begin work on meeting these commitments.


A detailed description of these early beginnings can be found here. 
2006:
Campus Sustainability Policy passed and the University published its first annual sustainability performance report. (Available here)
2007:
PRE-Consumer composting program launched. 
2008:
One of Manitoba's first institutional POST-consumer composting programs launched.


Introduction of double-sided printing as default on all copiers and printers on campus. 


Introduction of phosphate-free detergents and environmentally friendly cleaning products for use on campus; signed on to the Lake Friendly Initiative in 2010.
2009:
UWinnipeg became the first university in Canada to ban the sale of bottled water, an initiative led by students that spread quickly across the country. 
2009 to 2011:
Water retrofit of university washrooms to reduce water consumption, yielded an estimated saving in excess of one million gallons of water a year. Doug Foster, University plumber, is awarded the Campus Sustainability Recognition Award.
2011:
UWSA BikeLab opened through a partnership with the University of Winnipeg Students' Association (UWSA) and The University of Winnipeg. The cycling education and advocacy facility provides the space, tools and support for students, faculty, staff, and community members to keep their bicycles running smoothly all year long. The lab was designed by Peter Sampson Architectural Studio (PSA Studio), who was awarded a national design award for this building in 2014.


Complete installation of a hybrid heating system. When electricity demand is low, the system enables the University to use lower-emitting hydroelectricity as a heat source, rather than higher-emitting natural gas. 
2012 to 2013:
$2 million energy retrofit to main campus buildings to reduce emissions and to offset the ongoing Greenhouse Gas Emissions (GHG) from a growing campus. 
Established a commissioning process to prioritize energy performance in building projects, as evidence in emissions reductions and efficiency improvements in future years.
2012:
Substantial greenhouse gas emission reductions due to the combined impact of its hybrid heating system and energy retrofit: a 16% reduction in GHG emissions and an 18.6% reduction in natural gas consumption over the fiscal year.

(While GHG emissions were not 6% below 1990 emission levels by the end of the fiscal year, the final stages of the energy retrofit efforts on campus were completed over the summer of 2013. With the efforts complete, the University's mechanical systems are operating to a projected utility consumption that is lower than that required to meet the Kyoto target)


The University entered into a partnership with Peg City Car Co-op. Carsharing is a practical and affordable alternative to car ownership. It helps meet transportation needs off campus while allowing for commuting by transit, cycling, and walking.


The University switched to 100% recycled content for letterhead and business cards, while also exceeding its goal to transition all office paper to 50% post-consumer content. Office paper is now FSC certified, 100% post-consumer fibre, EcoLogo certified, processed chlorine free, and manufactured using biogas energy. Alongside reductions in chemical use and waste, this represents a saving of approximately 1389 trees per year. Leslie Uhryniuk, Coordinator of Printing & Parking Services was awarded the 2013 Campus Sustainability Recognition Award for her efforts.


The University adopts the 2012 Sustainability Strategy for the next five years, available here. 
2013:
UWinnipeg eliminated the use of cosmetic pesticides and herbicides in campus landscaping practices.


UWinnipeg achieved Climate Registered™ status by measuring its carbon footprint according to The Climate Registry's best-in-class program. This status was third party verified, and data was reported on the registry's website.


UWinnipeg awarded a Manitoba Excellence in Sustainable Development award in recognition of its climate change action.


UWinnipeg and the University of Winnipeg Students' Association accepted the 2013 Polar Bears International's Paws of Approval Award that celebrates organizations, groups, and individuals who are making a serious contribution to reducing greenhouse gases.
2015:  
New Strategic Directions and Integrated Academic and Research Plan re-affirmed UWinnipeg's commitment to sustainability.


Through ongoing efforts, greenhouse gas emissions in 2015 decreased by approximately 24% over 2014.  Thus between 1990 and 2015, the University reduced absolute emissions to 32% below what they were in 1990 even though 38% of the space we now occupy did not exist then. 

The University substantially exceeded its target of reducing absolute emissions by 10% below 1990 levels. Energy intensity of campus operations decreased by just over 14% over the previous year, and by 27% compared to 2009. 

The University surpassed its energy efficiency target of achieving an 18% reduction in energy use per square meter of owned space compared to 2009 energy intensity by FY2016.


Launch of the Prairie Climate Centre, providing up-to-date and high quality decision making data and tools related to climate mitigation and adaptation. Great-West Life and the Province of Manitoba invested $650K in the Centre, a joint venture between the International Institute for Sustainable Development (IISD) and UWinnipeg.


The University earned a STARS Silver Rating

 in the most widely recognized framework for publicly reporting information related to a college or university's sustainability performance. Participants report achievements in four overall areas: 1) operations 2) academics, 3) engagement and 4) planning, administration.

 UWinnipeg is also featured in the AASHE's 2015 Sustainable Campus Index publication, which highlights the University as the second highest performer in the category of dining and food.
2016: 
The Campus Sustainability Office conducted research to paint a picture of sustainability progress to date and chart a path for the coming years. Results, summarized in the Environmental Scan and Engagement Summary and appendices, are housed here. 
2017: 
The University compiled and adopted a new Institutional Sustainability Strategy that includes 19 specific, measurable targets organized under 4 overarching goals for the next five years. The document and appendices are housed here.