Overview
Cultivating Healthy, Resilient Communities
The UW Sustainability Strategy is a collaborative effort between students, faculty, and staff that aims to make the University of Winnipeg more environmentally and socially responsible in its physical operations, its governance, and its academic life. 
The Campus Sustainability Office acts as the coordinating body; however, through our work on various collaborative projects and committees, students, faculty, and staff act as the driving forces in bringing the University closer to its sustainability mission.
The University of Winnipeg aims to become a campus that acts upon its local and global responsibilities to protect and enhance the health and well being of humans and ecosystems. This means actively engaging the knowledge of the university community to address the ecological and social challenges that we face now and in the future.
Our strategy is the result of an institution-wide effort to identify not only the core overarching goals of our sustainability work over the next five years, but also concrete, measurable targets that will enable clear pathways for accountability and transparency. 
The 2017 Sustainability Strategy charts a path for The University of Winnipeg's ongoing sustainability efforts.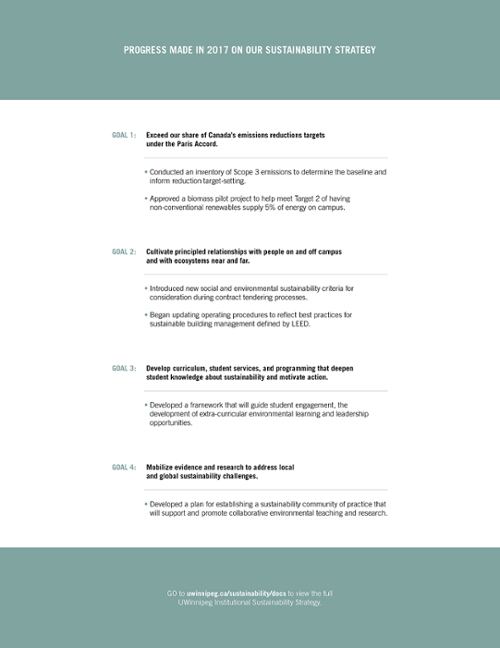 Our Strategy:
was created through conversations and research across the university
builds on our work over the last decade
reflects a holistic understanding of sustainability
emphasizes our most important opportunities for progress
is realistic to our current circumstances
is ambitious, advancing the University's role as a sustainability leader 
aligns with frameworks for university sustainability i.e. 

Sustainability Tracking, Assessment & Rating System™ (STARS

®) 



---
The Strategy identifies 4 overarching goals and 19 measurable targets, outlined in the menu below. 
NOTE: The full 2017 Sustainability Strategy, with reporting indicators, timeline, and appendix, can be found on our Documents page.