Energy
Campus Sustainability Office
---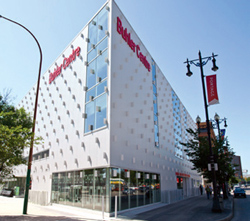 The University of Winnipeg currently uses energy in four forms:
electricity
natural gas
transportation
stationary fuels
These sources account for most of the University's greenhouse gas (GHG) emissions.
The University's Energy Management Policy [PDF] commits us to continuously reduce overall energy demand, and where energy is required, to give preference to local, renewable energy sources; reduce total expenditures for energy resources and fuels; and as much as practicable, minimizing waste, GHG emissions, and the negative environmental and social impacts arising from the University's use of energy resources.    
The members of the University's Physical Plant and Facilities Management offices take a leading role in helping the University meet these goals.  
---
Since 2005, the University has:
Through ongoing efforts, greenhouse gas emissions in 2015 decreased by approximately 24% over 2014.  Thus between 1990 and 2015, the University reduced absolute emissions to 32% below what they were in 1990 even though 38% of the space we now occupy did not exist then. 
>>The University substantially exceeded its target of reducing absolute emissions by 10% below 1990 levels. 
>>The University surpassed its energy efficiency target of achieving an 18% reduction in energy use per square meter of owned space compared to 2009 energy intensity by FY2016.


In 2012, installed a hybrid heating system, which includes the installation of two electric boilers to be used at off-peak times to reduce demand for natural gas in the University's core buildings.  


In 2012, $2 million energy retrofit to main campus buildings to reduce emissions and to offset the ongoing Greenhouse Gas Emissions (GHG) from a growing campus. 


In 2010, the University undertook a comprehensive facilities audit to, among other things, identify opportunities for reducing energy demand and increasing opportunities to switch to renewable energy sources.


In 2005, automated control software responsible for monitoring and controlling electrical consumption in 80% of campus buildings was upgraded and modernized.


The University continues to replace incandescent 'pot' lights with compact fluorescent lamps, achieving at 75% energy savings with each installation.  Installation of motion-sensor light controls in offices and classrooms is also ongoing as renovation of these areas progresses.


Windows have been replaces and upgraded in several core campus buildings (Bryce, Ashdown, Manitoba, and Centennial Halls).


The University is pursuing an on-going program of roof replacement which normally includes upgrades to roof insulation and consequent savings in energy. Since 2004, 95% of campus roofs have been replaced.


All new construction projects are LEED Silver buildings, and have been designed with maximum energy efficiency in mind.
---
Note: 
Our current goals can be found in our 2017 Sustainability Strategy HERE. 
Details on our most recent accomplishments can be found in our annual performance reports.