Commuter Challenge 2019
The 2019 Commuter Challenge has come and gone! Thank you to all of our participants, you made our goal to save over 1000kgs of CO2 in one week possible!
The University of Winnipeg is committed to sustainability and this competition really shows how many emissions UWinnipeg could cut out by having our community participate in sustainable transporation. 
A HUGE CONGRATULATIONS to our PRIZE WINNERS:
Jennifer from Marketing
Tom from the UWSA
Ryan from Environmental Studies & Sciences
Taneish from Admissions
Here are the final numbers:

The Commuter Challenge is a week-long friendly, green commuting competition happening all throughout Canada at different workplaces and institutions during Canadian Environment Week! Help UWinnipeg reduce its carbon footprint and win while competing against other workplaces and institutions around Winnipeg for awesome prizes.
To participate:
All you have to do is:
Visit the Commuter Challenge webpage to register with the our workplace "The University of Winnipeg", after choosing your Province, City and filling out a few profile details.

Use green commuting options for the week of June 2nd – 8th, 2019.
Track your kilometers (see instructions below).
How to Log your Kilometers: 
There are two options for logging your green kilometers:
Option 1: Use the Commuter Challenge Website
Once you've registered to the UW workplace and to your specific location/team, you'll be able to log into your profile here. Simply enter your mode of transportation and distance for each day (as seen in the photo below). The system will track and total the distances for your team in real time.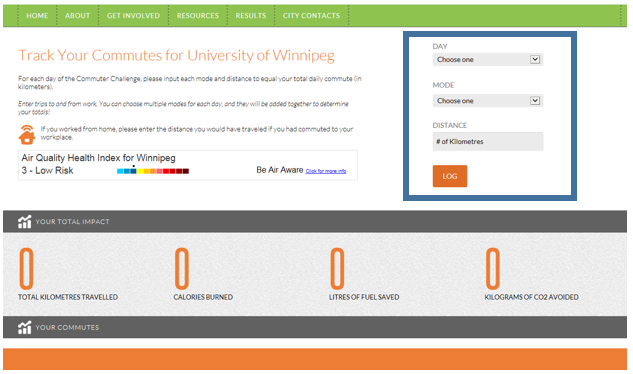 Option 2: Track your KM's offline:
If you don't want to use the website, you can keep track of your modes and distances on your own.  Then, you can email them to sustainability@uwinnipeg.ca or appoint a person in your office to keep track of everyone's kilometers (this person would email sustainabiltiy@uwinnipeg.ca at the end of each day or at the end of the week with the department's kilometers).
Whether you walk, cycle, carpool, take transit, rollerblade, scooter, work from home, canoe, skateboard or run… your impacts will be recorded and accumulate throughout the week and you will be able to see the impact your green commuting is making!
Green Commuting Options in Winnipeg:
There are many ways to commute sustainably in our city like ridesharing, walking, cycling, rollerblading and taking public transit. UWinnipeg provides a number of services to make green commuting easy and accessible.
Go Manitoba rideshare service
Reduced summer bus fare for students through Winnipeg Transit
2018 City of Winnipeg cycling map
Commuter Challenge is a great opportunity to explore these options if you haven't done so already… or get rewarded if green commenting is already part of your routine.
Events:
---
Commuter Challenge Media Launch
May 31st, 2019 | 12:00pm | True North Sqaure Plaza: 242 Hargrave Street.
There will be plenty of snacks, coffee and information about the challenge for you.
Check out the event page for more details!
---
Clean Air Day on the Osborne St. Bridge
June 5th, 2019 | 6:45am-9:15am | Manitoba Legislative Grounds: Osborne @ Assiniboine 
Green Action Centre will be set up on the Legislative Building grounds right by the Osborne Bridge with fresh coffee, treats and lots of information about the Commuter Challenge from 6:45 am – 9:15 am! Make sure to bring your travel mug and reusable water bottle.
---
How to Win Prizes
Grand Prizes
Anyone who logs their sustainable commutes during Commuter Challenge 2019 is eligible to win! The last day to enter KMs after the challenge is June 14th.
Prize #1: FREE Bus Pass for a Year with Winnipeg Transit ($1,000 value)
Prize #2: TWO Folklorama VISAs to tour the world in Winnipeg ($550 value)
Prize #3: FREE Doughnuts for a Year from Oh Doughnuts! (1 dozen/month for 1 year, $360 value)
Prize #4: TWO FREE tickets to a concert at the Winnipeg Symphony Orchestra (up to $220 value)
Prize #5: FREE night stay for TWO at an Alt Hotel across Canada ($200 value)
**Check out the Commuter Challenge Prize List to see more prizes and how to win!**
To Learn More… Visit:
Commuter Challenge - Green Action Centre
Commuter Challenge - National Page 
Social Media:
Twitter:
Local: @greenactionctr | National: @commuterchllng
Official Hashtags:
#commuterchallengeMB    #greenaction