Who we are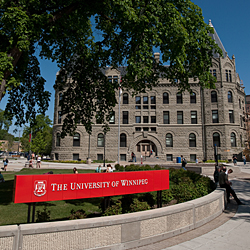 Ours is a five year Bachelor of Arts/ Bachelor of Education integrated degree. Access Education offers its students almost all of the courses they will need to complete their degrees right in our facility at 511 Ellice Avenue, which is a separate campus with a community feel all its own. The few courses that cannot be taught in our building are taught at the University of Winnipeg main campus, a short five minute walk away.
It has long been recognized that there is an under-representation of Aboriginal people, minorities and other inner-city residents in the teaching profession. Often students who are representative of this population are struggling with circumstances and obstacles not experienced by the traditional "right out of high school" university student. Since this under-represented population brings with them a wealth of experience, wisdom and challenges, a program that is uniquely for them is necessary for long term growth and success.

Access Education, along with several other Manitoba Access programs, answers this call. Our programs offer an early/middle years-focused Education degree based largely on the needs and challenges of the inner city.
Access Education is committed to providing highly trained and highly competent professionals to the inner city community. Students will earn integrated degrees that are as pedagogically and professionally accomplished as those offered through main campus programs. In addition to their professional degrees, Access students will bring with them empathy and experience for inner city challenges and concerns that simply cannot be taught through any education program. We feel that our students return to their communities uniquely qualified to better serve our communities young people.