Reduce
Campus Sustainability Office
---
Contact the UWinnipeg Purchasing Department if you have questions about which purchasing choices are better than others when shopping for your office.
General Guidelines for Sustainable Purchases
Reconsider whether or not you need to purchase something – maybe you already have something similar, or could purchase the item second hand.
Purchase items that will last a long time.
Consider what will happen to the product you purchase once it is worn out – purchase products that are compostable first, then recyclable. Recycling products requires energy and resources.
Avoid buying products that will become toxic waste.
Consider packaging when making purchases – avoid over-packaged products.
Learn to distinguish green wash from valid environmental claims. Familiarize yourself with common, trustworthy certifications. Always read the label – don't take the companies' word for it.
Links:
More great information is available through the Green Office Program
---
Below we offer tips to reduce resource use and improve sustainability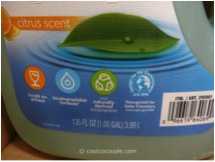 Cleaning & Air Quality
On Campus:
Follow the University Scent Free Guideline. Choose scent free products and avoid wearing perfumes or colognes when you will be on campus. Some people are sensitive to the chemicals in fragrances and perfumes and they can become ill.
If you smoke please be respectful and smoke away from doorways and off of campus property.
At Home:
Many conventional cleaning products can decrease the air quality within your home, and can expose you to dangerously high concentrations of various solvents. You can make your own cleaning products with vinegar, baking soda, and lemon juice, or buy less harmful products.
Avoided scented products like room sprays, electrical outlet fragrance plug-ins, or other synthetic fragrances.
Links:
Energy
Use powerbars, and turn off the powerbar at the end of the day. 10% your of energy consumption comes phantom power -from appliances when you're not using them but are still plugged in!
Remember to turn off the lights, computers, and monitors, and unplug them at the end of the day.
When making purchasing decisions, try to find an energy efficient model (e.g., Energy Star). Although it may cost a bit more initially, you'll save on your energy bills in the future.
Learn about energy justice and sustainable energy options.
Links:
Food
Support Diversity Foods on campus. They have made a commitment to sustainability by supporting our compost and recycling programs, provide reusable and compostable take out options, sourcing local foods, organic foods, and fairly traded foods.
If you use take out containers from Diversity, remember to put them in a compost bin once you're finished.
At Home:
Support local food producers and vendors.
Choose organic or sustainably grown foods whenever possible.
Reduce meat consumption.
Make yourself aware of which species of fish contain higher levels of heavy metals than others. Try to choose species which have lower levels of heavy metals.
Reduce dairy consumption.
Compost your food waste.
Minimize the packaging your food comes in - buy in bulk, do not use disposable dishes.
Compost your food 'waste' and use it to feed your or someone else's garden.
Links:
Lawncare
At Home:
Reduce or eliminate your use of pesticides and herbicides in your yard.
Use finished compost to add nutrients and soil to your flowerbeds, gardens, or grass.
Use indigenous plants. They require less maintenance and will look beautiful.
Consider xeriscaping – landscaping and gardening in ways that reduce or eliminate the need for supplemental irrigation.
Use a manual push mower – reduce your GHG emissions and get a workout at the same time!
Leave grass clipping and dead leaves on your yard to return the nutrients to the soil. If you'd rather rake, reserve your clippings and put them into your compost.
Links:
Water
On Campus:
Support the University's efforts to keep bottled water off campus – use a refillable water bottle.
At Home:
Consider using xeriscaping techniques in your yard to reduce your water consumption for irrigation purposes.  
Drink tap water, avoid bottled water.
Install low-flow water fixtures.
Links: