Campus Sustainability Council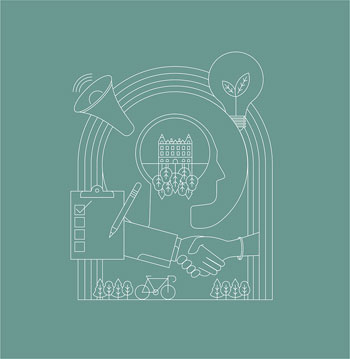 The Campus Sustainability Council is composed of students, faculty and staff with particular expertise and/or operational responsibility in aspects of campus sustainability.
This approach recognizes the strengths and abilities of all members of the campus community and supports partnerships across the University to achieve the goals outlined in the Campus Sustainability Strategy. 
The committee provides broad oversight and coordination to achieve the University's sustainability goals, including policy reviews, strategic planning, performance metrics, and research activities. Progress toward each goal and target is reflected in Council Minutes and in the University's annual sustainability performance reports.
Student representatives include the Vice President Internal, UWSA, and the Environmental Ethics Director, UWSA, as well as one representative from each of GESA (Geography and Environmental Studies Students Association), EcoPIA (Ecological People in Action), and the UWSA Bike Lab. Other student representatives may serve as committee members as necessary to fulfill the Terms of Reference of the Sustainability Council.
Six faculty representatives with interest, commitment and expertise appropriate to the purpose of the Council also serve as members.
Any number of administration and support staff representatives may be selected from positions with substantial responsibility for the implementation of sustainability initiatives at the university. 
Appointments are one year terms and can be renewed by mutual agreement. The Council is chaired by staff from the Campus Sustainability Office and meets at minimum three times a year (October, February, June).  
Membership is confirmed at the beginning of each academic year. If you are interested in applying to join one of these bodies, contact the Campus Sustainability Office.