STARS 2019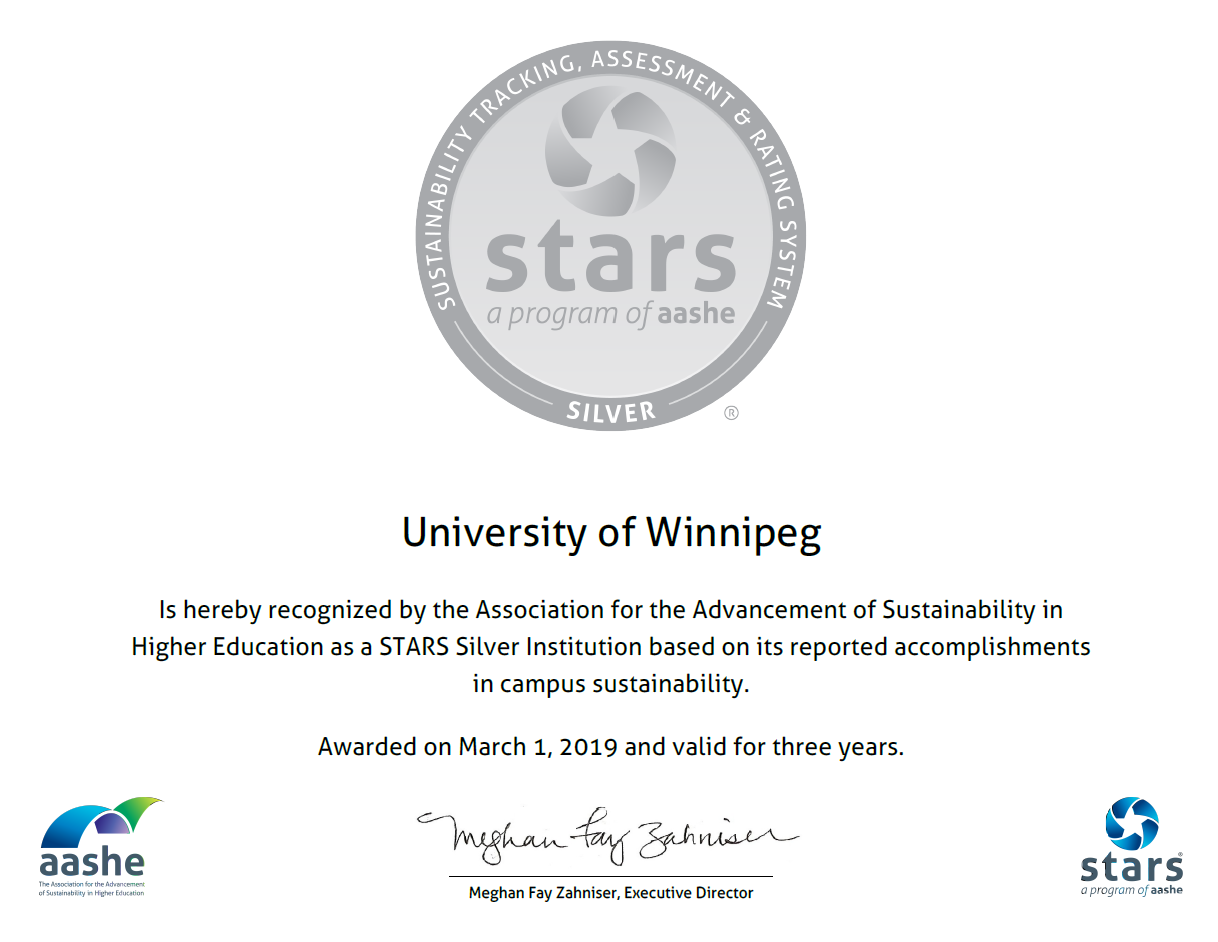 The University of Winnipeg has received its second silver STARS (Sustainability Tracking, Assessment, and Rating) rating from the Association for the Advancement of Sustainability in Higher Education (AASHE) since 2015. Below, you will find some of the University's major achievements from the STARS report. To see the full report and detailed breakdowns of each rating category, visit the STARS website.
Academics
The University offers a variety of sustainability courses across many departments. For a full listing, see our sustainability course inventory. Students continue to have access to sustainability learning opportunities beyond the classroom as well, with the campus serving as a living laboratory. UW faculty are also pursuing sustainability research in many disciplines, and the University is working to support further sustainability research initiatives. 
Engagement
Students, staff, and faculty have ample opportunity to engage with environmental initiatives on campus. The Campus Sustainability hosts the Eco Team and the Green Office Program, and other programs include the UWSA Bike Lab and the Plastic Bag Recycling Program. 
Operations
The University continues to be a leader in sustainable operations. Our commitment to greenhouse gas reductions has meant investment in renewable energies like biomass and solar, and we have implemented successful purchasing policies for paper, electronics, and cleaning products. Thanks to their commitment to local producers and social equity, Diversity foods has allowed the University to outperform nearly all other STARS-rated institutions.  
Planning and Administration
The 2017 Sustainability Strategy has served as the primary document to guide sustainability planning on campus. The University's Human Rights and Diversity Office is also working to improve equity and access on campus, and social sustainability continues to be one of the Campus Sustainability Office's primary focal issues.