Taking out the Trash: The 2018 UWinnipeg Waste Audit
Campus Sustainability Office
---
EXECUTIVE SUMMARY
Click here to read to full 2018 waste audit report.
During the week of March 4, 2018, the University of Winnipeg conducted an internal waste audit to determine our waste profile contents and landfill diversion rates.  Such audits are conducted roughly every three years as part of an ongoing commitment to improve environmental performance throughout our institution.  Specific objectives of the audit included: identifying the amount of waste entering each of the three main streams (landfill, recyclable, and compostable materials) generated at our institution; determining the overall rates of wrongly disposed of waste within each of the three streams and comparing these rates by building and collection bin type; and providing suggestions for improving landfill diversion and reducing stream contamination across campus.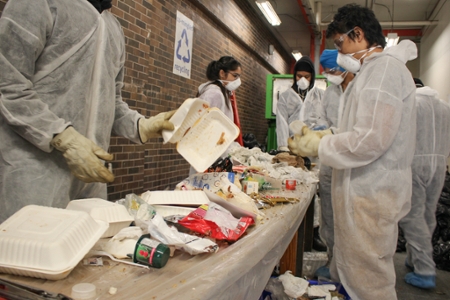 Data were collected for three buildings (Main Campus, the Richardson College for the Environment, and the Buhler Centre) each day for a five day period beginning on March 4, 2018.  In order to generate useful data, auditors used a waste categorization system to guide weighing and sorting.  Broad categories such as organics, paper and plastics provide insight into the amounts of recycling, compost and landfill waste produced on campus and the rates at which these materials end up in the correct stream.  With the help of the UWinnipeg Facilities team and Bee Clean cleaning staff, we employed a labeling system that enabled auditors to identify each bag of garbage as by stream, source building, and source bin type.  In all, auditors weighed 2030 kg of waste, meticulously sorting over 1100 kg over the five day auditing period.  All figures and graphs presented in this report are based on an adjusted total weight of 2338 kg.  For a detailed methodology regarding weight adjustments or for raw data, please contact the University of Winnipeg Campus Sustainability Office at sustainability@uwinnipeg.ca.
Analysis revealed several important takeaways about waste production, disposal, and management at UWinnipeg. The most effective way for universities to reduce the amount of waste materials sent to landfills is by reducing the amount of waste produced on site.  Steps taken by UWinnipeg in recent years, such as the cessation of plastic water bottle sales and the introduction of compostable food containers across campus are helping to reduce waste production on site.  Yet the 2018 audit has revealed that large quantities of non-compostable and non-recyclable waste, like Tim Horton's and Starbucks coffee cups, are still making their way onto campus.  Based on this finding, the CSO will consider ways to promote reusable mugs and food containers on campus.   Similarly, we will continue working with staff and faculty to reduce paper consumption through our Green office Program.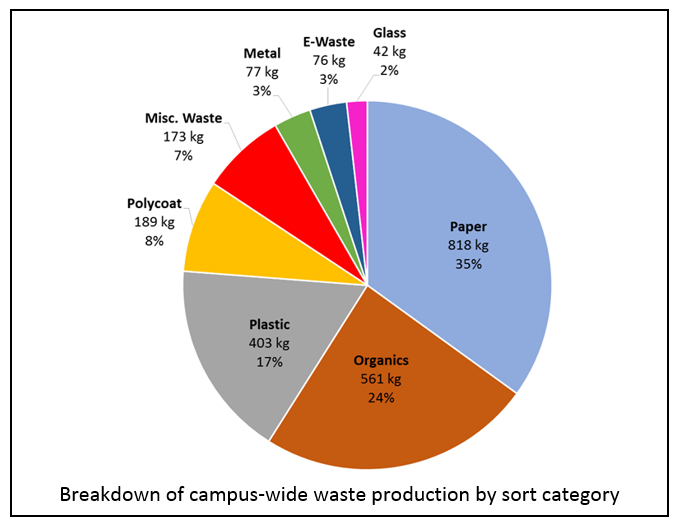 The 2018 audit also showed us that UWinnipeg still struggles with the proper disposal of certain types of waste.  According to the audit results, half of all plastic is improperly disposed of, with certain numbered varieties that can be recycled frequently ending up in the garbage.  Only 46%of all paper and cardboard products made it into the correct recycling streams, while 40%of organic food waste was not disposed of in the compost stream.   Much of this improper disposal stems from the campus community's failure to separate their waste materials. For example, the recyclable lid is rarely separated from the non-recyclable body of a Tim Horton's disposable cup; similarly, leftover compostable food waste is often thrown away with non-compostable wrappers.
To address these challenges, the CSO will carry out more focused and intentional engagement and education with students beginning during fall orientation week and continuing throughout the year.  Activities will include class talks, tabling with interactive displays and visual representations of garbage volumes that convey the importance of proper waste management, and bin-side waste volunteer ambassadors who will provide instructions for proper material separation.  The CSO hopes to create a new part-time waste management staff position tasked with coordinating education and outreach as well as the monitoring and upkeep of waste collection infrastructure. Our office is also considering conducting a qualitative survey in the coming years to identify barriers to proper waste disposal behavior. This information would then help guide future education efforts.  Finally, because some contamination and improper disposal result from the improper practices of cleaning staff, the CSO must provide trainings on an annual basis that accommodate language barriers and shift work.
The 2018 waste audit was coordinated by the UWinnipeg Campus Sustainability Office (CSO) with support from the Canadian Beverage Container Recycling Association (CRCBA). Approximately 30 students were hired to sort and weigh nearly all of the waste generated on campus during the five day auditing period.  The CSO would like to thank the CBCRA for supporting the 2018 waste audit with financial resources and staff time, as well as Multi Material Stewardship Manitoba (MMSM), whose ongoing grants help maintain our waste management systems.  Without support from our partners, this audit would not have been possible.   
Several recent audits at UWinnipeg have been carried out by private contractors but in this year, we brought the study in house. Doing so not only saved our institution money, but also contributed to the fulfillment of one of UWinnipeg's core sustainability goals outlined in the 2017 Institutional Sustainability Strategy of helping students become environmental leaders by giving them experiential learning opportunities and hands-on sills development.  For this reason, The CSO was pleased to provide nearly thirty students with hands-on employment experience in the field of sustainability management during the 2018 audit.  Through this project, our office has set a solid foundation for future auditing work involving students and led by the CSO.