Faculty of Arts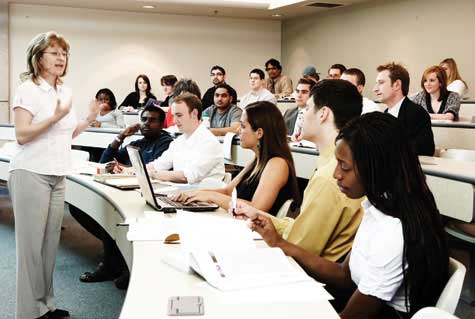 The Faculty of Arts is the largest and most diverse faculty at The University of Winnipeg. As an arts student, you'll take courses that involve personal reflection, in-class discussion and interaction with other students. You'll develop your own perspectives and passions on a variety of different topics, while developing essential skills in problem solving, creative and critical thinking, and communications. These skills, along with experience in research, teamwork and self-direction, will help you succeed in your future career.
---
Classical Studies
If you have a desire to understand our modern world, this is an ideal way to begin. Classical studies introduce the history, culture, literature, philosophy and art of ancient Greek and Rome. You'll study legacies of great poets and philosophers such as Plato, Sophocles, Virgil and Cicero, and gain skills in research and writing.
Classics Factsheet [PDF] | Classics Website
Conflict Resolution Studies
The interdisciplinary field of Conflict Resolution Studies deals with the nature and dynamics of human conflict. It explores topics of violence, power, justice, peace, communication and culture, as well as personal, local, and global conflict. You can choose from courses in a variety of different subject areas, and complete a practicum program in either a local or international setting as part of your university education. This major is offered through Menno Simons College.
Conflict Resolution Studies Factsheet [PDF] | Conflict Resolution Website
Criminal Justice Studies
The Criminal Justice program focuses on different aspects of the criminal justice system, including the police, courts and corrections. You'll be challenged to think critically and draw on resources from areas of Business, Conflict Resolution, Education, History and Psychology.
Criminal Justice Factsheet [PDF] | Criminal Justice Website
Developmental Studies
In Developmental Studies, you'll analyze the biological, environmental, and social factors that influence individual and group development. In this interdisciplinary program, you'll have the opportunity to customize your university education to meet your educational and career goals. You can choose from Individual Human Development, Comparative Biological Development, and Child Development and Child Care.
Developmental Studies Factsheet [PDF] | Developmental Studies Website
Disability Studies
Disability Studies will challenge you to think about "disability" and "ability" in new ways. Using the social model rather than the bio-medical model, the problem becomes a lack of ramps rather than the fact that someone uses a wheelchair. The focus of this interdisciplinary program is the critical analysis of disability in society. Topics to be considered include human rights, social movements, normalcy, eugenics, genetic engineering, family, sexuality, gender, aging, employment, education, and international development. Disability Studies is a joint program with Red River College.
Disability Studies Factsheet [PDF] | Disability Studies Website
English
This program introduces the various aesthetic, cultural, and historical factors that influence what we read and write. In the English program you'll develop excellent analytical, reading and writing skills. You can choose from a number of different areas including Rhetoric, Literature and Creative Writing.
English Factsheet [PDF] | English Department Website
Flexible Major Program
At UWinnipeg, you can customize your university studies to address your unique interests and goals with a Flexible Major program.  With the assistance of a Faculty Sponsor and an Advisory Committee, you can design your own major related to a central theme or focus. Student-Designed Majors usually combine courses from three different university departments. This major can lead to either a Bachelor of Arts or a Bachelor of Science.
Flexible Major Program Factsheet [PDF]
French Studies
Whether you're looking to pursue a degree in French or just take a few courses, the French Studies program is sure to meet your needs. You'll be introduced to diverse areas of linguistics, writing, translation, stylistics and francophone literature. Language courses are offered at various levels, and you'll have the opportunity to study at the Université de Perpignan or the Université Bordeaux in France.
French Studies Factsheet [PDF] | French Studies Website
German Studies
German Studies offers up-to-date, effective language instruction for beginners through to advanced students. You'll develop analytical, communication, and writing skills that can be used in careers in education, business and government. You may also have the chance to participate in our exchange program with the Universitat Bamberg in Southern Germany.
German Studies Factsheet [PDF] | German Studies Website
History
Exploring the past helps us understand the complexities of the present, and anticipate the challenges of the future. As a student of History, you will explore the careers of major figures such as Galileo, Gandhi and Stalin.. You'll improve your ability to evaluate evidence and learn how to present your interpretations in clear and logical written and oral arguments.
History Factsheet [PDF] | History Website
History of Art
Have you ever wondered how Michelangelo came to produce one of the world's most influential works on the ceiling of the Sistine Chapel, or why Andy Warhol's painting of the Campbell's soup can became famous? If so, you may find History of Art a fascinating field of study. Here, you'll probe the history behind the world's outstanding sculptures, paintings and architecture. You'll develop skills in critical thinking and visual communication, and come into first-hand contact with selected works of art.
History of Art Factsheet [PDF] | History of Art Website
Human Rights

Are you interested in obtaining an education organized around questions of social justice, global citizenship and human rights? Consider our new major in Human Rights – the only one of its kind in Western Canada. Through this multidisciplinary program, you will have an opportunity to explore issues of human rights in a context defined by globalization. This major is offered through Global College.
Human Rights Factsheet [PDF] | Human Rights Website
Indigenous Studies
The Indigenous Studies department is designed to provide students with a multi-disciplinary perspective which is grounded in an understanding of Aboriginal people's principles, values and philosophies. The program will provide students with a solid background in theory and practice regarding the distinctive political and legal environments of Aboriginal governments.
Indigenous Studies Factsheet [PDF] |Indigenous Studies Website
Interdisciplinary Linguistics
Interdisciplinary Linguistics examines the complexities of language use in daily communication within various social and cultural contexts. You'll gain an in-depth understanding of how language encodes meaning, and gain skills to write, read and speak with greater confidence, fluency and power.
Interdisciplinary Linguistics Factsheet [PDF] | Interdisciplinary Linguistics Website
International Development Studies
The IDS program is being discontinued.
Mennonite Studies
This program gives you an opportunity to study the rich heritage of the Mennonites and their contribution to society. Mennonite Studies is an interdisciplinary program that combines studies in history, religion, culture, and literature as they relate to Mennonites.
Mennonite Studies Factsheet [PDF] | Mennonite Studies Website
Philosophy
If you enjoy thinking about life's big questions, you might be a natural philosopher. Philosophy engages in disciplined and imaginative thinking about the philosophical questions common to all humans by studying the works of great philosophers. Through analysis and discussion, you'll learn how to think critically, and understand the origins of the ideas that influence us today.
Philosophy Factsheet [PDF] | Philosophy Website
Political Science
Politics affects our lives in a vast number of ways. Through this program, you'll examine relations between state and civil society, the power of human rights, and the impact of political parties, interest groups, and government organizations. You may choose to sample courses from different areas, or focus on one of the following: Global Politics, Canadian Politics, Political Thought, Public Policy and Administration, Community Politics and Comparative Politics.
Political Science Factsheet [PDF] | Political Science Website
Psychology
Why do people think, feel, perceive, and behave the way they do? Psychologists seek to find answers to these questions by studying the human mind and behaviour. The Psychology program, explores topics ranging from the basic nervous system to principles of perception, learning, and cognition to gain an understanding of both social and clinical psychology.
Psychology Factsheet [PDF] | Psychology Website
Religion & Culture
The study of religion focuses on the human search for meaning and purpose in life, as it is expressed in stories, rituals, codes of conduct, canonical texts and cultural values. Religion & Culture explores religion in four areas: Historical Judaism, Christianity and Islam, Asian Religions and Cultures, and Aboriginal Religious Traditions.
Religion & Culture Factsheet [PDF] | Religion & Culture Website
Rhetoric, Writing, and Communications
The Rhetoric and Communications program emphasizes the evaluation, production, and precise editing of messages for a range of audiences, media, and purposes. You will become an adept communicator, with highly adaptable skills.
Rhetoric, Writing, and Communications Factsheet [PDF] | Rhetoric, Writing, and Communications Website
Sociology
Sociologists focus on the way people relate to one another. In Sociology you'll examine age, class, ethnicity, family, education, work, and social change. You'll analyze how various groups and organizations are put together, their purpose and how they work.
Sociology Factsheet [PDF] | Sociology Website
Spanish Studies
Spanish Studies offers a variety of relevant, up-to-date courses where you can discuss current events, issues and trends in the contemporary Hispanic world; explore the social, political, and cultural history of Spain and Latin America; translate newspaper articles and other texts; learn about the customs and traditions of Spain; or read Don Quijote, the first modern novel of Western literature.
Spanish Studies Factsheet [PDF] | Spanish Studies Website
Theatre and Film
Theatre and Film – one of the largest in Canada – includes the opportunity to obtain a Bachelor of Arts in one of six different areas of study: Acting and Directing, Design, Drama in Education, Filmmaking, Playwriting, Stage Management or Production. Your coursework will encompass a full range of practical and theoretical study, and will prepare you for an exciting career in the arts.
Theatre and Film Factsheet [PDF] | Theatre and Film
Urban and Inner City Studies
In Canada, cities continue to be centres that face great challenges. The Urban and Inner-City Studies program provides an opportunity to examine the political, economic, social and spatial context of these challenges from diverse perspectives. Through its courses, you'll examine the urban aboriginal experience, the immigrant and refugee experience, and the role of women in our society.
Urban and Inner City Studies Factsheet [PDF] | Urban and Inner City Studies Website
Women's and Gender Studies
Women's and Gender Studies seeks to foster awareness and appreciation of the realities and diverse experiences of women. You'll develop critical consciousness of social inequalities affecting women, including those based on gender, age, race, class, disability and sexual orientation.
Women's and Gender Studies Factsheet [PDF] | Women's and Gender Studies Website