Research Talk Series: 2019-2020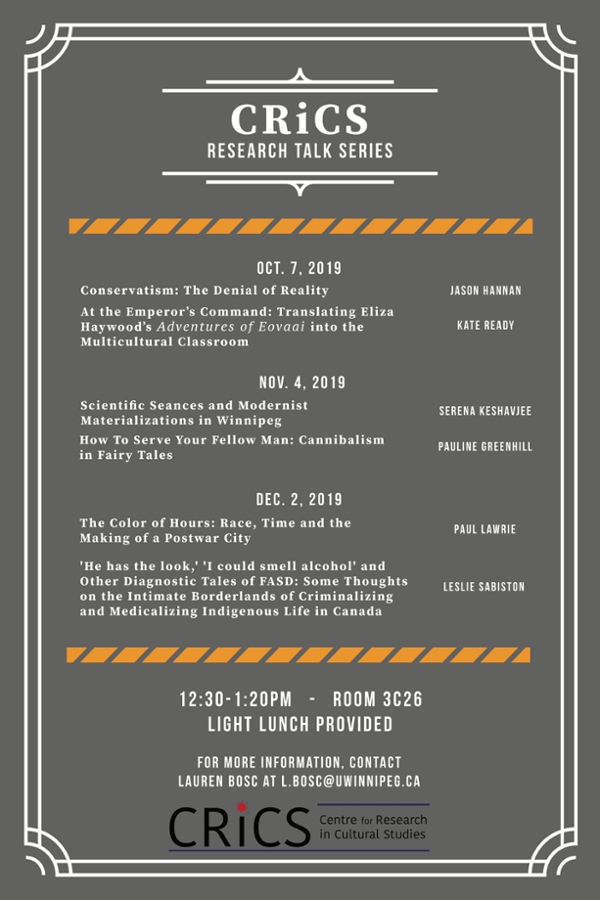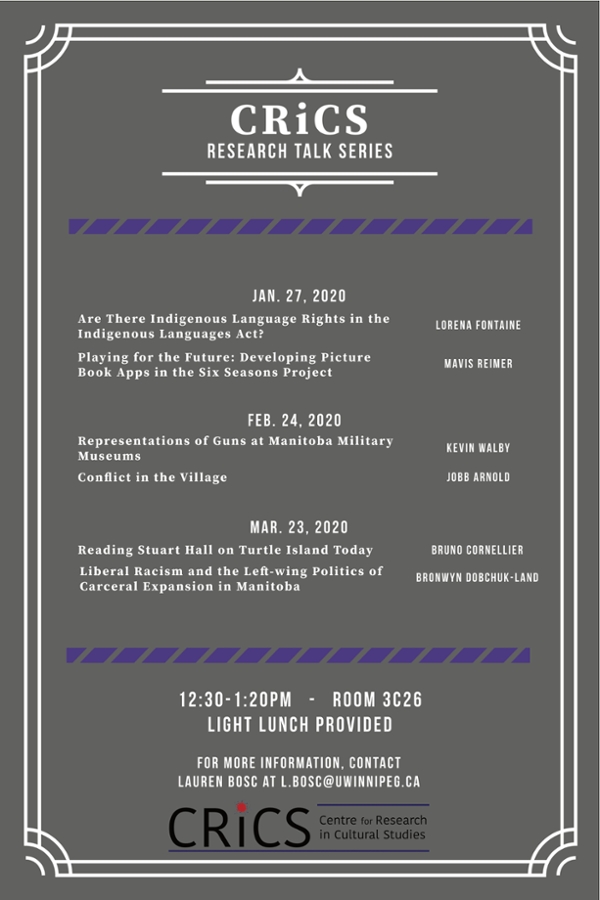 The CRiCS Research Talk Series is a series of lectures led by members of the Cultural Studies Research Group, intended for members of the centre (researchers, students in the Cultural Studies MA program, research assistants) to learn more about the different contexts and thematics that Cultural Studies research touches on. The sessions for the 2019-2020 academic year include:
October 7, 2019
- Dr. Jason Hannan, "Conservatism: The Denial of Reality"
- Dr. Kate Ready, "At the Emperor's Command: Translating Eliza Haywood's Adventures of Eovaai into the Multicultural Classroom"
November 4, 2019
- Dr. Serena Keshavjee, "Scientific Seances and Modernist Materializations in Winnipeg"
- Dr. Pauline Greenhill, "How To Serve Your Fellow Man: Cannibalism in Fairy Tales"
December 2, 2019
- Dr. Paul Lawrie, "The Color of Hours: Race, Time and the Making of a Postwar City"
- Leslie Sabiston, "'He has the look,' 'I could smell alcohol' and Other Diagnostic Tales of FASD: Some Thoughts on the Intimate Borderlands of Criminalizing and Medicalizing Indigenous Life in Canada"
January 27, 2020
- Dr. Lorena Fontaine, "Are There Indigenous Language Rights in the Indigenous Languages Act?"
- Dr. Mavis Reimer, "Playing for the Future: Developing Picture Book Apps in the Six Seasons Project"
February 24, 2020
- Dr. Kevin Walby and Haley Pauls, "Representations of Guns at Manitoba Military Museums"
- Dr. Jobb Arnold, "Conflict in the Village"
March 23, 2020: ***Unfortunately, due to precautions outlined by the University of Winnipeg related to Covid-19, we are cancelling this event.***
- Dr. Bruno Cornellier, "Reading Stuart Hall on Turtle Island Today"
- Dr. Bronwyn Dobchuk-Land, "Liberal Racism and the Left-wing Politics of Carceral Expansion in Manitoba"
As the events occur, we'll be posting pictures and more information below!