Research Talks: Dr. Lorena Fontaine and Dr. Mavis Reimer
Centre for Research in Cultural Studies (CRiCS)
---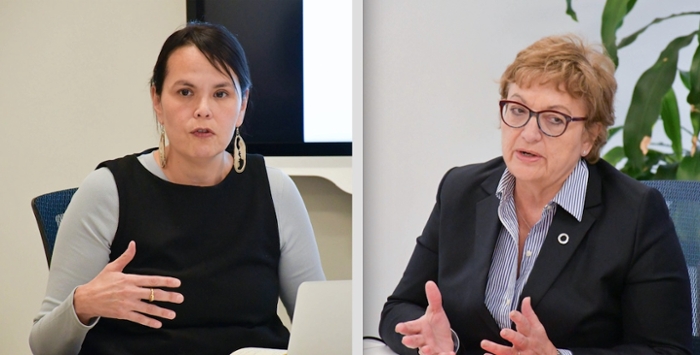 On January 27, 2020, the Centre for Research in Cultural Studies (CRiCS) held the first winter 2020 session of its Research Talks Series, its fourth overall for the 2019-20 academic year. The series features members of the Cultural Studies Research Group (CSRG), and offers an opportunity for students and members of CRiCS to hear more about faculty research in progress. 
This session included 
presentations by 
Dr. Lorena Fontaine (Indigenous Studies) and Dr. Mavis Reimer (English). Fontaine's "Are There Indigenous Language Rights in the Indigenous Languages Act?" explored the legal and cultural intricacies of the frameworks that determine Indigenous language rights in Canada.
Reimer's 
"Playing for the Future: Developing Picture Book Apps in the Six Seasons Project" focused on the picture-book app "Pisim" that was created for the Six Seasons of the Asiniskaw Īthiniwak research project. 
(Image - Dr. Lorena Fontaine, left, and Dr. Mavis Reimer during their talks. Photo credit: Lauren Bosc)