Research Talks: Dr. Serena Keshavjee and Dr. Pauline Greenhill
Centre for Research in Cultural Studies (CRiCS)
---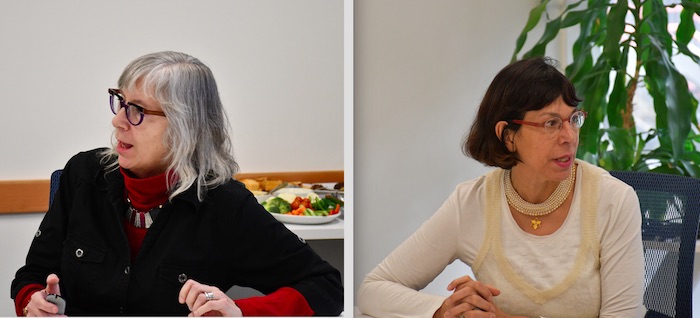 On November 4, 2019, the Centre for Research in Cultural Studies (CRiCS) held the second fall 2019 session of its Research Talks Series. The series features members of the Cultural Studies Research Group (CSRG), and offers an opportunity for students and members of CRiCS to hear more about faculty research in progress.
This session included 
presentations by 
Dr. Serena Keshavjee (Art History) and Dr. Pauline Greenhill (Women's and Gender Studies). Keshavjee's "Scientific Seances and Modernist Materializations in Winnipeg" shared photographs and historical details from the Hamilton Family Fonds and noted that these photographs featuring "psychic phenomena" can be understood as scientific, artistic, and spiritual works of visual culture. Greenhill
's 
"How To Serve Your Family: Incestuous Cannibalism as Revolting in 'Little Red Riding Hood' and 'The Juniper Tree'" focused on the ways food, and specifically family-as-food in instances of incestuous cannibalism, function in these two fairy tales and a number of their filmic adaptations. 
(Image - Dr. Pauline Greenhill, left, and Dr. Serena Keshavjee during their talks. Photo credit: Lauren Bosc)