Professional Development Series: 2018-2019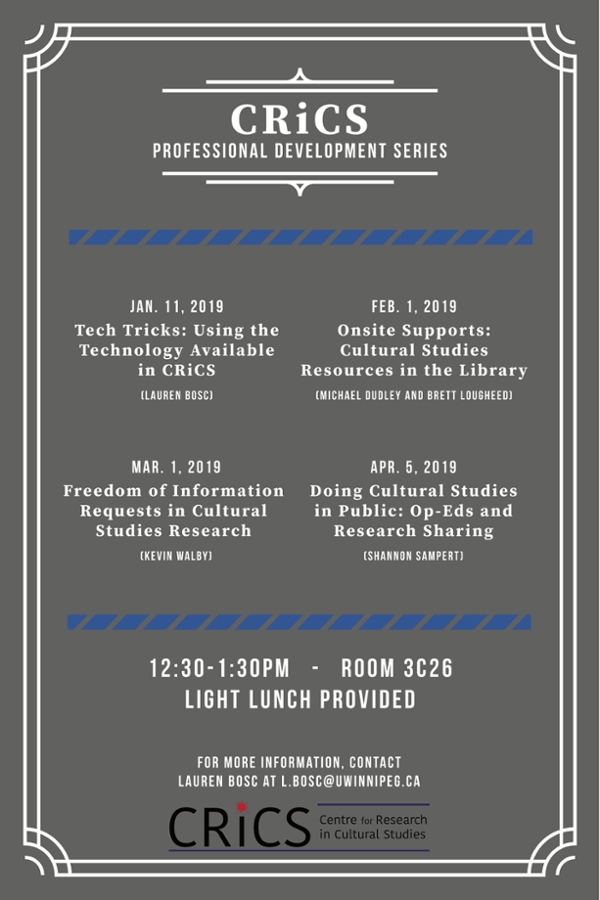 The CRiCS Professional Development Series is a series of workshops intended for members of the centre (researchers, students in the Cultural Studies MA program, research assistants) to gain new skills in a variety of different professional areas related to Cultural Studies and Cultural Studies research. The sessions that were held from January-March 2019* included:
"Tech Tricks: Using the Techtechnology Available in CRiCS"
Session facilitator: Lauren Bosc
Date: January 11, 2019
"Onsite Supports: Cultural Studies Resources in the Library"
Session facilitators: Brett Lougheed and Michael Dudley
Date: February 1, 2019
"Freedom of Information Requests in Cultural Studies Research"
Session facilitator: Dr. Kevin Walby
Date: March 1, 2019

For more information on each of these sessions, click on the features below.
*The final session, "Doing Cultural Studies in Public: Op-Eds and Research Sharing," was rescheduled to a later date in 2019.