Research Talks: Dr. Jason Hannan and Dr. Kathryn Ready
Research Talk Series: 2019-2020
---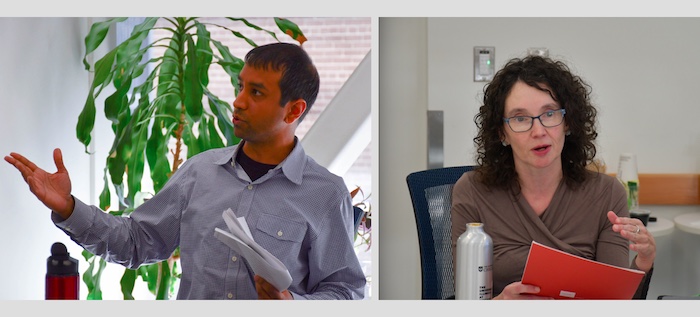 On October 7, 2019, the Centre for Research in Cultural Studies (CRiCS) held the first fall 2019 session of its Research Talks Series. The series features members of the Cultural Studies Research Group (CSRG), and offers an opportunity for students and members of CRiCS to hear more about faculty research in progress.
This session included 
presentations by 
Dr. Jason Hannan (Department of Rhetoric, Writing, and Communications) and Dr. Kathryn Ready (English). Hannan's "Conservatism: The Denial of Reality" explored the strategic use of rhetoric by conservative voices to undermine and delegitimize progressive movements such as Black Lives Matter. 
Ready's 
"At the Emperor's Command: Translating Eliza Haywood's Adventures of Eovaai into the Multicultural Classroom" focused on Eliza Haywood's 18th-century novel and the complexities involved in teaching such a text. 
(Image - Dr. Jason Hannan, left, and Dr. Kathryn Ready during their talks. Photo credit: Lauren Bosc)