Professional Development Series: 2019-2020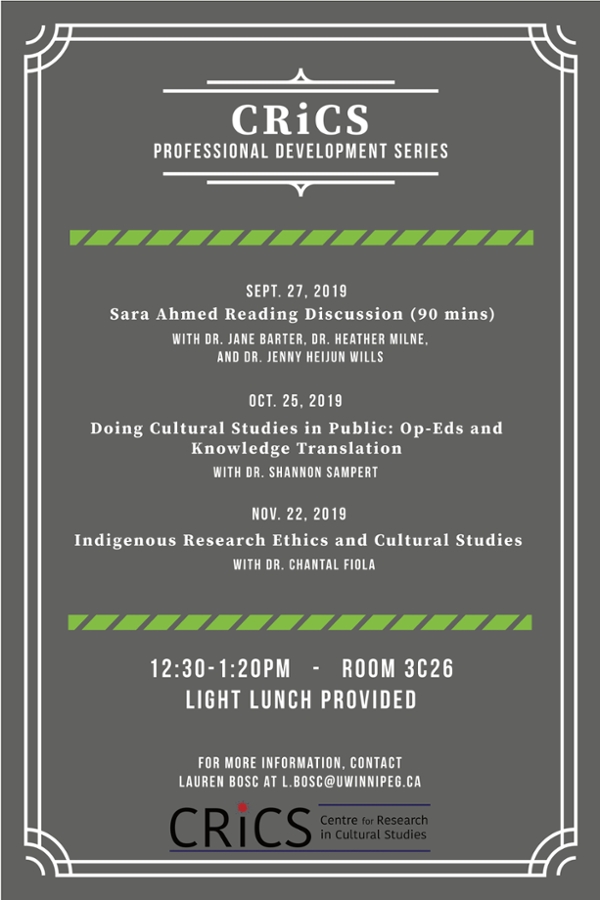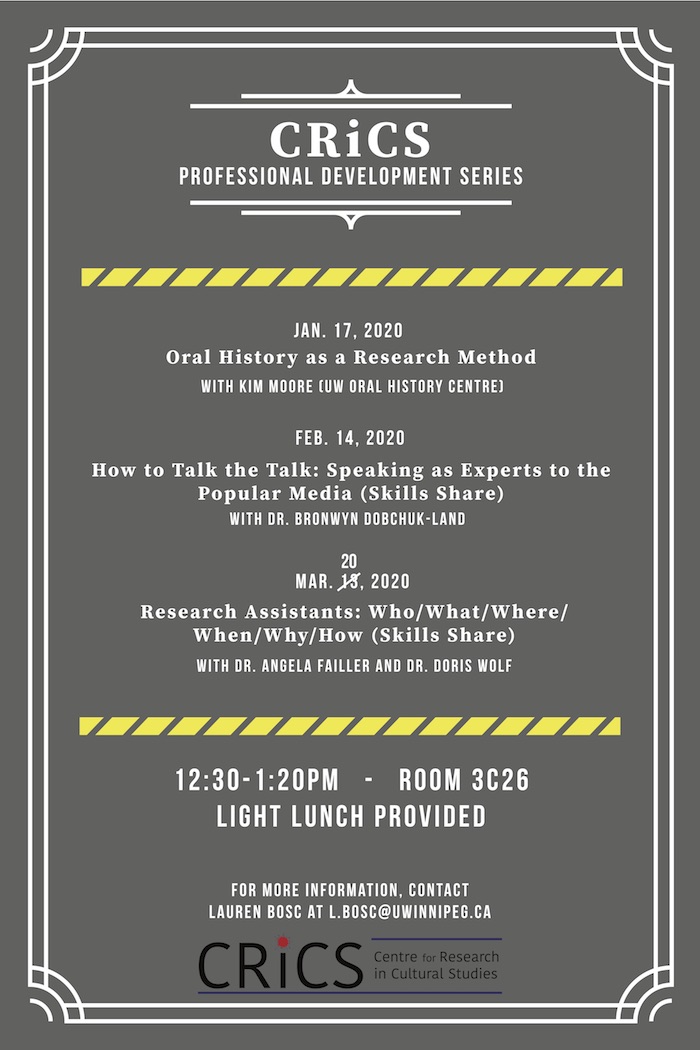 The CRiCS Professional Development Series is a series of workshops intended for members of the centre (researchers, students in the Cultural Studies MA program, research assistants) to gain new skills in a variety of different professional areas related to Cultural Studies and Cultural Studies research. The sessions for the 2019-2020 academic year include:
"Sara Ahmed Reading Discussion"
Session facilitators: Dr. Jane Barter, Dr. Heather Milne, and Dr. Jenny Heijun Wills
Date: October 3, 2019 (*note* new date)
"Doing Cultural Studies in Public: Op-Eds and Knowledge Translation"
Session facilitator: Dr. Shannon Sampert
Date: October 25, 2019
"Indigenous Research Ethics and Cultural Studies"
Session facilitator: Dr. Chantal Fiola
Date: November 22, 2019
"Oral History as a Research Method"
Session facilitator: Kim Moore (UW Oral History Centre)
Date: January 17, 2020
"How to Talk the Talk: Speaking as Experts to the Popular Media" (Skills Share)
Session facilitator: Dr. Bronwyn Dobchuk-Land
Date: February 14, 2020
"Research Assistants: Who/What/Where/When/Why/How" (Skills Share)
Session facilitators: Dr. Angela Failler and Dr. Doris Wolf
***Unfortunately, due to precautions outlined by the University of Winnipeg related to Covid-19, we are cancelling this event.***
As the events occur, we'll be posting pictures and more information below!